Whixall Moss – Sunday 23rd July 2023
This was a first visit to Fenn's, Whixall and Bettisfield Mosses National Nature Reserve (to give it it's full name) for most of the members in attendance, and I think everybody was suitably impressed by the whole day.  Firstly, the weather turned out far better than was forecast; and secondly, we were kindly given a guided tour in the morning by two Natural England volunteers, Stephen and Barbara, who imparted their expertise of the Mosses ecology and the special and often rare flora and fauna.
The mosses are a rare example of a lowland raised bog.  A lot of work has been done to build bunds to help maintain the water levels that are essential for the bog's healthy status.
The bird highlights were a spectacular close view from the Mammoth tower hide of a Hobby hunting for dragonflies over the bog, and a fly-past Red Kite viewed from the Charles Sinker Fields Hide.  A Kestrel was also seen hovering on several occasions. There were a number of Stonechats dotted around including several juvenile birds which suggests they'd had a good breeding season.  The occasional Meadow Pipit, Linnet, Lapwing and Shoveler were seen in flight, all local breeders.
The habitat is not just important for birds though, and we also found dragonflies (see female Black Darter photo) and damselflies, as well as several butterfly species. Striking Brimstones stood out especially, and Red Admirals were admired.
In a small pool we found two Raft Spiders with notable creamy stripes on the body, and green legs indicating they were both youngsters.  Adults can grow up to a 3 inch leg span and a 1 inch body!
The plant life was also fascinating. Sphagnum moss is the key species the bog, absorbing the rainwater and eventually dying with other vegetation to form the underlying peat.  The bog is acidic and poor in nutrients, so insectivorous plants are found here including sundew and lesser bladderwort.
A big thank you to Stephen and Barbara for their time and passing on their in-depth knowledge.  It's never too late to learn!
The accompanying photos are from Andrew (the fauna) and Hugh (group, habitat).
Hugh Stewart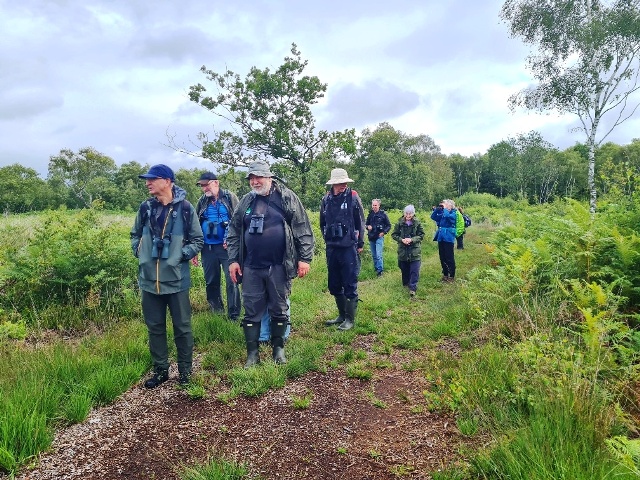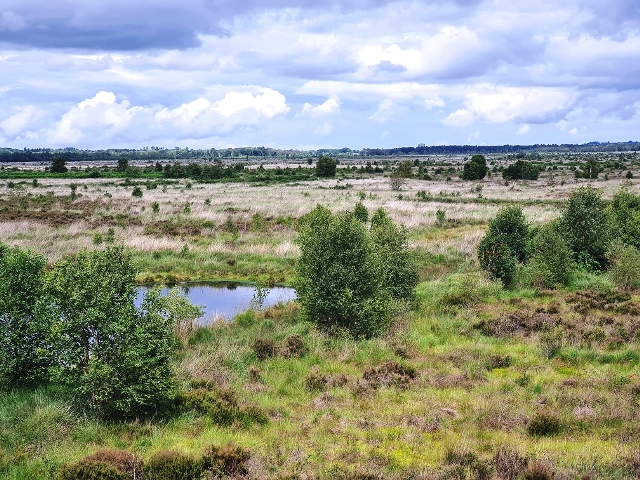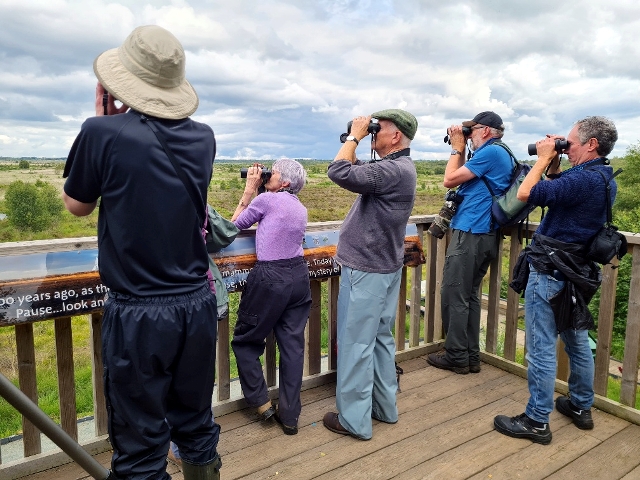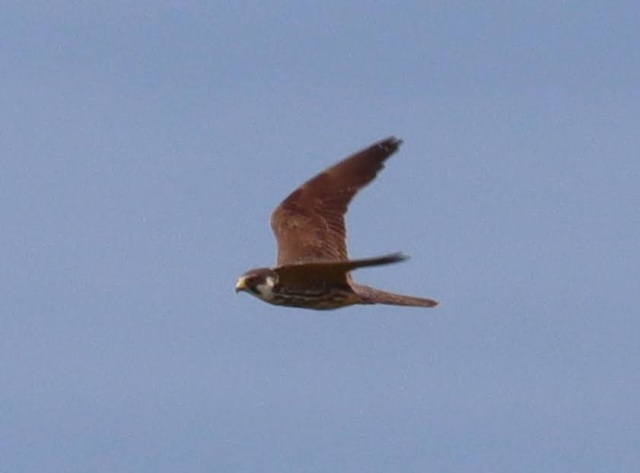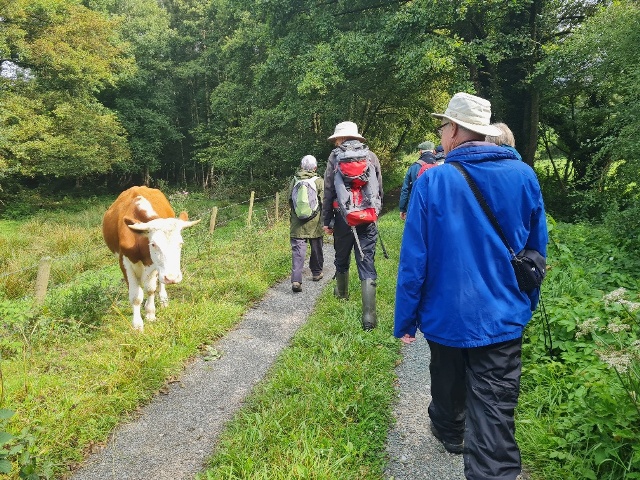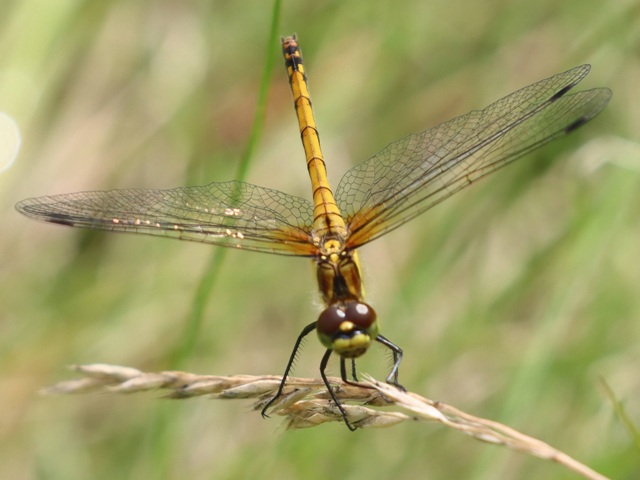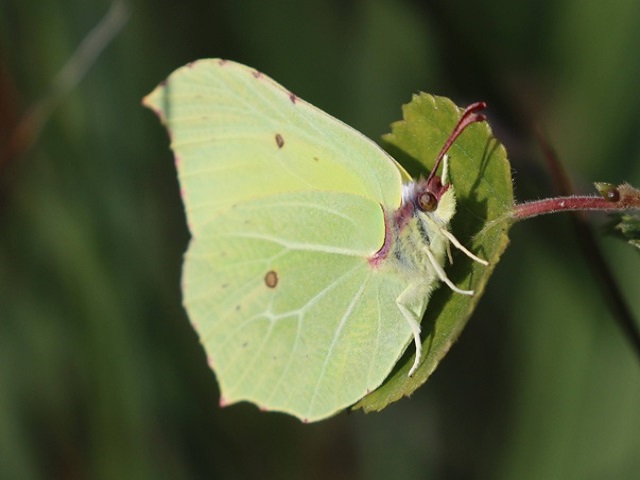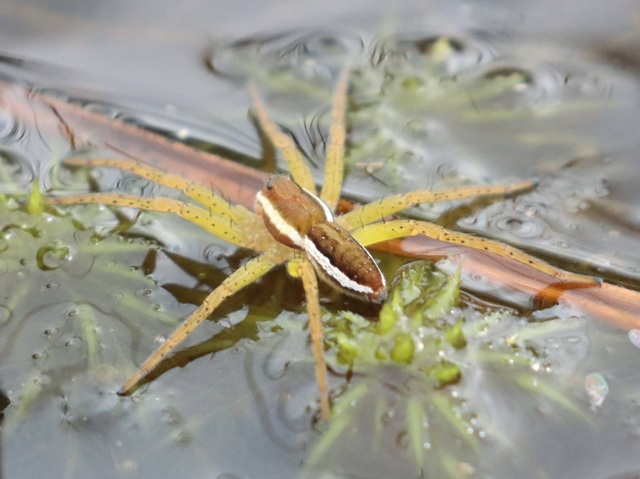 RSPB South Stack – Saturday 10th June 2023
With perfect conditions, we enjoyed the magnificent scenes at South Stack at their best.
On arrival, we quickly descended to the cliff top near Ellin's Tower, to view the main nesting areas for the seabirds that the reserve is arguably most famous for. Hundreds of Guillemots and Razorbills were perched on the cliff edges sitting on eggs, and more birds were resting and bathing in the calm sea far below.
After a while we started to differentiate more easily between the jet black, larger billed Razorbills and the slightly browner hued Guillemots with dagger bills. Amongst the birds on the water, at least 5 Puffins were picked out. Fulmar, Kittiwake and Herring Gull were also present.
While we were taking in these spectacular sites, Choughs were flying past us at eye level, and one or two settled quite close by.
We eventually tore ourselves away and walked along the cliff edge.  Rock Pipits and Skylarks were on the heathland area.  There were also loads of Burnet Moths on this area as well as several other day flying moths and butterfly species.  Reaching the lane back to the Centre, Whitethroat and Linnet were added to the list amongst other species.
After a welcome stop for refreshments, we headed northwards.  A pair of obliging Meadow Pipits were seen well and photographed.  Dragonflies were also spotted but not identified. Returning towards the coach again, a pair of juvenile Stonechats sat up and posed nicely.
A brave few ventured down the steps towards the lighthouse and found 3 Puffins near their nest holes.  We staggered back up in time for a quick drink in the café before the drive back to Wirral.
I just got in the house before the threatened heavy rain and thunder started in earnest – I hope everyone else got home safely.
We saw 34 bird species as a group, but it was the whole impression of the mass bird activity that was most memorable for me.  I think everyone enjoyed the day as much as I did!
Thank you to Ellie, Colin, Bill and Hugh for the photos – there were so many great shots it was difficult to select just a few.
Hugh Stewart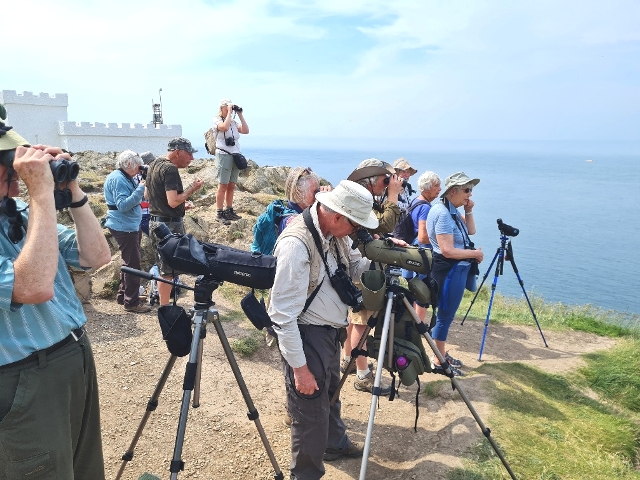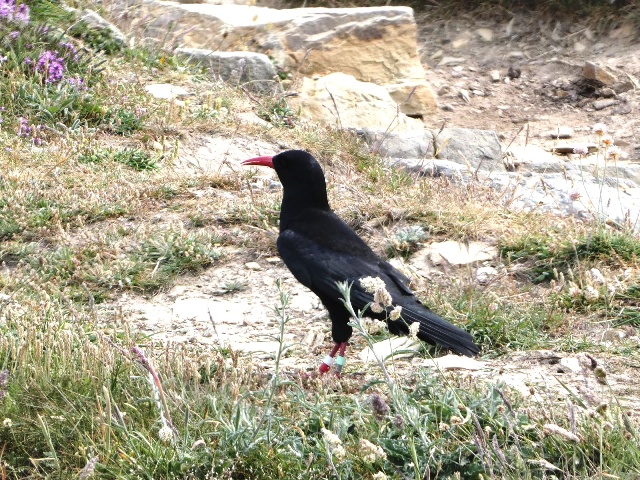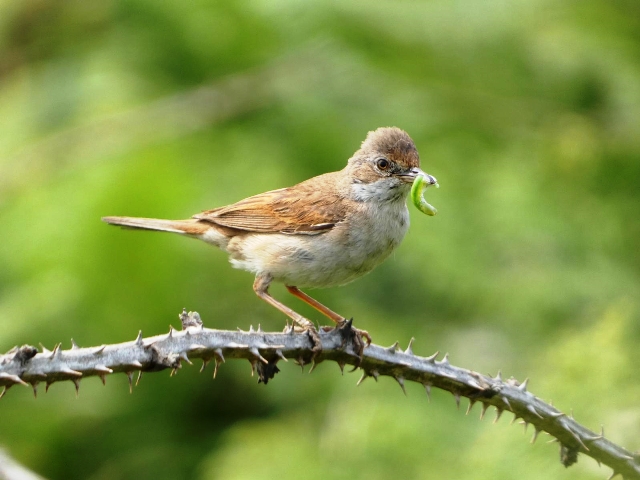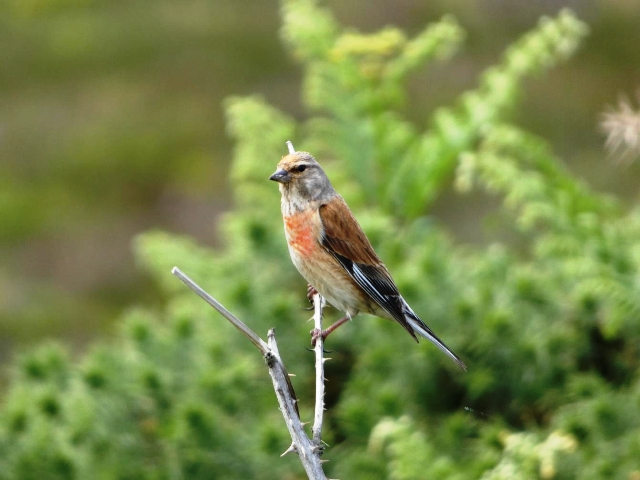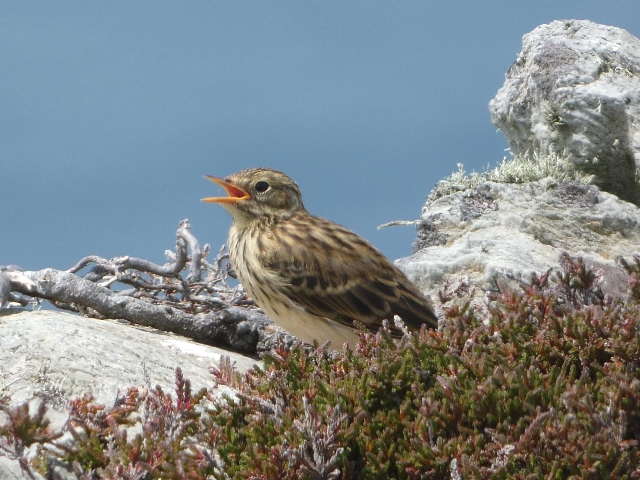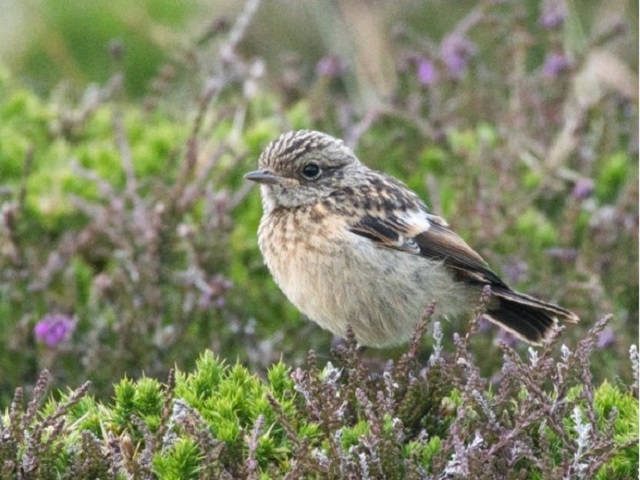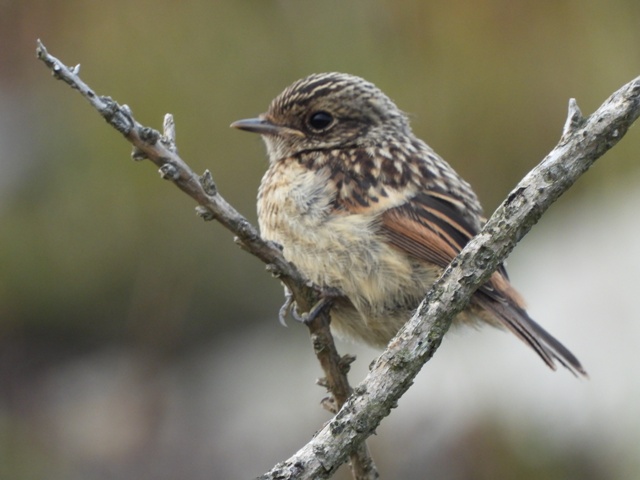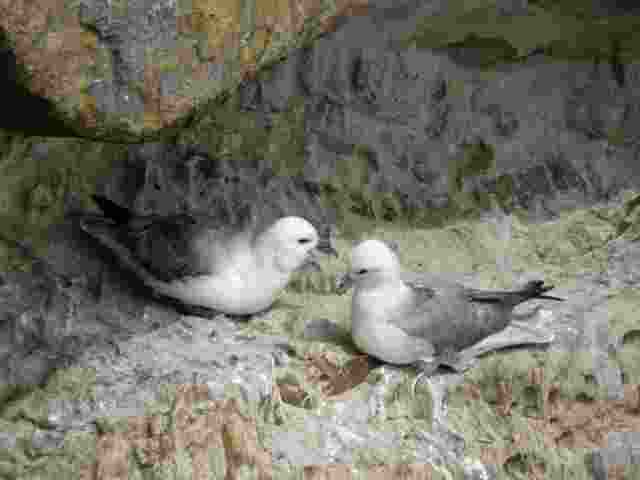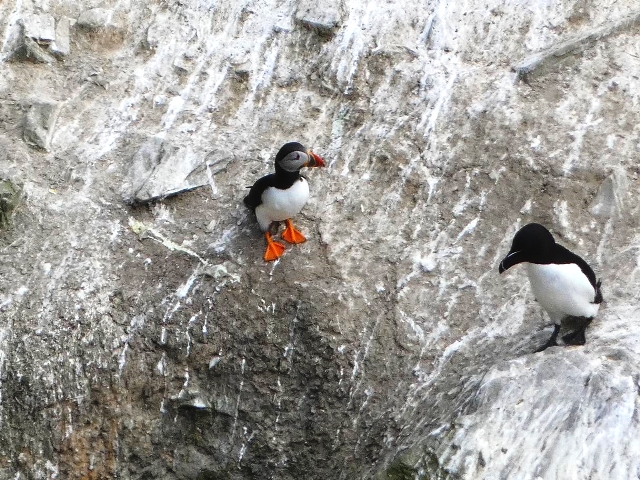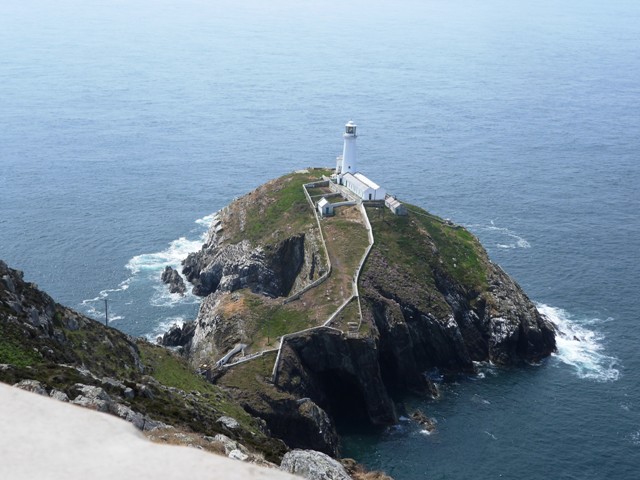 Glyndyfrdwy – Sunday 7th May 2023
In the small village where we met, Swifts and House Martins were flying above us in the glorious blue sky – the first sightings of the year for many of us of these classic summer visitors. Jackdaws and a few Rooks were also noted.
As we started following the Nany y Pandy River up the valley, one of the first birds we came across was a male Common Redstart singing from the top of a tree. Unfortunately, it did not give great views before it flew off, but it was a good start.
Singing Chiffchaffs were common all through the woods, but as we came out into more open, scrubby areas they were replaced by Willow Warblers.
The valley was the site of important slate quarrying in the past, and we found remnants of the old tramways and moss-covered, abandoned buildings. After much searching, a male Pied Flycatcher sang heartily and gave wonderful views from an old Oak. He was joined briefly by a female.  Two Dippers flew rapidly past us down stream – blink and you missed them! Two Grey Wagtails were busy gathering nest material.
As the Berwyn range opened up in front of us, we stopped for lunch amongst the bright yellow Gorse, and enjoyed the warm sunshine.  A Cuckoo could be heard calling distantly across the moorland.  Buzzards were almost constantly present overhead, enjoying the thermals and updrafts from the ridge.  A lone Raven passed through.
Eventually we began the descent back to the cars.  A male Chaffinch perched nicely on some Gorse.  A pair of Mallards was not expected up here! We didn't list the two chickens though!
The glorious weather helped make the day, but this was a lovely walk anyway with stunning scenery and some classic Welsh woodland species.
Photos courtesy of Ellie and Hugh.
Hugh Stewart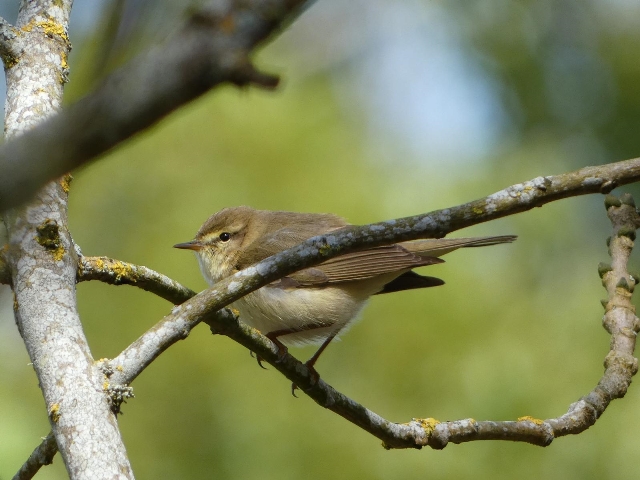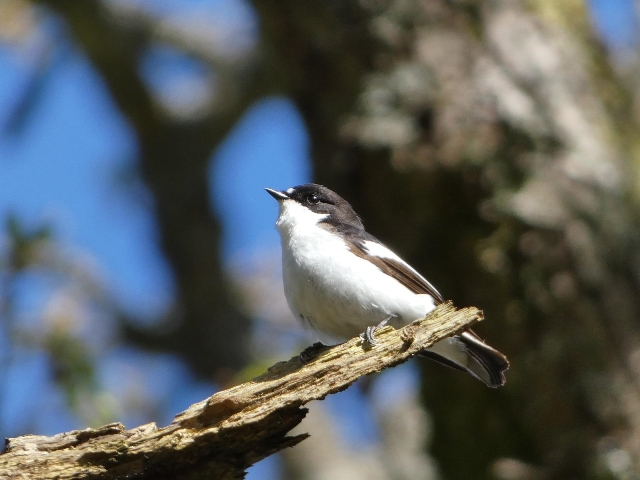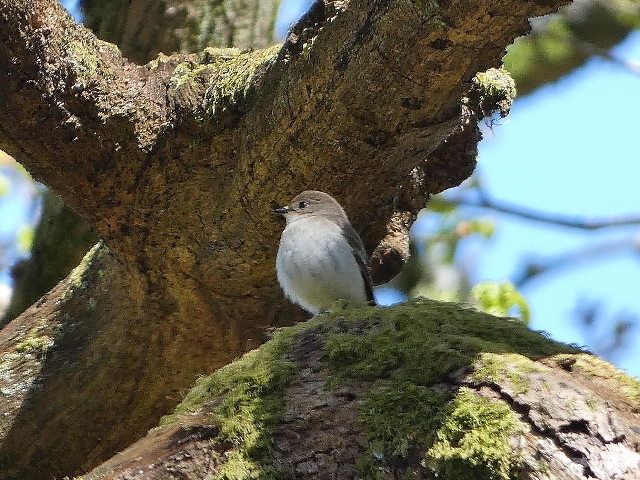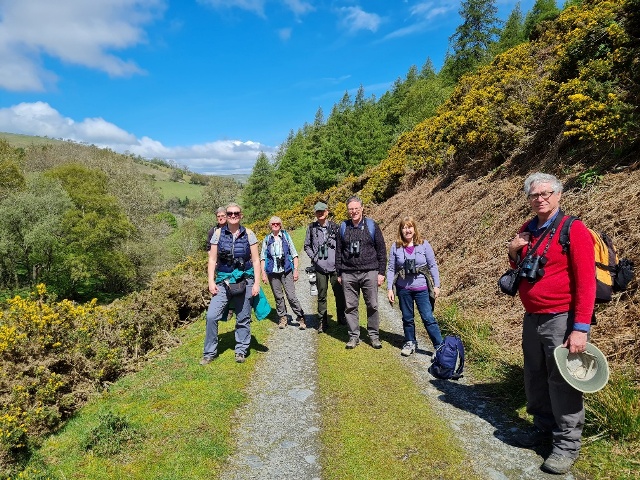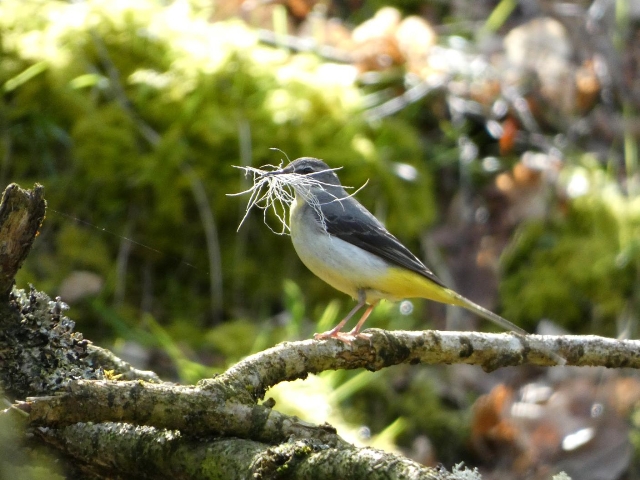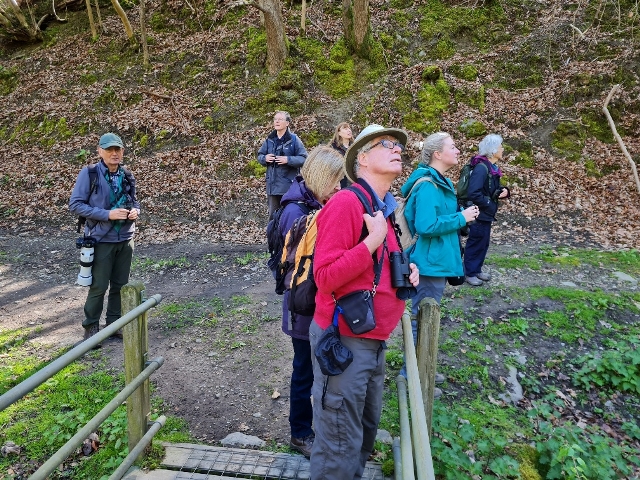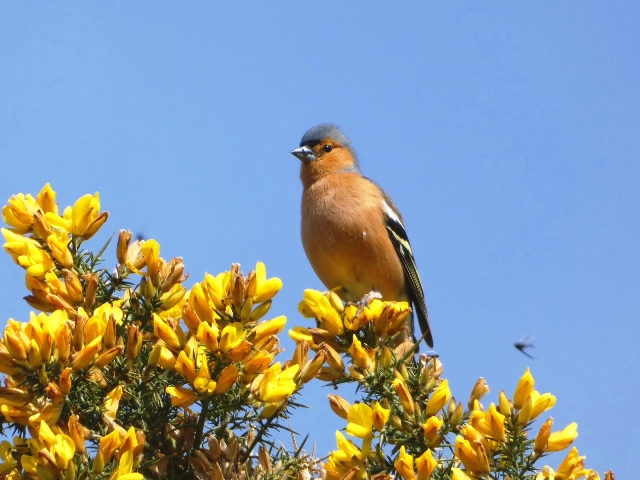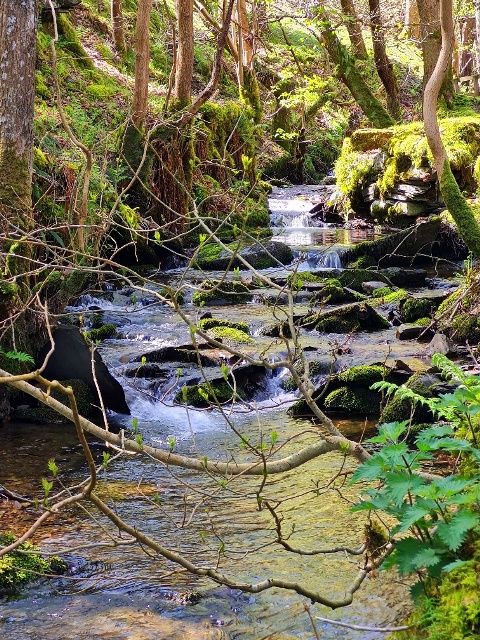 St Aidan's RSPB (by coach) – Saturday 29th April 202
Our first coach trip for 2023 was to St Aidan's RSPB reserve.
This is a 355 hectare nature park, located between Leeds and Castleford in West Yorkshire.  The land was formerly an open-cast coal mining area that was flooded in 1988, after the riverbank collapsed.
We had 36 people on the coach, including visitors, and the reserve was enjoyed by all.  Some people were heard to say that they will definitely revisit.
On arrival, we were greeted by an RSPB member of staff, who immediately took us to see a Little Owl, which was just a matter of yards from the visitor centre, and showing very well.  What a great start to the day!
A wide variety of birds were seen throughout the day, including Bearded Tits, Grasshopper Warblers, Sedge Warblers, Willow Warblers, Cetti's Warblers, Skylarks, Reed Buntings, Pochards, Black-necked Grebes and Great-crested Grebes, to name but a few.  Bitterns were also heard booming.
All in all a very productive day on an excellent reserve.
Many thanks to everybody who supported the coach trip, and a reminder that our next one will be to RSPB South Stack on Saturday 10th June.
Photographs courtesy of Bill, Peter Ham and Colin Kendall-Torry.
Bill Wonderley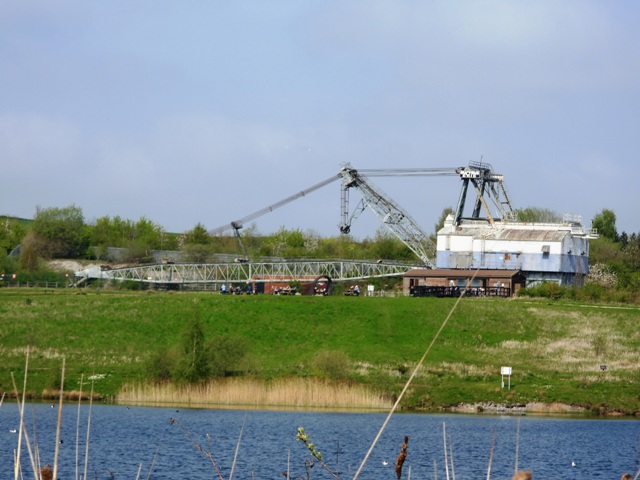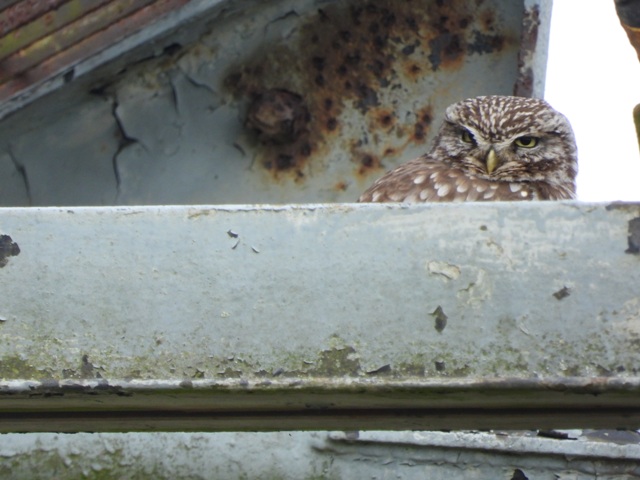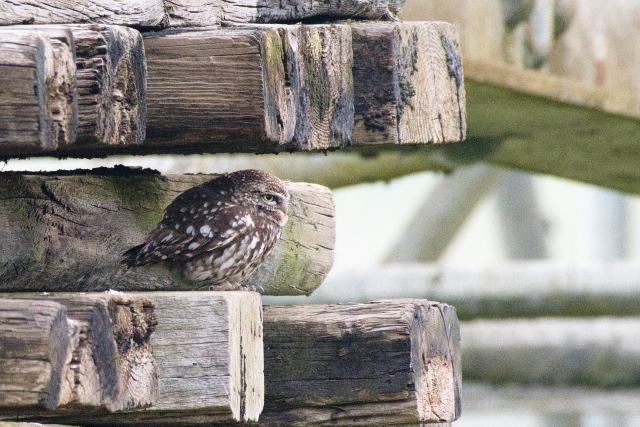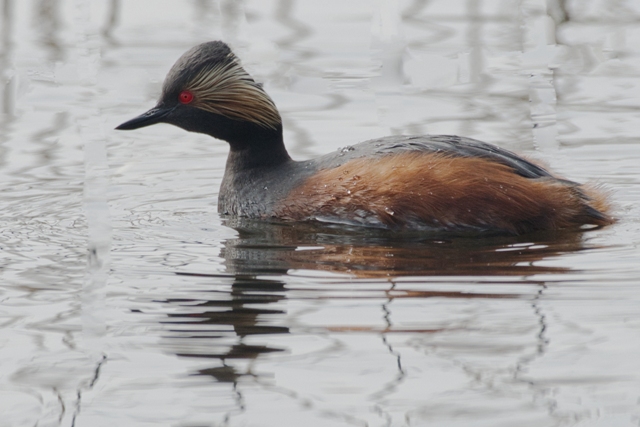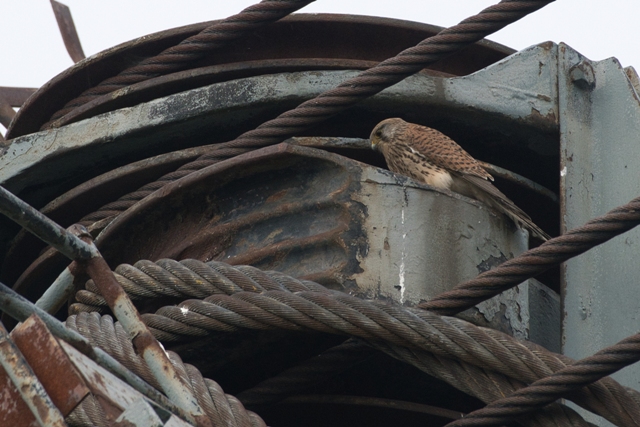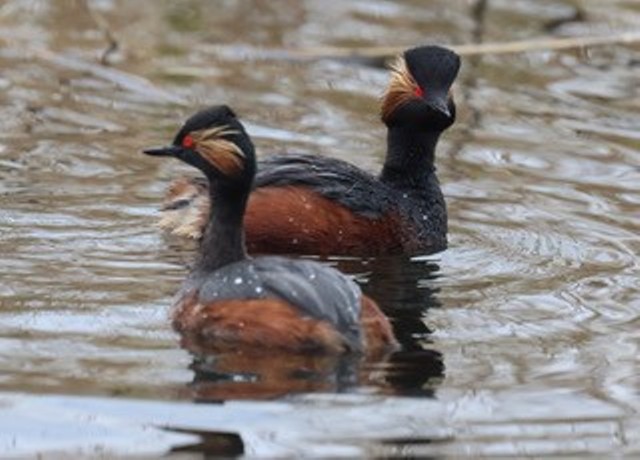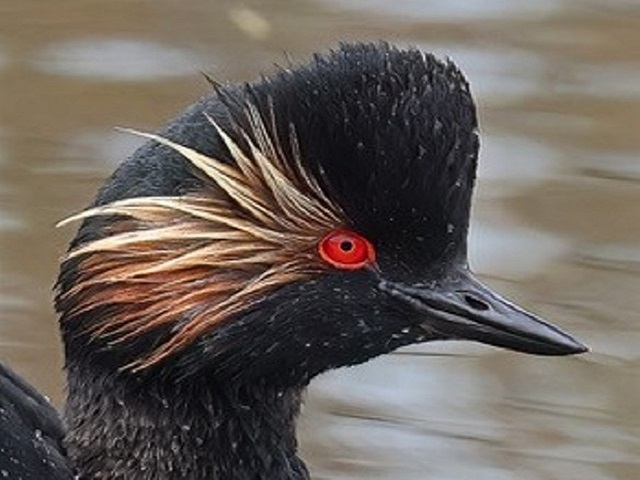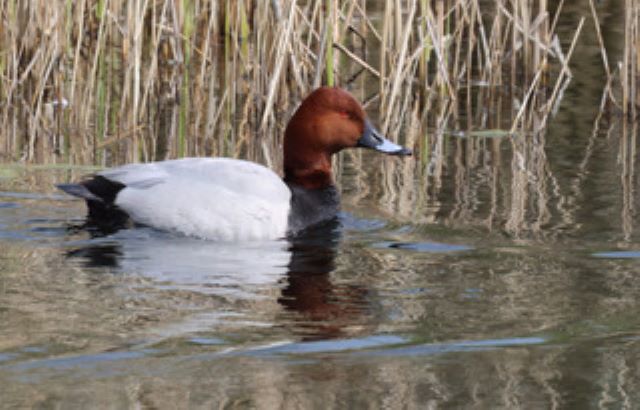 Pennington Flash – Tuesday 21st March 2023
Any visit to Pennington Flash usually results in a good bird list, and our trip there this week didn't disappoint.
On the main flash there was a nice mix of wildfowl including Mallard, Tufted Duck, Goldeneye, Teal and Gadwall.  A pair of distant Common Scoter was unusual for an inland site.
Moving on, a pair of Great-crested Grebes were carrying vegetation to build their nest.  A single Snipe was sitting still amongst some reeds, the striped plumage making it blend in perfectly.  At the far end of the walk, several Mute Swans flew low overhead, making a wonderful sound as well as an impressive sight.
After lunch, we headed out again.  The feeding station at Bunting Hide was mesmerising, with all the expected Tits including Willow, as well as Bullfinch, Nuthatch and Reed Buntings. Interestingly, nearly all the Buntings were males. There was so much activity that you didn't know where to look next! Treecreepers were seen creeping up and down trees!  One Long-tailed Tit was carrying moss for its nest.
The pool at Teal hide held Goosander and Little Grebe.  We had been hearing Chiffchaffs all day, and one bird finally showed well in a small bush by the path. The explosive calls of Cetti's Warblers were heard but typically the birds never showed.
The only hiccup was that the new café was inexplicably closed.  Sorry Joyce! Otherwise, everyone had a great day, with 50 species seen or heard, a nice mix of habitat, and good company.
We had so many excellent photos submitted, it was difficult to select ones for this report.  A big thank you to Bill, Colin and Ellie for their contributions.
Apologies too to Ellie, Colin and Paul for not acknowledging their photos in the last report on Moore Nature.Reserve.
Hugh Stewart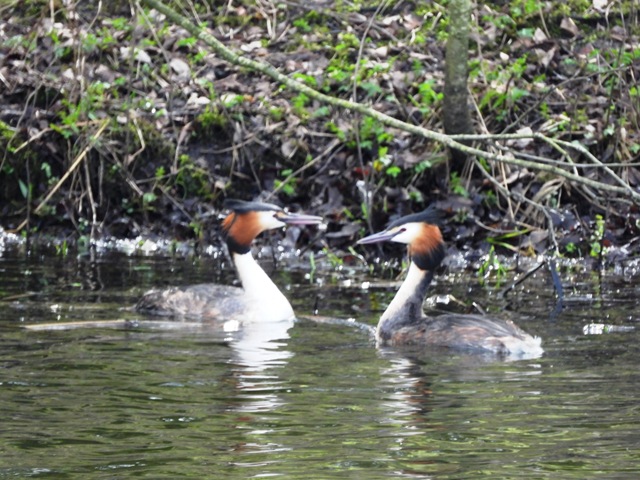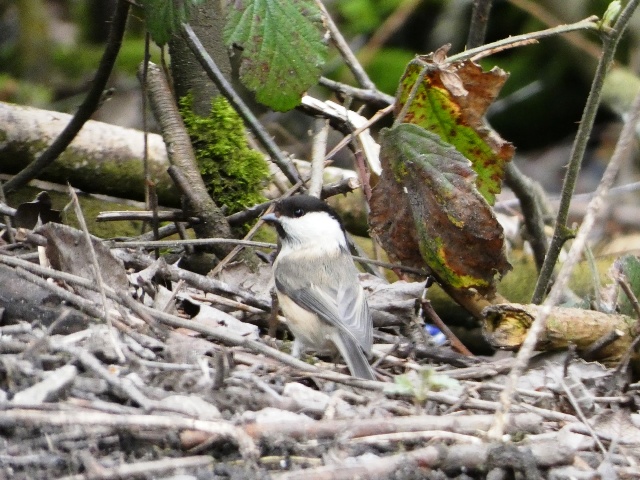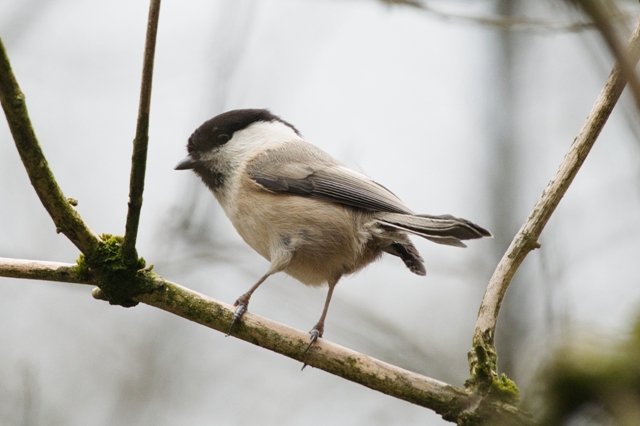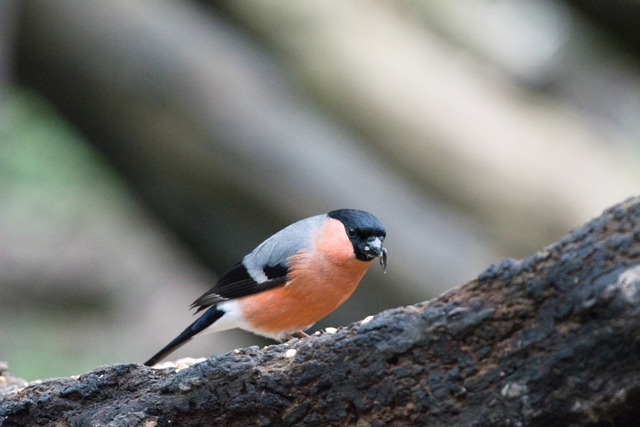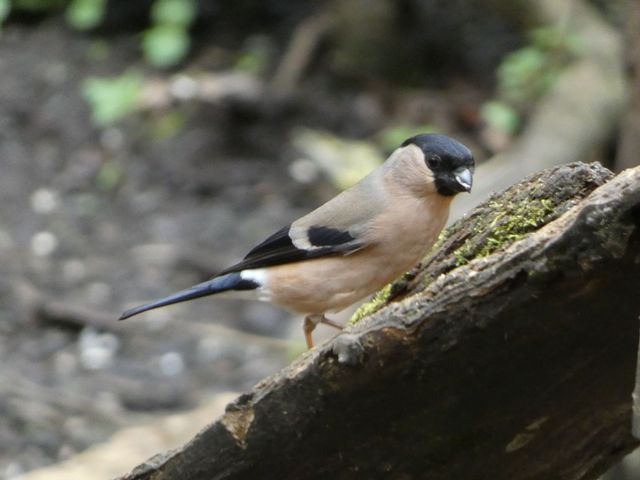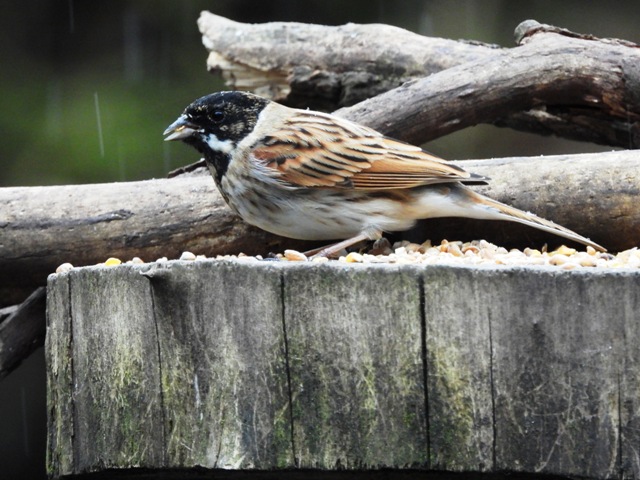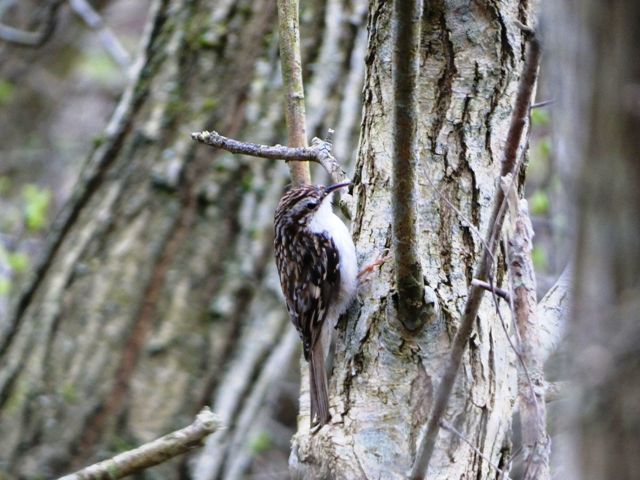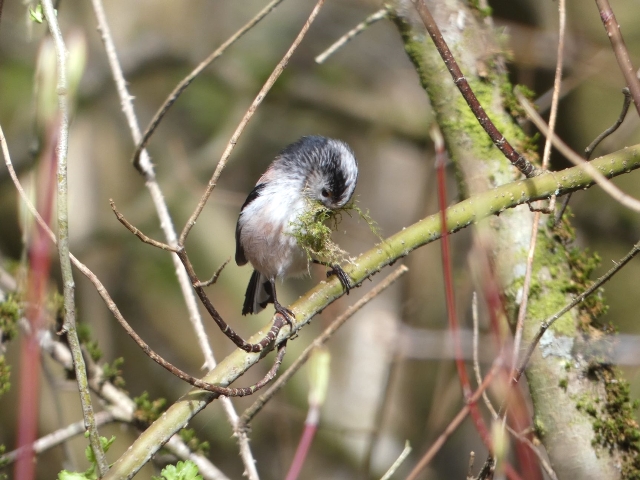 Moore Nature Reserve – Sunday 26th February 2023
We had another great turn-out for Moore Nature Reserve, and a first visit for many members to this site.  Our last trip here was in May 2019, according to my records.
A Buzzard on a telegraph pole beside the Manchester Ship Canal was the only raptor we saw all day despite the still, sometimes sunny conditions.
Many of the duck on Lapwing Lane Pool were already pairing off.  Several Wigeon gave their evocative whistling calls, while Little Grebes trilled. Mallard, Tufted Duck, Teal and two Gadwall were also present, as well as Coot and Moorhen.
We continued walking around the woods and along the route of the old canal and added Treecreeper, Nuthatch and Goldcrest.  The feeding station was not well stocked but still brought in dominant Nuthatch, along with Blue, Great, Coal and Long-tailed Tits and Chaffinch.
After lunch we headed east. Birchwood Pool had a pair of courting Great-crested Grebes, and two pairs of Goldeneye with displaying males.  It was truly wonderful to observe these events right in front of us.  One or two Redwing fed on ivy berries but were very elusive.  OK, we did get a little lost when the woodland path petered out but we finally made our way to Pumphouse Pool!  The water was low here, although there were several Gadwall, but we only added Herring Gull, Heron and Goldfinch to our list here.
Somewhat reluctantly we decided at this point to return to the cars.  We saw or heard some 41 species between us, with the duck and Grebes very much being the highlight for me.  I hope everyone enjoyed the day, and we will have to return during a different season before too long.
Hugh Stewart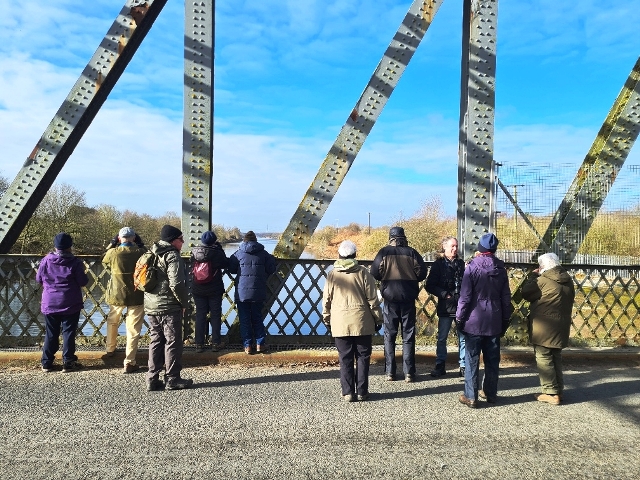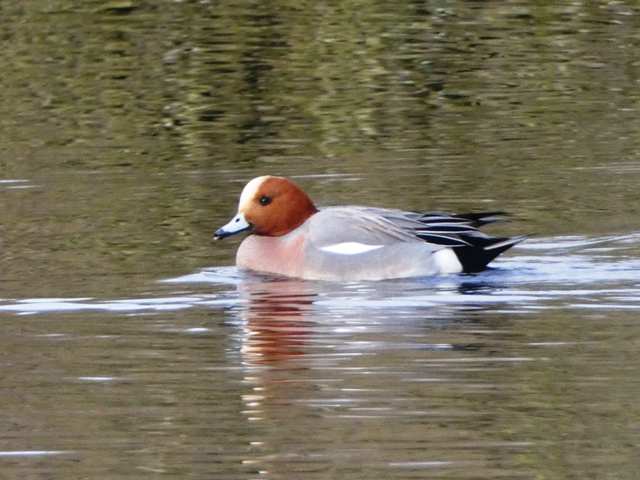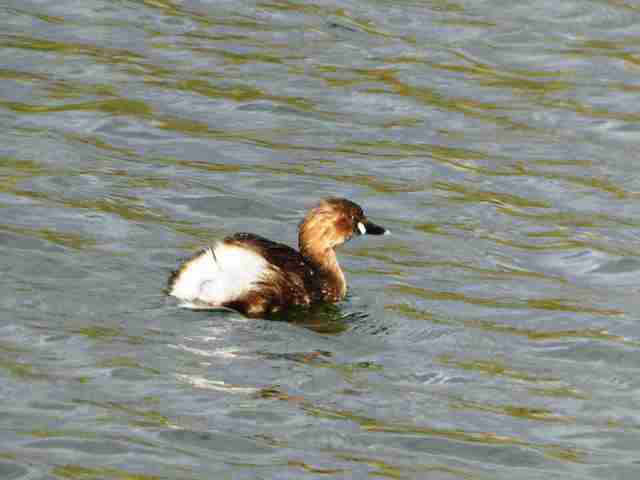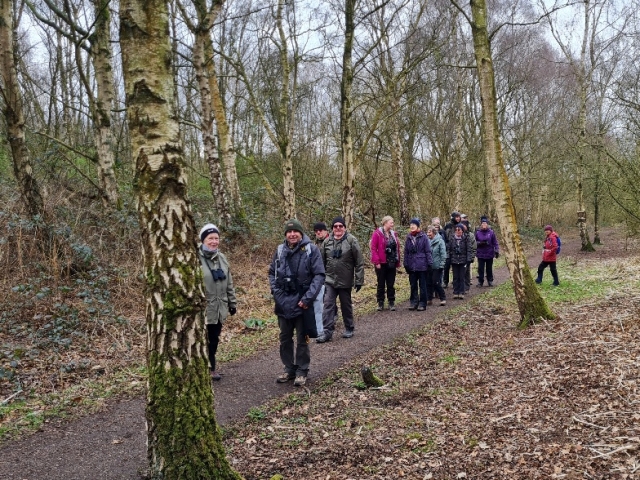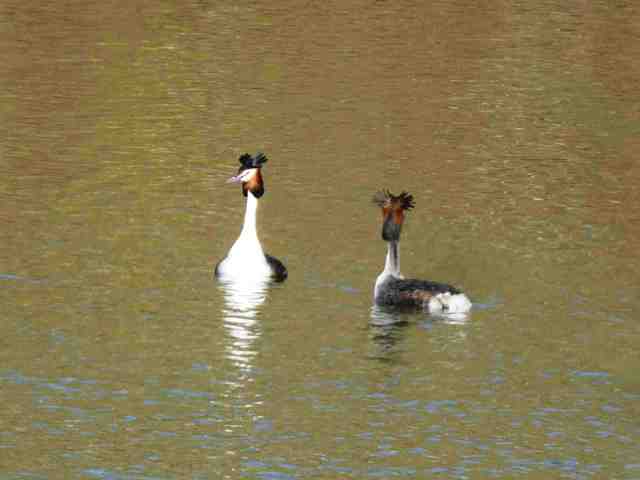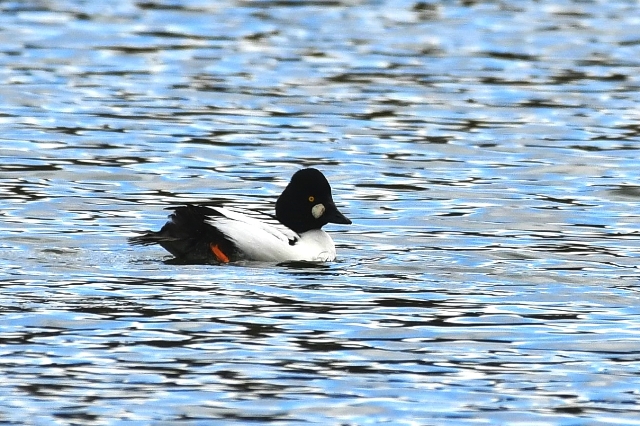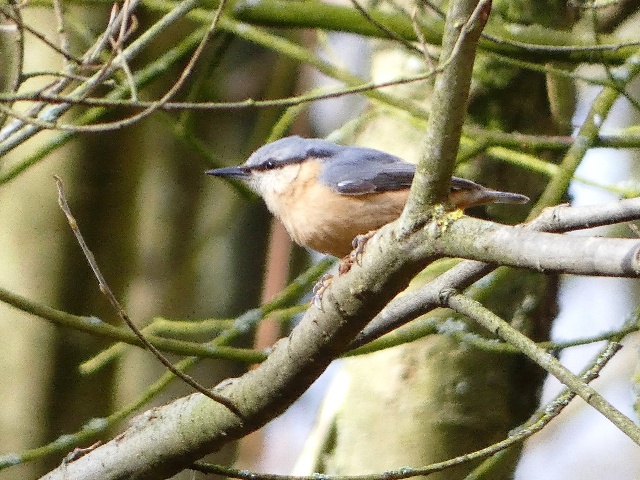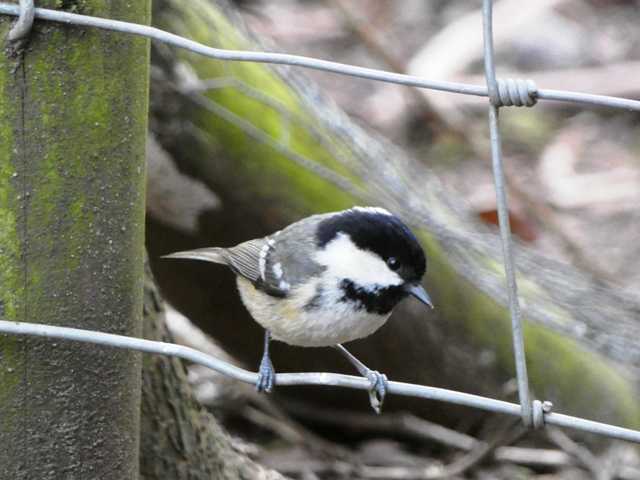 The Shropshire Meres – Saturday 28th January 2023
The Mere at Ellesmere featured the usual eclectic mix of feral duck and geese, including a remarkable Muscovy duck (a species naturally found in South America, Texas and Mexico)! However, we soon picked out plenty of Coot and Tufted Duck.
Two pairs of Mute Swan were not happy with each other's company, judging by the posturing!
On the island, a small number of Heron were bringing in sticks to reinforce their nests, while a couple of Cormorants perched nearby.  More were fishing in The Mere. Two Little Grebes were feeding close to the island.
Walking around the water's edge we saw many Great-crested Grebes, a few already showing signs of their magnificent breeding head plumage.
At the back of The Mere, lots of Goldeneye were seen, but a pair of Goosanders were rather elusive.
Walking into the trees yielded Robin, Goldcrest and common Tits.
As we returned to the cars, a Mandarin was seen by Ellie and Marion.
After lunch we moved a short distance to Colemere.  The woods here were productive with more Goldcrests, two Treecreepers, a flock of Siskin and Nuthatch. There were more than a dozen Goosanders on the water here allowing everyone to have good views at last of these graceful members of the sawbill family.
The final species of the day was an obliging male Kingfisher.  We watched it for several minutes, enjoying it occasionally diving and flying on a short distance before landing again.  It is always a good day that features one of these colourful birds.
Photos courtesy of Ellie and Hugh.
Hugh Stewart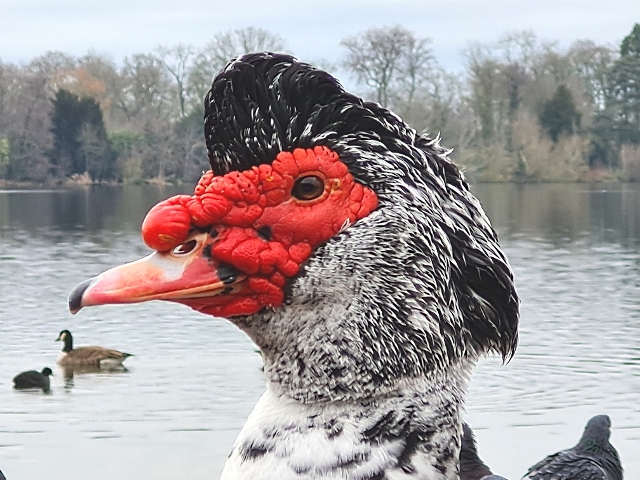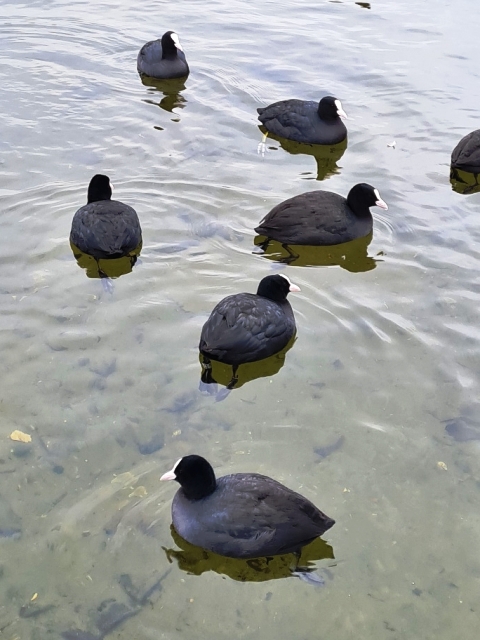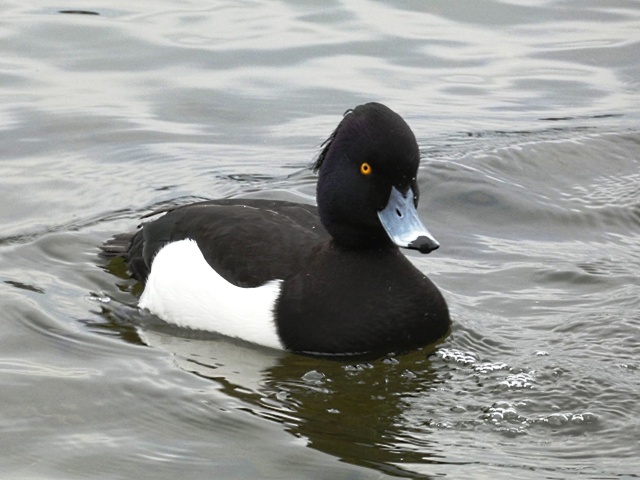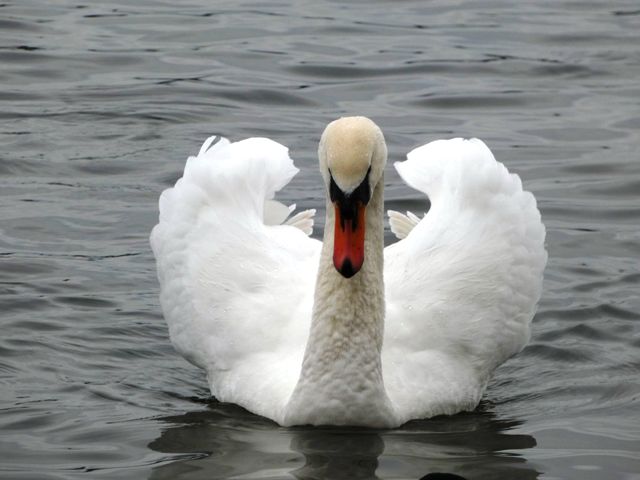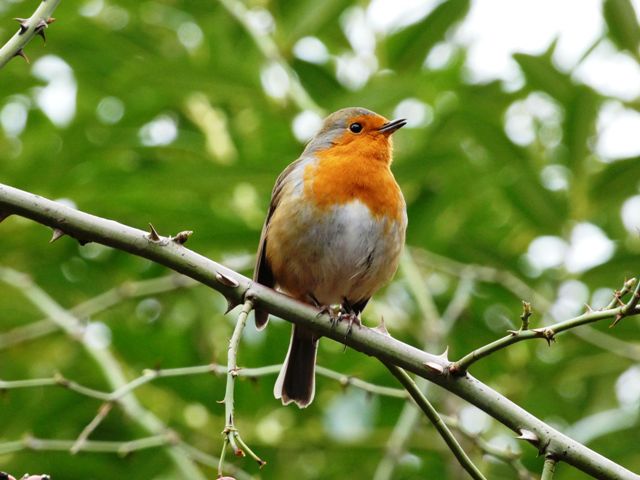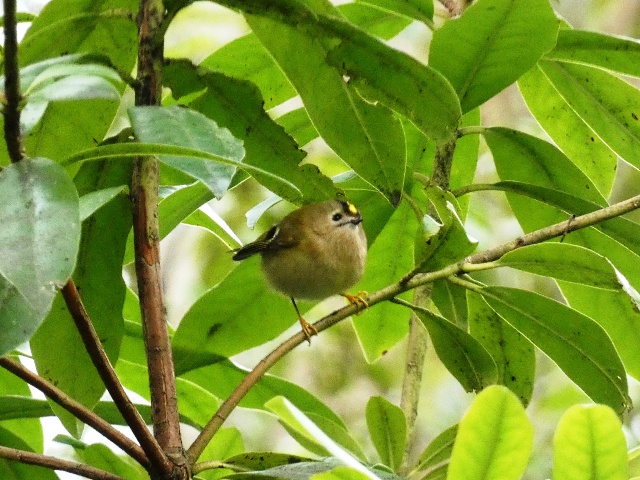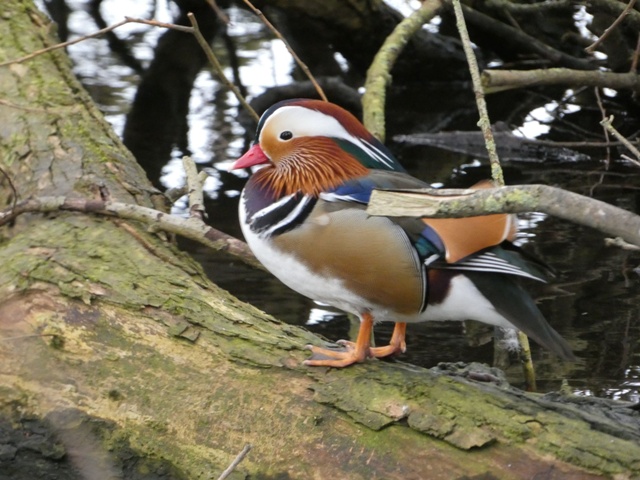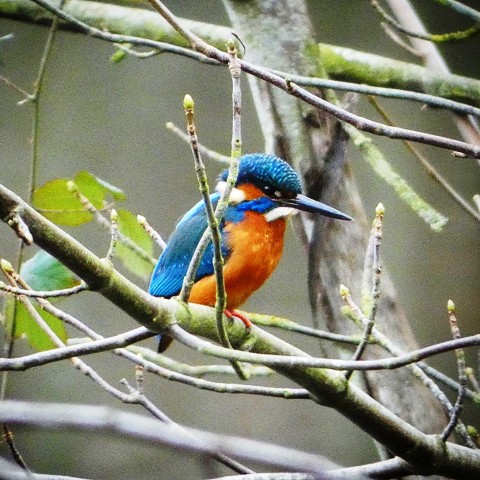 "The Harp" & Denhall Quay – Saturday 10th December 2022
"Mad dogs and Englishmen …" But it was actually 8 mad birders that braved the elements at "The Harp" for our December meeting!  Despite the snow, sleet and ice that greeted us at the rendezvous, we thought we might as well still have a walk – even if we might not see many birds!
Actually, there were Blackbirds, Robins, Wood Pigeons and House Sparrows in the trees and bushes surrounding the car park, as we donned our (many) layers of clothing.  The occasional Starling flew over and Carrion Crows and Little Egrets could just be picked out through the gloom on the marsh.
Following the path along the edge of the marsh, we could hear the evocative "wink-wink" call of Pink-footed Geese far away and eventually a small cloud of birds rose from the marsh and drifted away.  A flock of maybe 150 Wigeon could be identified by the white wing patches of the males just penetrating through the mist.
We made it to Net's Cafe at Denhall and decided to dry out and warm up over a hot drink.  A friendly Song Thrush appeared to be looking for any dropped crumbs!
We noticed that the sky was brightening so we resumed our walk towards Denhall Lane.  A small group of Greenfinches were a welcome sight in the improved light.  We also spied a mixed flock of Redwings and Fieldfares feeding on hawthorn berries and on the ground.  Always wary, we never got great views of them, but they were still nice to see.  The photos attached were not from this trip, as you can probably tell from the bright conditions!  They were taken at Ness Gardens a few years ago.
At this point, the sky was looking threatening again to the west, so we returned to the cars.
We may not have seen many of our target birds, but everyone enjoyed the fresh air and jovial company.
Thank you to John Carus for the two "group" photos – OK, it was a small group this time!  Hopefully the weather will be better next time.
Hugh Stewart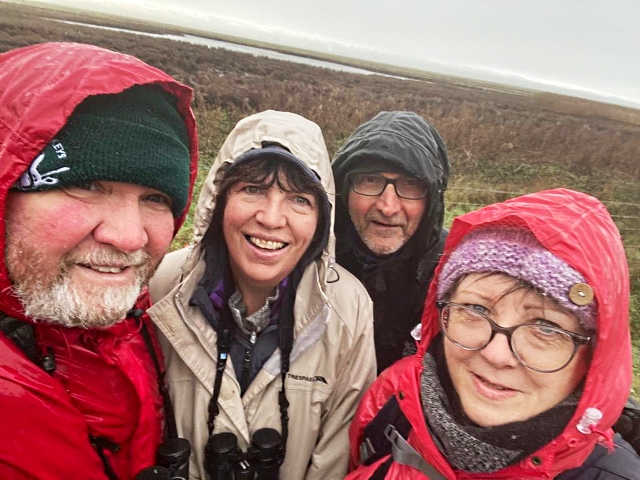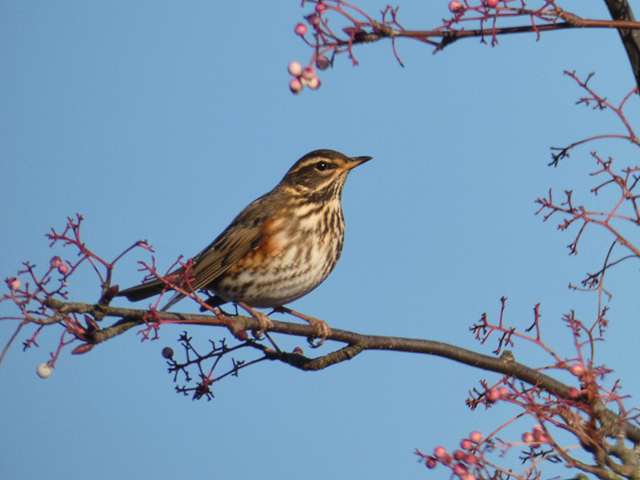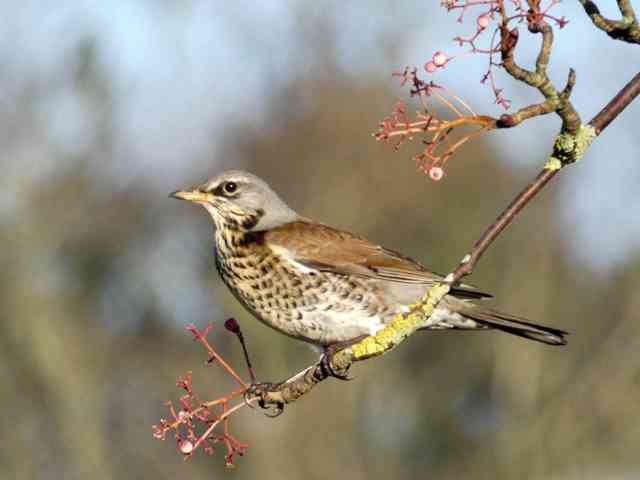 Hale Lighthouse – Sunday 27th November 2022
There was a wonderful turn-out for our Hale trip, 21 people in total.  It is gratifying that Members are supporting the programme so well.  We had the obligatory group photo by the Childe of Hale statue.
The walk down the road towards the lighthouse yielded the expected Blackbird, Robin, Starling and Collared Dove, and a small flock of House Sparrows.
The first grass field held at least 30 Curlew and a gaggle of Canada Geese. Unfortunately, there were people on the shore so we saw only Mallard and Teal here. But walking a little way up-river we found some hoped-for waders – mostly Redshank plus a couple each of Turnstone and Oystercatcher.  A party of 3 Stonechats brightened up a grey day.  Surprisingly, there were several Cornflowers in bloom – or maybe not so strange given the mild autumn.
We started retracing our steps back to the village for lunch.  En-route, we saw a family of Pied Wagtails, which included 2 juveniles with a yellowish wash to their faces.
In the afternoon we walked to Hale Duck Decoy.  We scanned Carr Lane Pools, but they were very quiet.  We did see a male Sparrowhawk being chased away by 2 Crows though.
Our tour of the Decoy was a great success, a first visit for most members. We were guided around and given an informative commentary by the 3 volunteers from the Friends of Pickering Pastures, on the history and functioning of the Decoy.  Simply, it was an old system for catching duck for the pot, before guns were invented.  We've included a photo of one of the "pipes" used to funnel the duck.
Bird highlights here were a Green Sandpiper, Little Grebes and for a lucky few a brief glimpse of a Barn Owl.  We also saw some of the continental sub-species of Cormorant (P. carbo sinensis) that now breed here, flying in to roost for the night.  A big thank you to our hosts for a wonderful and unique experience.
We sadly made our way back to the cars, ending another successful trip.
The photos are from Ellie and Bill, thank you.
P.S. Following the visit, we were informed that our donation to the Decoy would go towards the repair of the boardwalks.
Hugh Stewart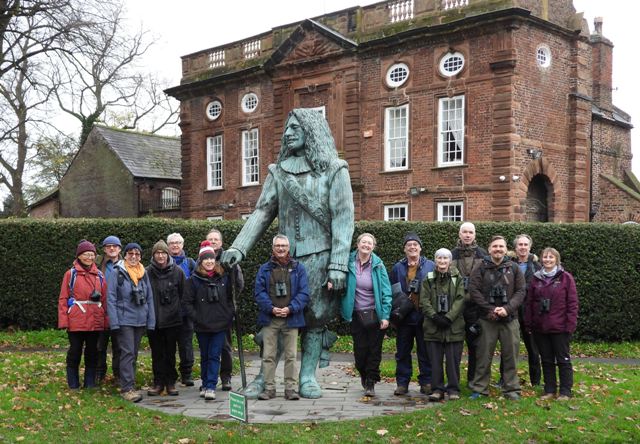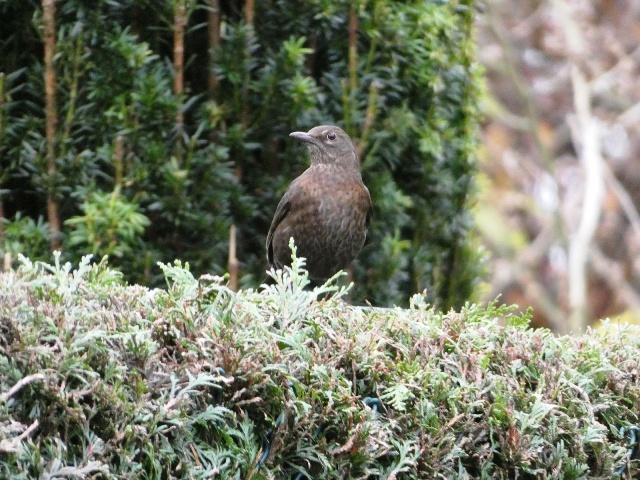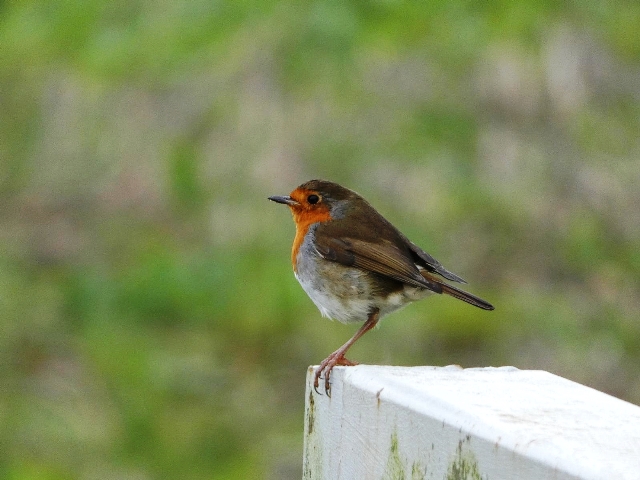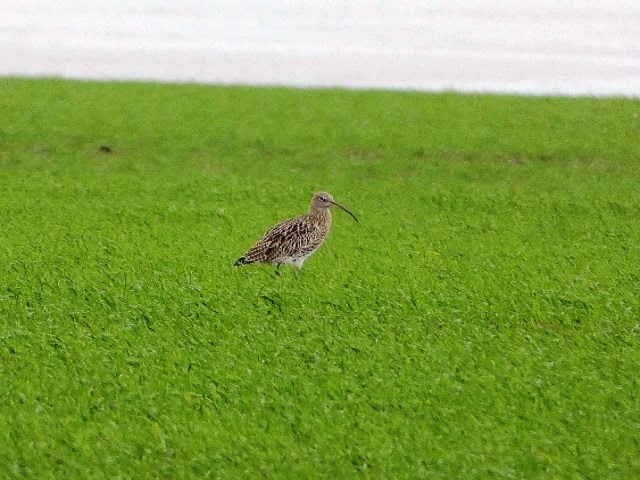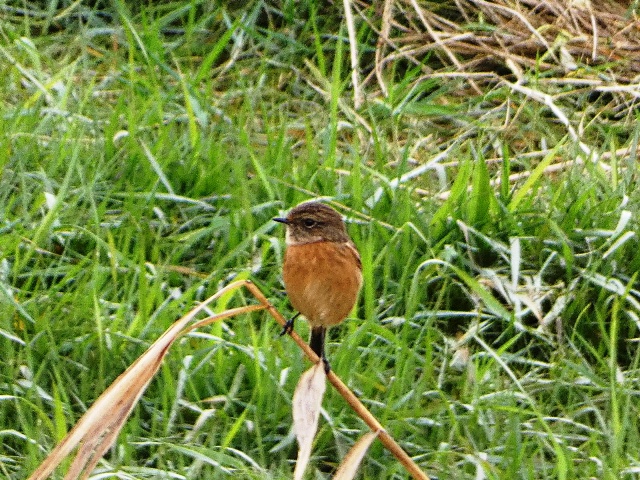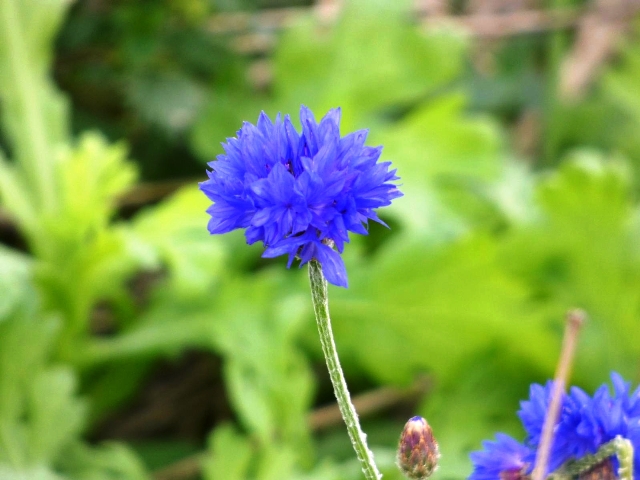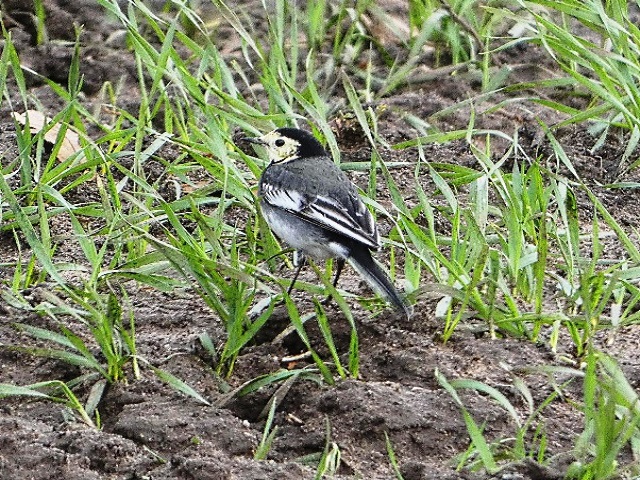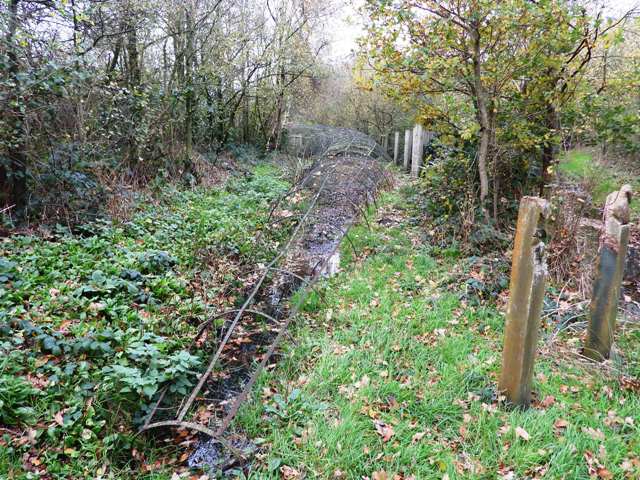 Marbury Country Park – Saturday 8th October 2022
It has been a while since we visited Marbury Country Park, but I think everyone enjoyed the day, with a good variety of birds seen.  The weather was a great improvement on Leasowe too!
Greenfinch were nice to see, with a mix of bright males, females, and streaked juveniles.  The mere held lots of water birds as expected.  From the reedbed hide overlooking Budworth Mere, there were huge numbers of Great-crested Grebes, a couple of Little Grebes and several Tufted Duck.  At the back, Greylag and Coot were the main species, with Cormorant and Heron also.
The woodland hide had the best feeding station with 2 busy Nuthatches plus Blue, Great and Blue Tits.  A Buzzard circled low overhead giving great views.  We dragged ourselves away to have lunch.
After the break, we walked towards the other end of the reserve.  Sadly, Hadyn's Pool was overgrown and dry, but further on Neumann's Flash was productive.  There were numerous Lapwings, Teal and at least 2 Ruff and a single Curlew.  2 Snipe hugged the reeds.
Sighting of the day was a Water Rail strutting across the water in front of a lucky few. On the way back, a very brief Kingfisher was missed by nearly everyone!
In total the group saw/heard at least 46 species, plus butterflies and dragonflies out in the afternoon sunshine.
It was a longish day but well worth the effort.
Photos courtesy of Ellie, Maks and Hugh
Hugh Stewart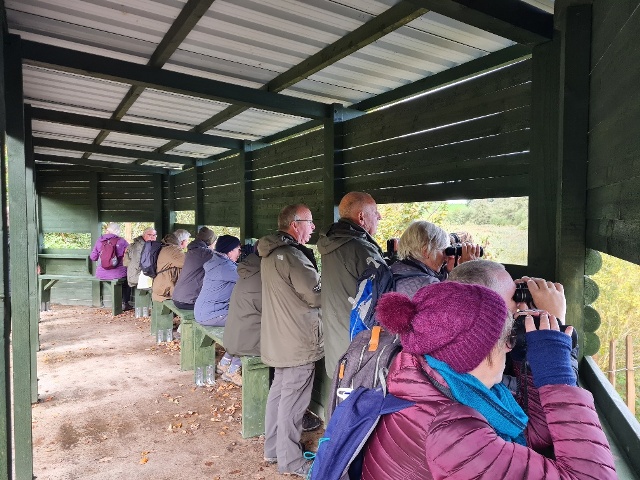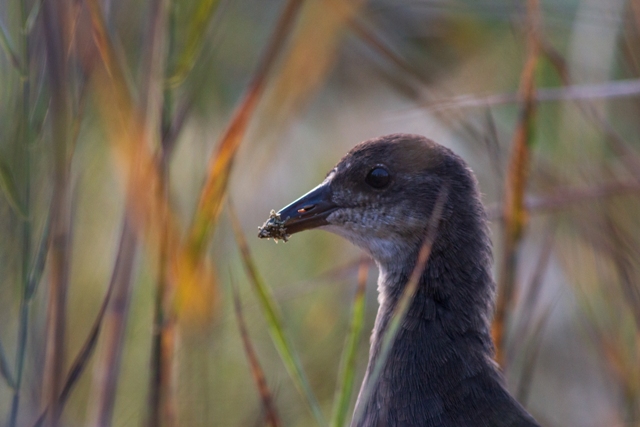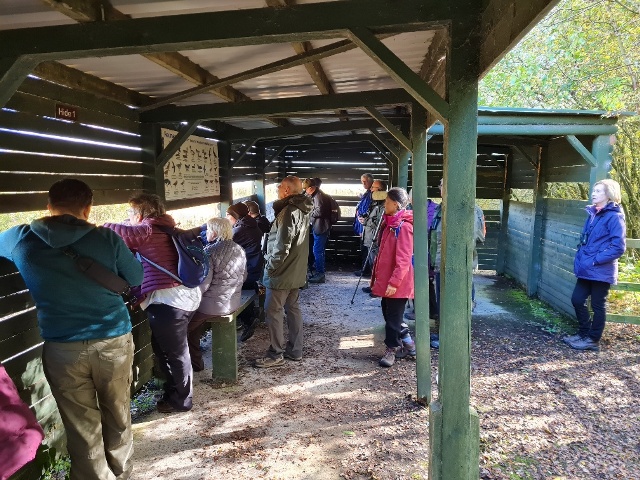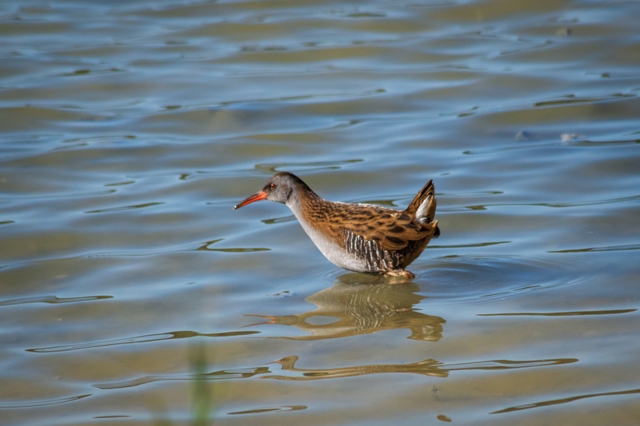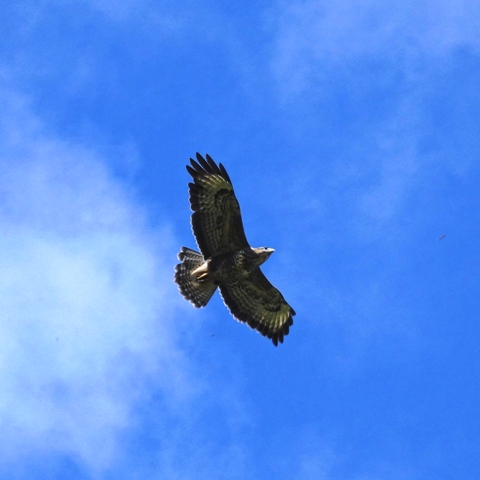 Leasowe – Tuesday 27th September 2022
Oh why couldn't the summer have lasted another week?!  But despite the wet and windy day, an awesome number of Members gathered by the Lighthouse.  Thank you everyone for turning out.
We set off along Lingham Lane to gain some shelter from the wind.  Within a short distance we enjoyed single Chiffchaff and Grey Wagtail, and a charming pair of Goldcrests.  A Sparrowhawk sped over the fishing lake.
Moving on, behind the horse paddocks were good numbers of Little Egrets and Curlews, roosting over the coming high tide, with more Curlew flying in to join them.  A few Swallows and one House Martin flew low over the same field.
A mix of waders were sitting on the groyne, mostly Redshanks, plus the odd Oystercatcher, Turnstone and Knot.
Many members departed at lunchtime – I don't blame them!  But an intrepid 4 of us walked up to scan Kerr Fields. We were rewarded with lovely views of a couple of Goldfinch feeding on seed heads, a party of 6 Mistle Thrushes and a female Kestrel hunting along a fence-line.
At the Green Hut Cafe, hoards of Starlings swooped on any dropped crumbs!
Our final bird was a female Wheatear on the Prom, feeding up before continuing on her migration south to central Africa.
The conditions made birding hard, but we still saw 39 species between us, including some quality birds.  Hopefully the weather will be kinder for our next trip!
Photos courtesy of Ellie, Peter and Bill.
Hugh Stewart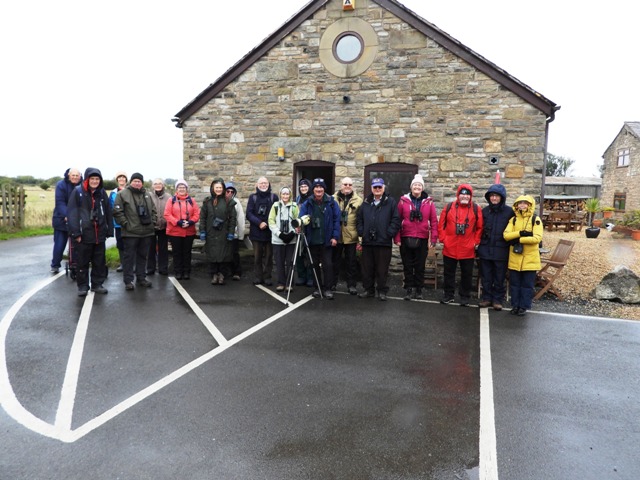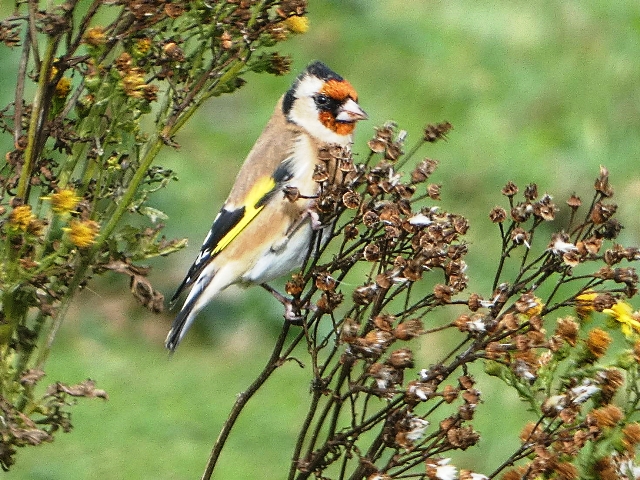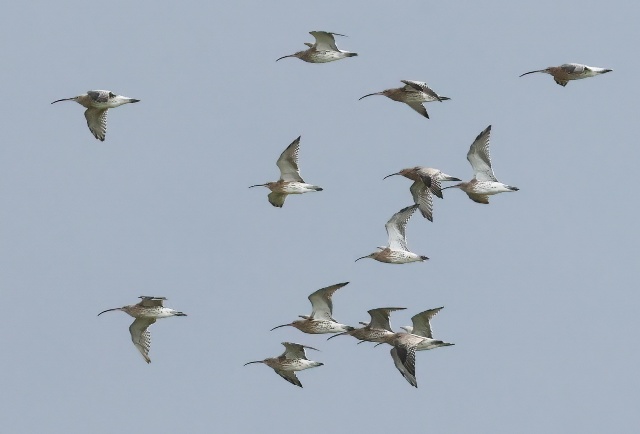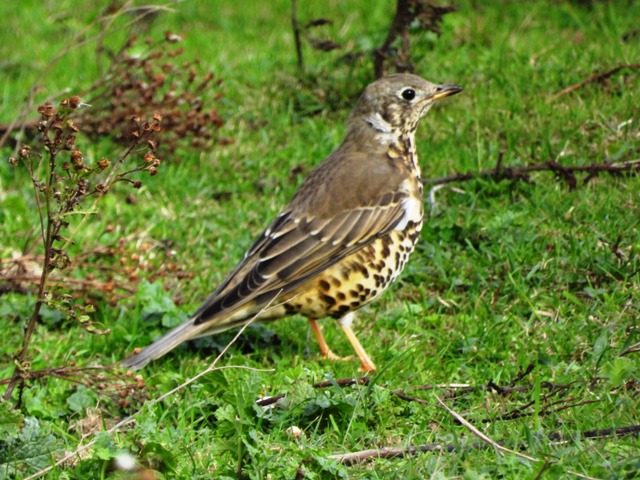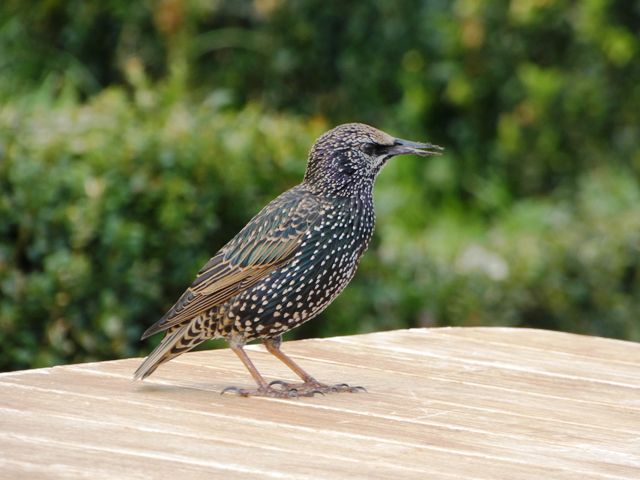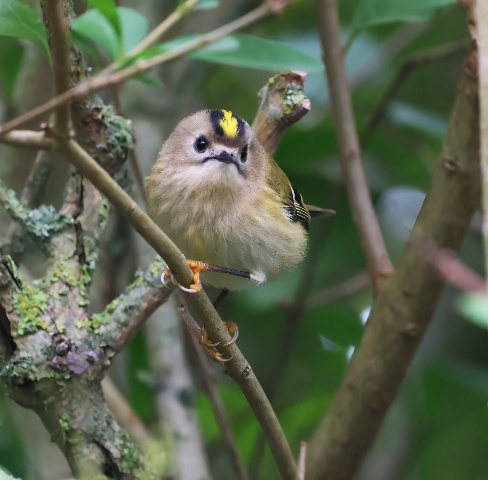 Cilcain – Saturday 16th July 2022
With high temperature warnings for the following couple of days, there was a slight concern that conditions would be uncomfortable.  But as we started our walk, the weather was perfect with high broken cloud and a slight wind making it comfortable.
Overhead were a mix of active Swallows, House Martins and Swifts. We were accompanied by Buzzards for much of the day, their mewing calls often drawing our attention.  At one spot on the tree-lined track a flock of Long-tailed, Blue and Great Tits played hide and seek amongst the leaves. There were glimpses of 2 or 3 Bullfinches.  Then we had good views of a young male Redstart developing its grey back but still with streaky juvenile breast feathers.  A gorgeous looking bird.
By an isolated house we came across a wild Welsh cat!  Butterflies were much in evidence including Small Tortoiseshell (photographed), Ringlet and Meadow Brown and one of the blue Damselflies.
We emerged into more open moorland, with ferns and flowering heather.  Here were a number of Stonechats in family groups – so many it was difficult to keep a tally. Linnets and lots of Meadow Pipits were seen too. We had been scanning for them and we finally saw a flock of 7 Ravens flying by and circling in a thermal.  A "honk" helped confirm their identity.
We reached the high point of the walk before dropping down to the valley stream for lunch.  We copied the sheep and found some shade under a tree. Tim even had time for a nap!
As we were eating, we heard the rattle of a Yellowhammer but couldn't spot it. However when we continued our walk we saw 2 male Yellowhammers fly by and one landed in a nearby tree, giving great views.  This was the highlight for us as this species is sadly in serious decline locally.  On the top reservoir a Grey Wagtail gave fleeting views for some, and the lower water yielded a Grey Heron that alighted in a conifer. As we returned to the cars, the day was warming up as the clouds had dispersed but it was never unpleasantly hot.
There were only 6 of us out but the beautiful scenery and some special birds combined to make a cracking day!  Identifying the many juvenile birds added to the fun!
Hugh Stewart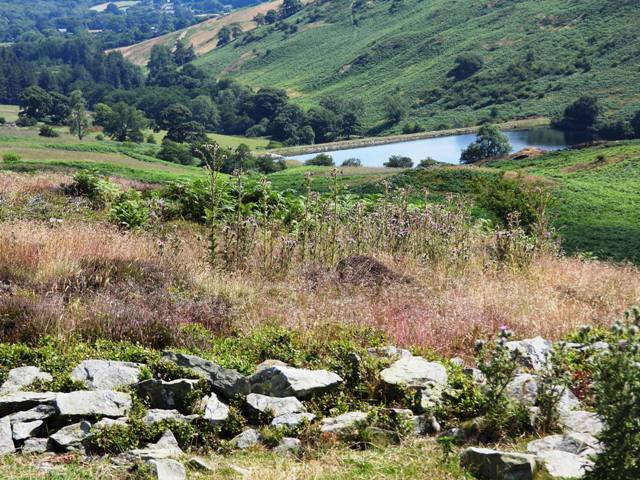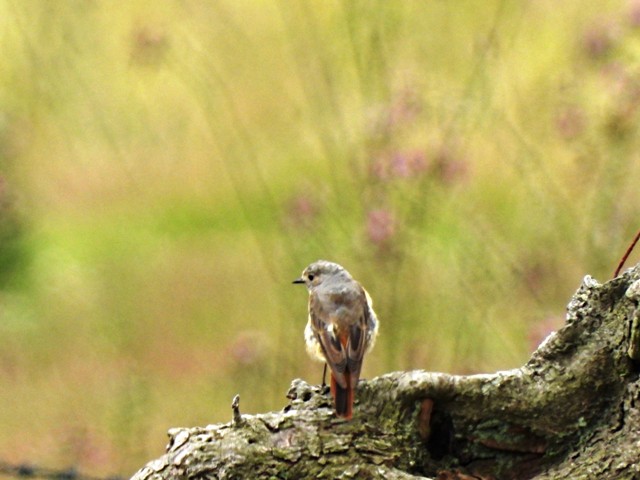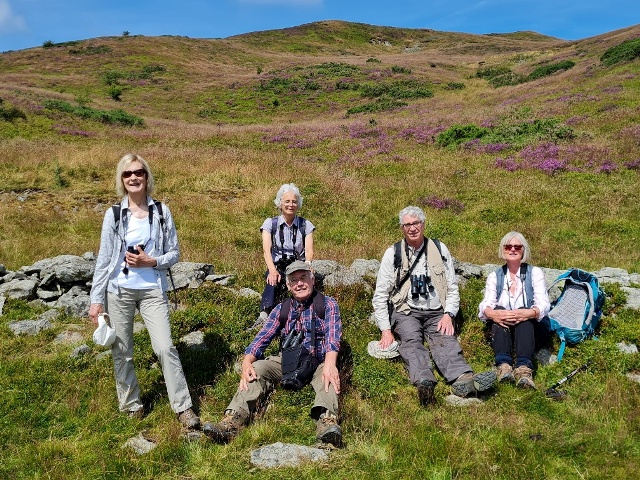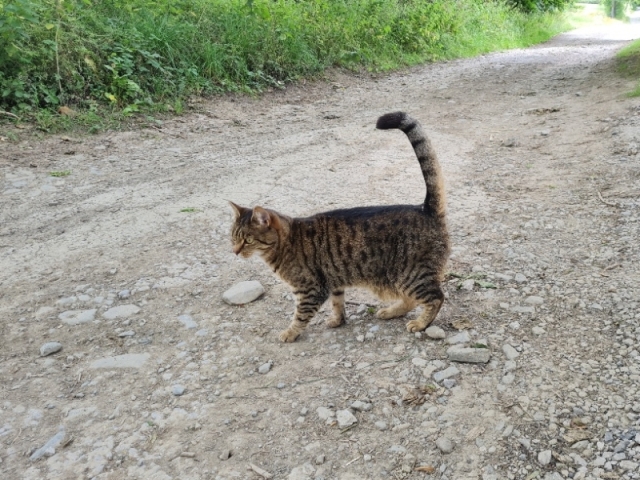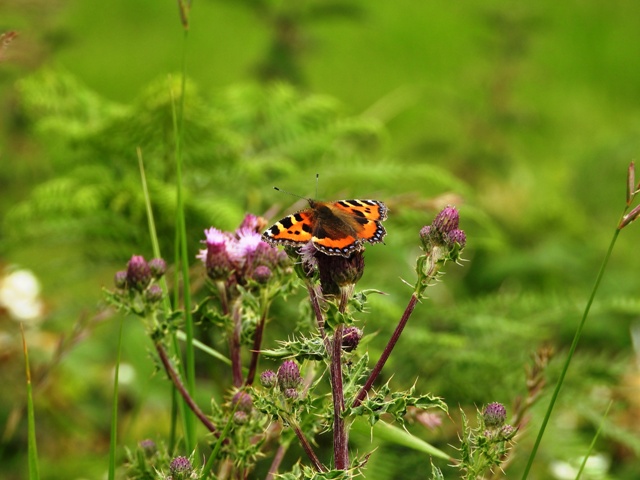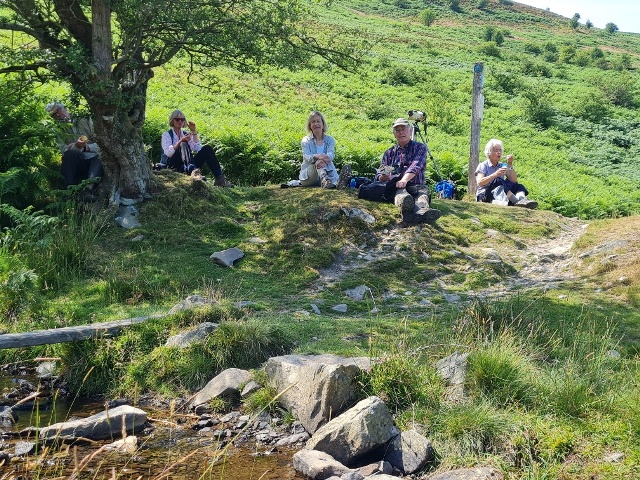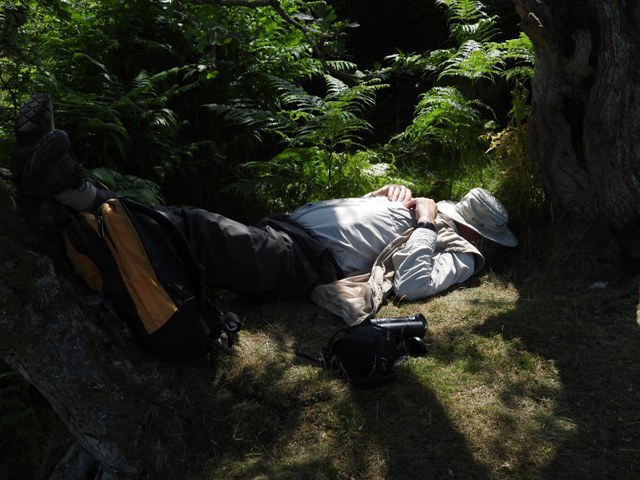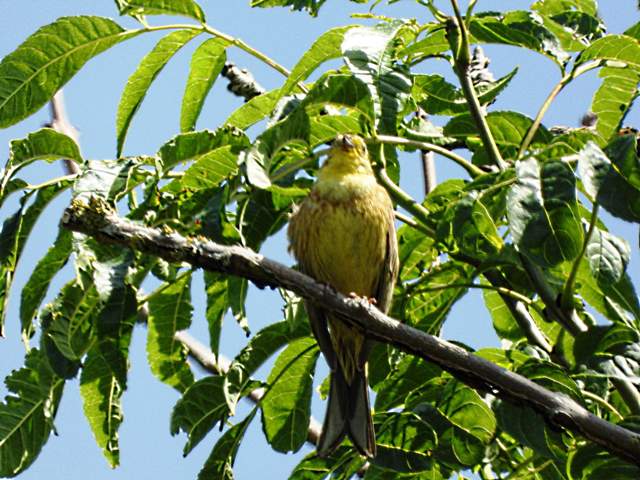 Carsington Water – Sunday 26th June 2022
What a wonderful day we enjoyed at Carsington Water on our latest coach trip! Those members who didn't go missed a real treat.  The weather was kind, the scenery was beautiful, we saw a nice variety of birds, and there was even a vintage car rally to add to the interest!
After a brief visit to the impressive Visitors Centre, we meandered to the Wildlife Centre hide.  We stayed here quite a while as we ticked off Little Ringed Plover, Red-crested Pochard, Common Sandpiper.  There were numerous Great-crested Grebes and a couple of Little Grebes.  House and Sand Martins fed over the water. Canada Geese had cute goslings in tow.  Unfortunately, the feeders were empty but a single Tree Sparrow sat on top expectantly.
Eventually we dragged ourselves away to continue following the path around the reservoir.  At one point a mixed flock of Blue, Great and Long-tailed Tits were seen feeding intently amongst the trees.  We stopped for lunch at Lane End hide before carrying on again.  At Paul Stanley hide, we were surprised at the large number of male Tufted Duck all gathering together.  We speculated whether it was a stag party!
At this point, we decided to turn back. Not long after, a female Ruddy Duck was found amongst a large flock of Canada Geese just off-shore from the Sheepwash car park.  Blackcap, Chiffchaff and Willow Warbler were all heard but were difficult to spot in the lush foliage.
It was not just birds to admire – there were some impressive wild flower meadows, with Common Spotted Orchids and Yellow Rattle dotted around amongst other species.  
We got back to the centre in time for refreshing drinks and ice-creams before returning to the coach.
We saw (or heard) 50 species as a group, a nice round number. 
Hugh Stewart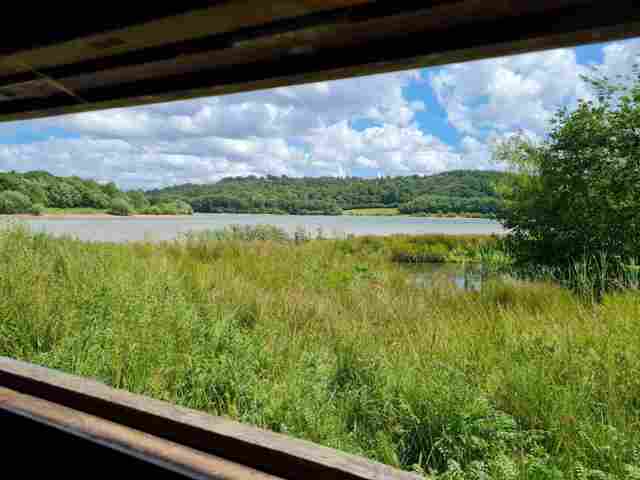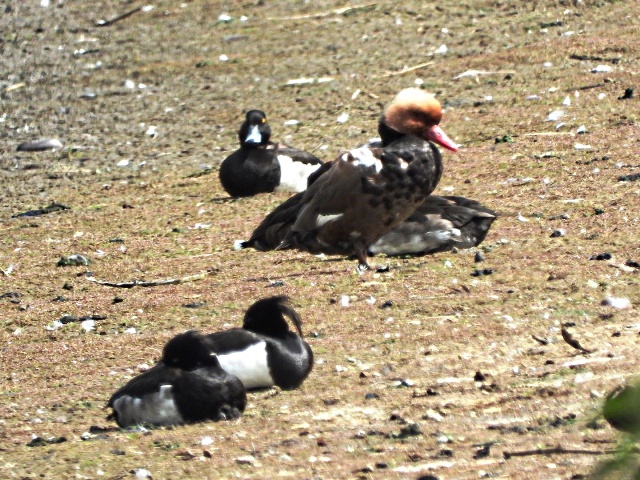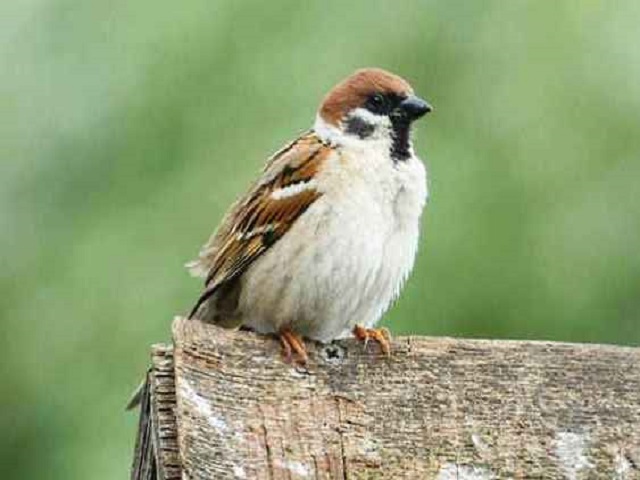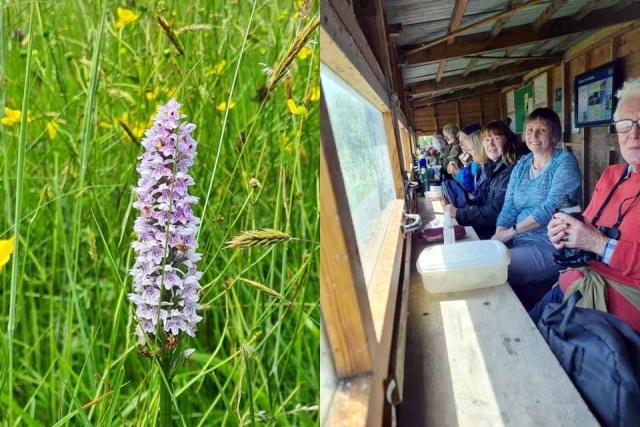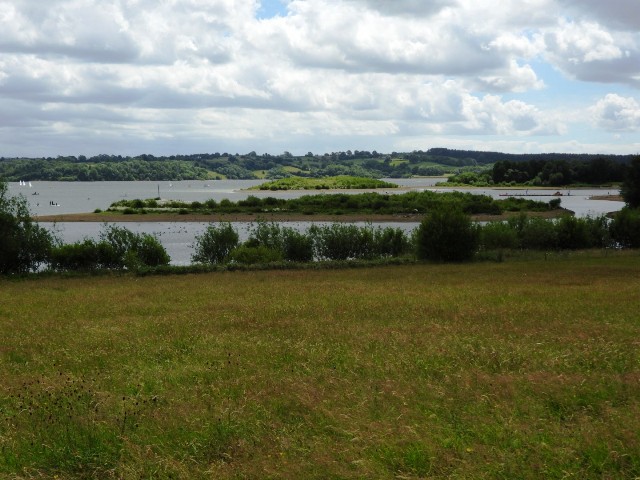 Abergwyngregyn – Thursday 9th June 2022
Not exactly Flaming June, but we had an enjoyable day, with only a few spots of rain briefly.
We strolled slowly up through the village, seeing House Martins still visiting nests on the old hotel, House Sparrows chirping in the gardens and Jackdaws overhead.
Continuing up the wooded valley, Paul did well to spot a well camouflaged Grey Wagtail on a grey and yellow (lichen) rock in the river!  A little further on, a Dipper appeared and stopped briefly before flying up-stream.  Most of the group managed a glimpse – sorry Joyce!
As we proceeded, the woods opened up partially.  Scanning a stone wall, a female Redstart was dropping to feed in the ferns before returning to the wall. It was somewhat distant, but we were to enjoy closer views of both female and a smart male bird later.  A Garden Warbler was heard but refused to show itself.
Chiffchaff, Willow Warbler and Blackcap completed the warbler species seen or heard.  Close to the Falls, a family of Wheatears were feeding and being fed.  At our lunch stop we were entertained by both Redstart and Siskin.
The return back did not add too many more species, but was pleasant nevertheless.
Back at our cars, we started to disperse for the journey home.
Another successful trip was completed, with all the main target species seen.
Hugh Stewart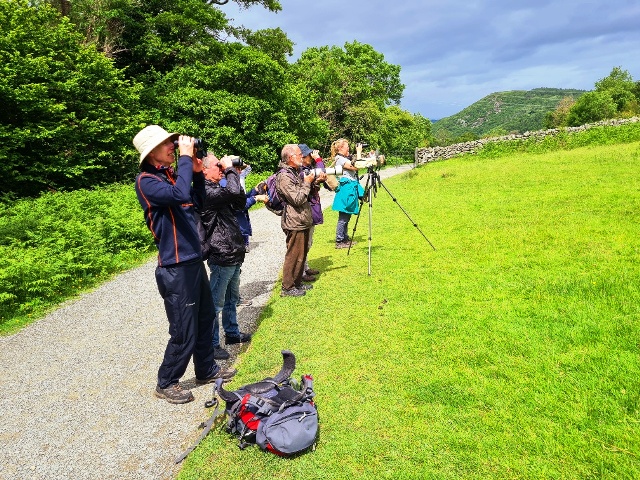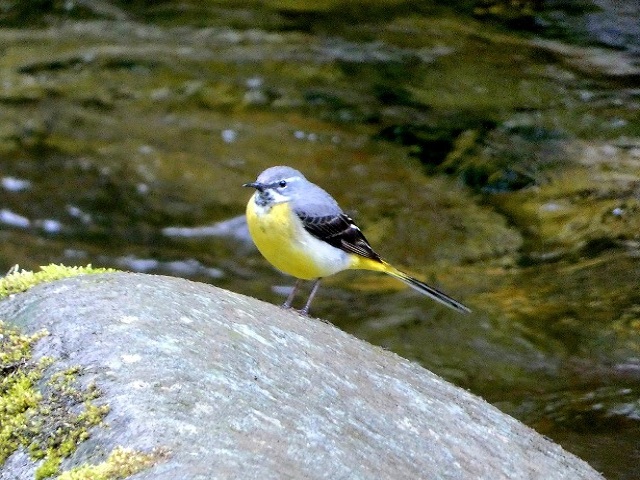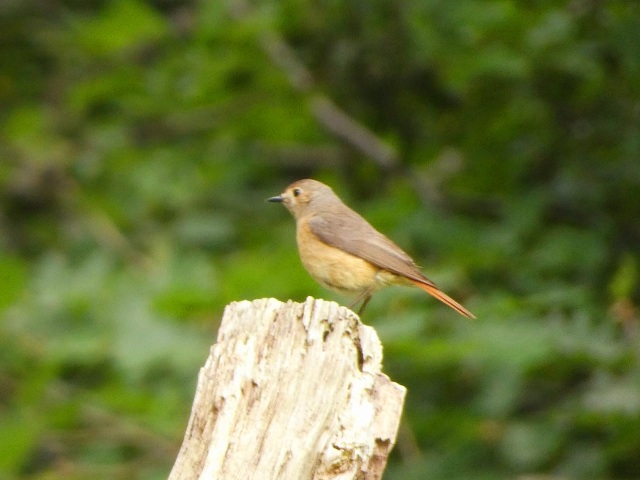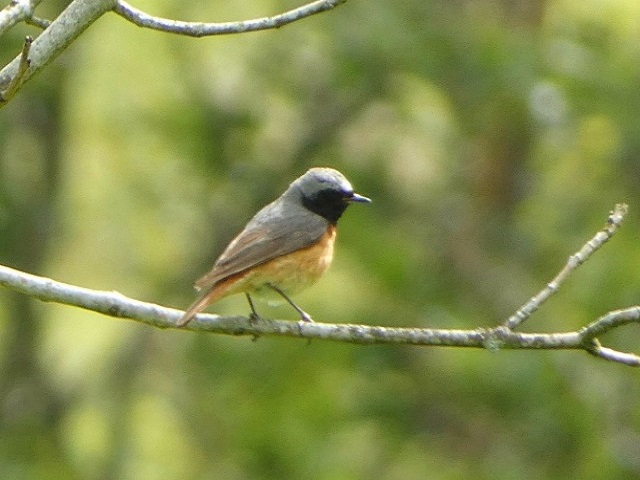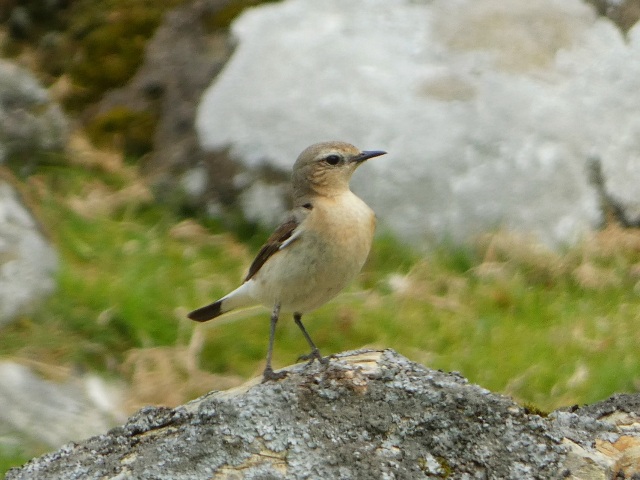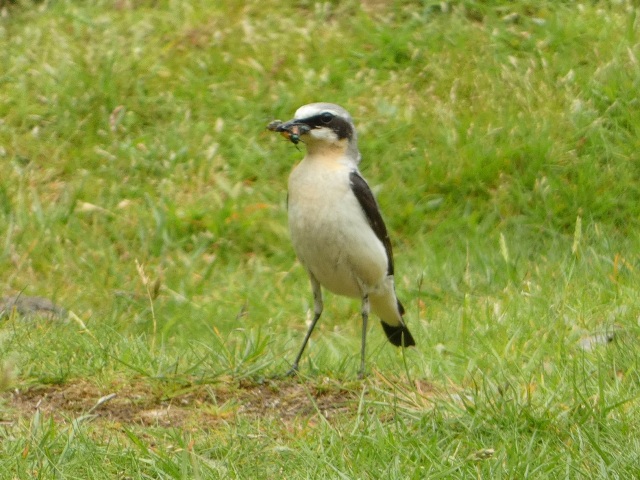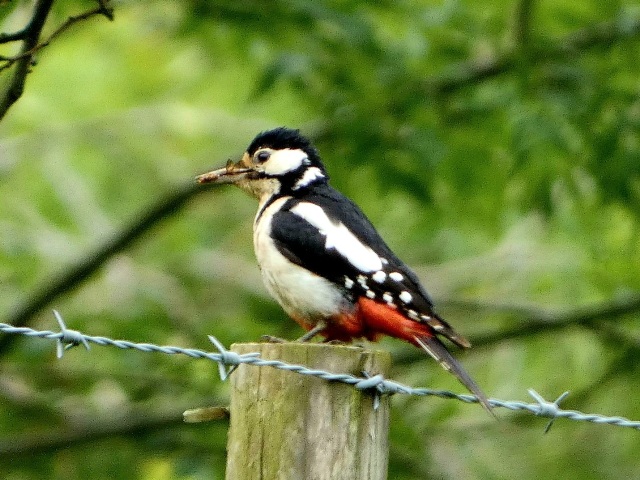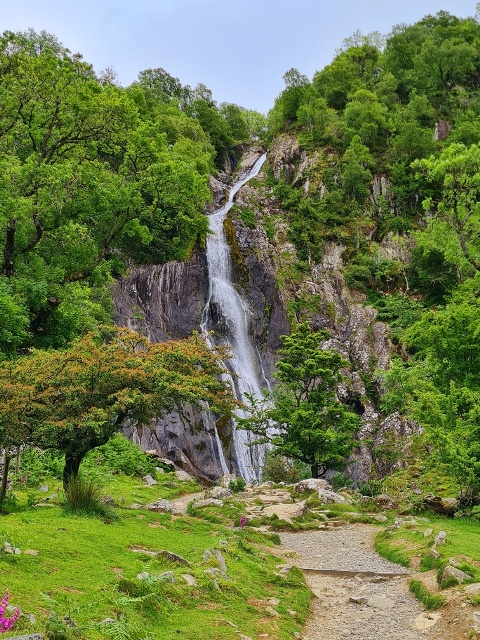 Bolton Abbey – Saturday 7th May 2022
What a wonderful return to our coach trips after a 2-year enforced break. Bolton Abbey and the River Wharfe provided a spectacular setting, and the birds did not disappoint.
From the Abbey car park, we walked down to the river and started to follow it upstream.
It was pleasing to see so many Common Sandpipers on the rocks lining the river. Curlews occasionally flew over giving their bubbling call.  We also enjoyed incredibly close views of both male and female Goosanders on the water.  Not everyone's cup of tea, but Mandarin Duck were also common, the males looking especially gaudy decked out in their colourful breeding plumage.
In the woods, a pair of Pied Flycatchers were showing great interest in a hole in a large dead tree, enabling excellent views of both birds.  Chiffchaff, Willow Warbler and Blackcaps were seen, all singing in earnest.
Our lunch break beside the river was accompanied by Mallard and Black-headed Gull interested in any dropped titbits!  Red Kite was seen crossing the valley, a sign of their continuing expansion from the reintroduction schemes.  On a quiet stretch of the river, Sand Martins were busy swooping about and investigating nest holes on the sandy bank.  Dipper and Kingfisher were seen by a lucky few only in this area too!  Pied Wagtails were frequent, but Grey and Yellow Wagtails were also seen.
As we returned to the coach, ice creams seemed to be a popular reward for our efforts!  51 species were seen by the group in total, a good number and including stunning views of some of the birds.
A big thank you to the Members who supported this trip after the break.  We are sure that the next coach meeting will be equally successful.
Hugh Stewart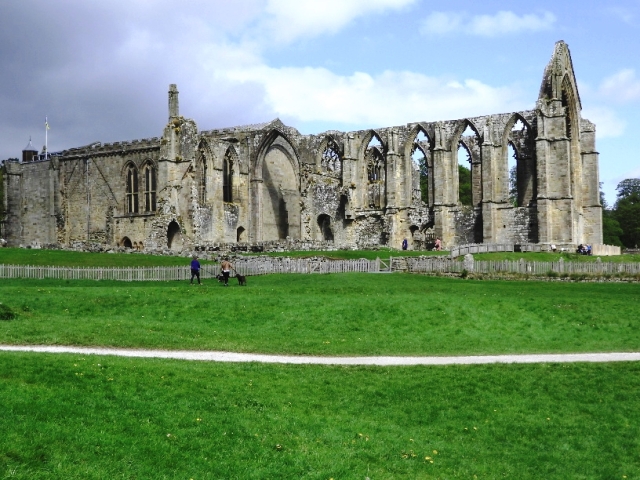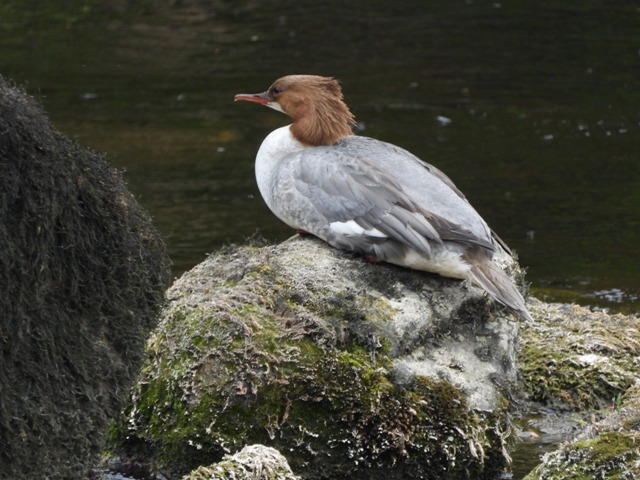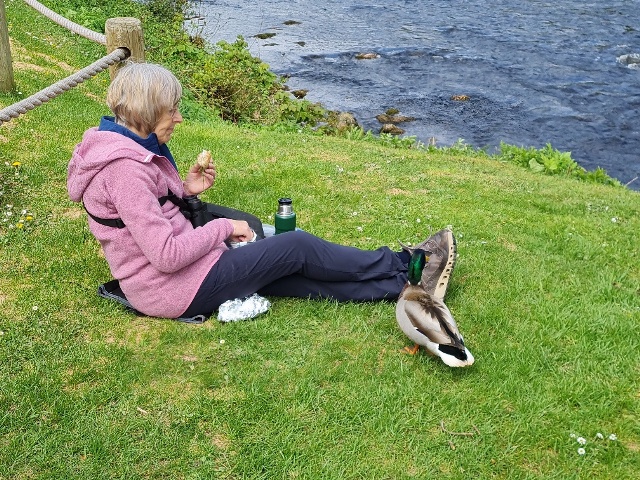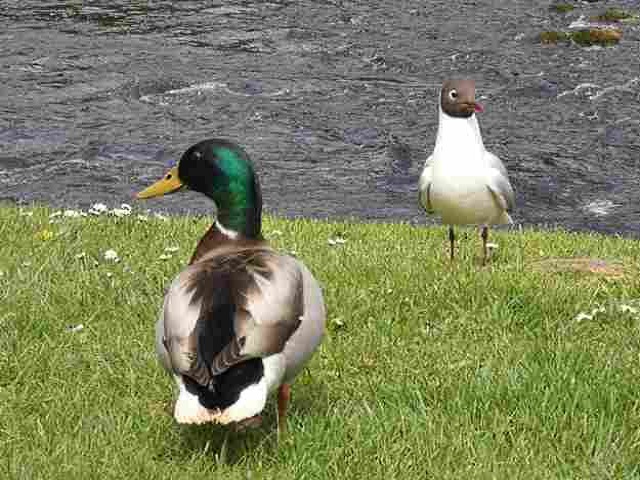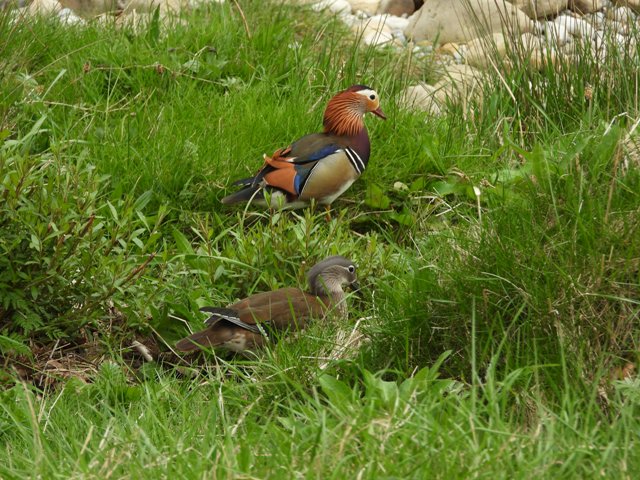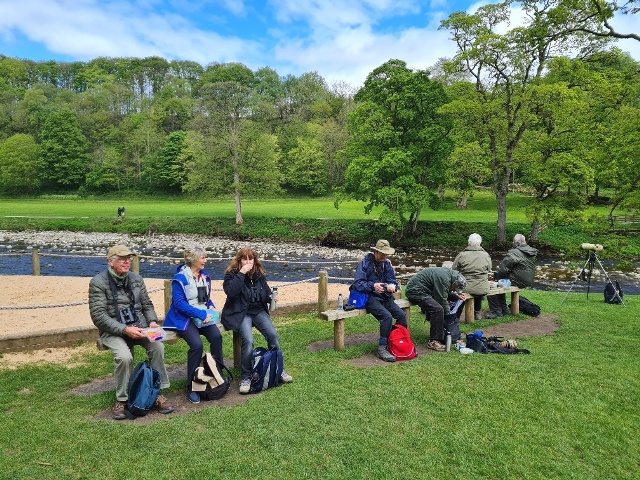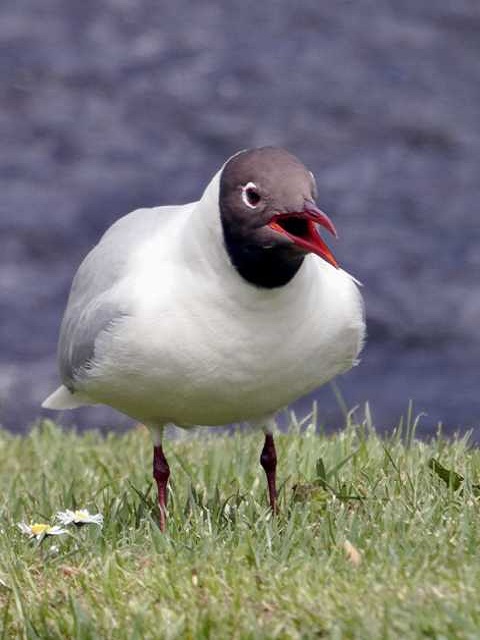 Chester Greenway – Wednesday 14th April 2022
Joyce and I were the first to arrive at the rendezvous, and were rewarded with a glimpse of a Sparrowhawk speeding over the car park and into a garden!
There was a slight drizzle falling as we all departed on our walk, but luckily this cleared up with occasional glimpses of the sun.  Wood Pigeons and Blackbirds were plentiful in the park.  Onto the Greenway proper, we quickly began to hear Chiffchaff, and there seemed to be singing birds regularly along the whole walk!  They were generally showy although mostly high in the trees, but Ellie did manage this image below.
Blackcap were fewer and more skulking, but most of us saw at least one eventually. After hearing a couple of snippets of the lovely descending song of Willow Warbler, one finally showed but it was impossible to get a good photo.  Much discussion on the separation of these two similar species when they're not singing then ensued!
Robins were vocal and always posing, one with a beak-full of food for its chicks.  A pair of Great Tits were busy collecting material to line their nest.  A Dunnock also sang nicely for us, an often under-rated bird.  Wrens were also vocal with one bird scurrying mouse-like along the ground.
We lunched at the welcoming Meadow Lee Farm Café (Ellie enjoyed the Carrot Cake!), where a Pied Wagtail sat on a farm shed.
We didn't add many species on the return walk, but Buzzard and finally Mistle Thrush were added.  The only woodpecker we saw was a wooden sculpture, one of a few creative artworks on the route.
Joyce and I were also the last the leave.  Again, we were luckily rewarded with a Buzzard flying really low over our heads being chased by a Herring Gull and two Carrion Crows!
Although we only saw a modest 28 species in total for the day, it was a pleasant walk, although we had to watch out for the cyclists, so I wouldn't recommend visiting at the weekend.
Thank you to Ellie for her lovely photos.
Hugh Stewart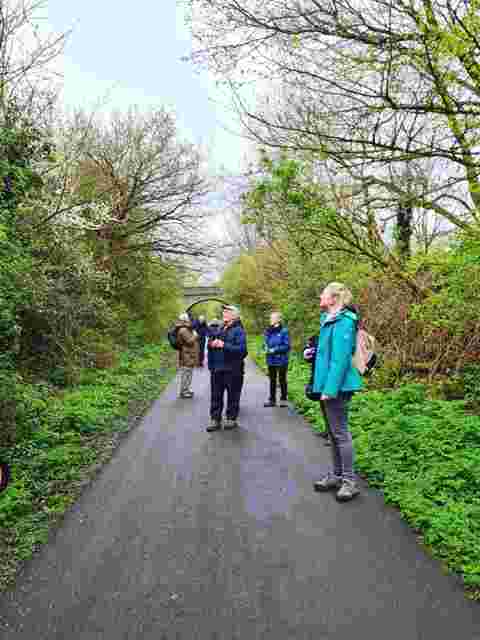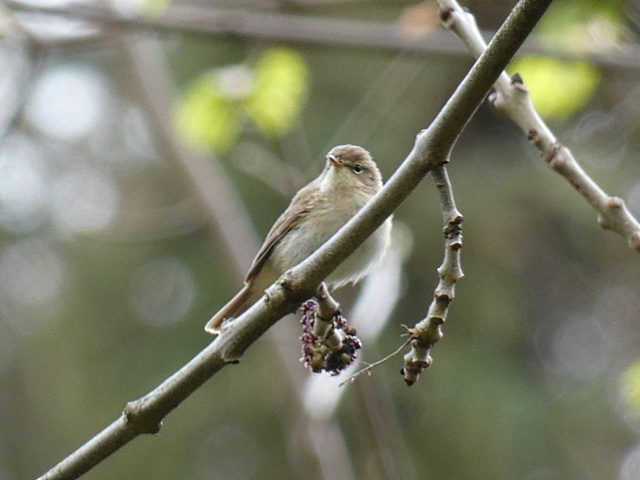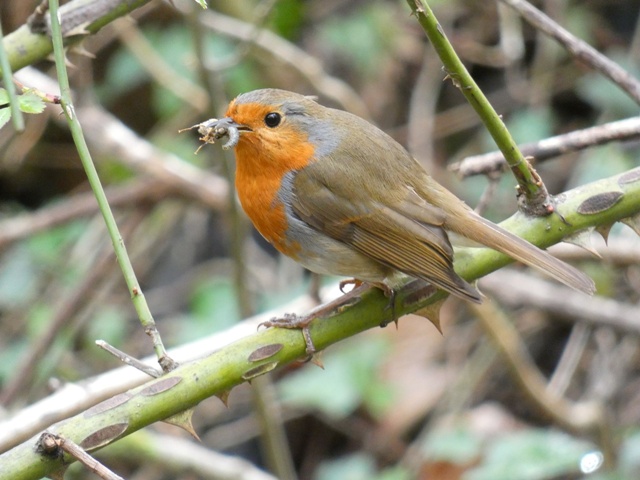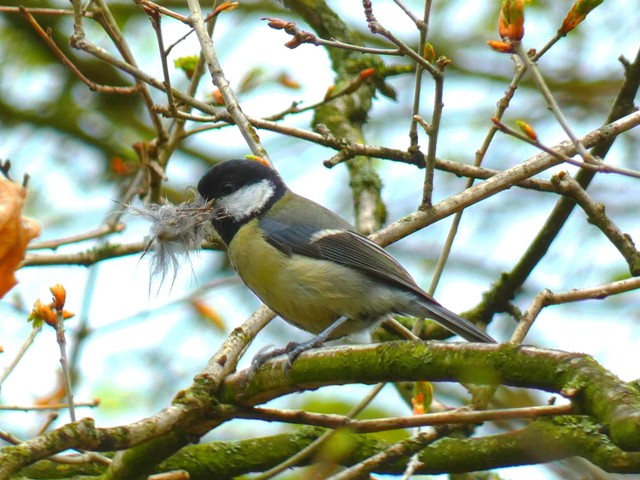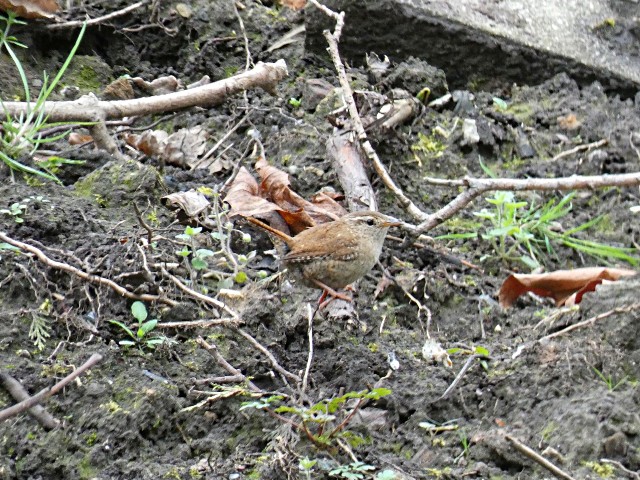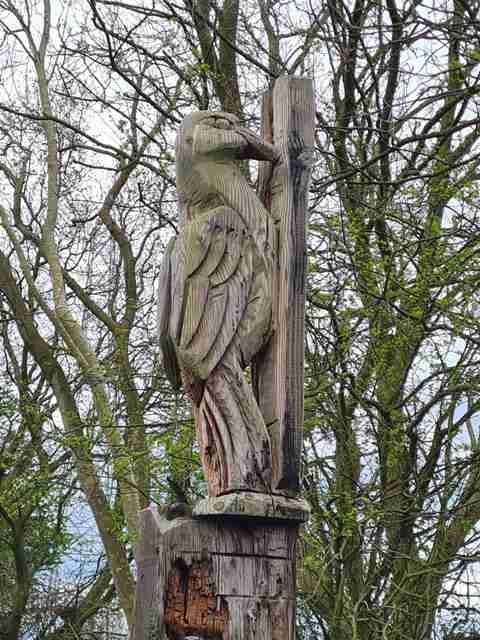 Greenfield Valley Heritage Park – Saturday 12th March 2022
There was another great turn-out for our visit to Greenfield Valley Heritage Park and there was a pleasant spring feel to the weather as we set off up the valley, following the route of the old railway line.
Several Blackbirds were noticed, many of them around ivy-clad trees.  Presumably they were either nesting in the ivy or feasting on the ivy berries, or both!  We had discussed the possibility of early migrants earlier, and right on cue a Chiffchaff called and showed albeit distantly.  There was no way of telling if this was an over-wintering bird or one recently back from its winter range around the Mediterranean, but it was still nice to see.
A little further on, a small group of Redwings were also feeding on ivy berries – these birds will shortly be leaving us to migrate to their northern breeding grounds in Iceland, Scandinavia and Russia.  Spring migration is always an exciting time, as anything can turn up!
A pair of Mistle Thrushes were seen both high in the trees and in an adjacent grass field, and a Great-spotted Woodpecker seemed to be following us!  Robin and 4 Tit species were added.  A Treecreeper proved elusive and not all the group saw it, and surprisingly we didn't see or hear a Nuthatch all day, despite the habitat looking favourable.
We eventually reached the top of the path on the outskirts of Holywell.  After reading the interesting interpretive signs about the valley's history, we retraced our route back to the cars – with the slope in our favour now!
After a leisurely lunch and drinks at the café located beside the Abbey ruins, we started to tour the industrial area where the old Mills and water courses provided an interesting backdrop.  We soon found a bat, circling around an open area.  None of us could identify it – we thought it was a little bigger than a Pipistrelle, but it was unusual to see it in broad daylight.  We hope it will survive.
On the pools, there were many Black-headed Gulls in various states of plumage, some still in winter garb and others with virtually full hoods.  A few Herring Gulls were also present. Moorhens outnumbered duck, with just a few Mallard and Teal here.  A pair of Buzzards overhead were the only raptors we saw.  On the furthest pool, we found a Little Grebe nest with one bird sitting while the other fed successfully in the middle of the water. Finally, a Grey Wagtail flew in and settled for a few minutes on floating vegetation before moving on.
By now, the clouds had gathered and the temperature was starting to drop so we called it a day.  We didn't see a huge number of species but there were some quality birds amongst them, and the walk was enjoyable.
Hugh Stewart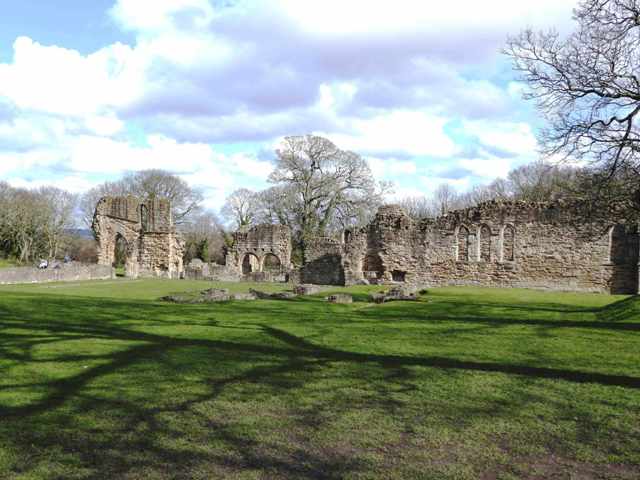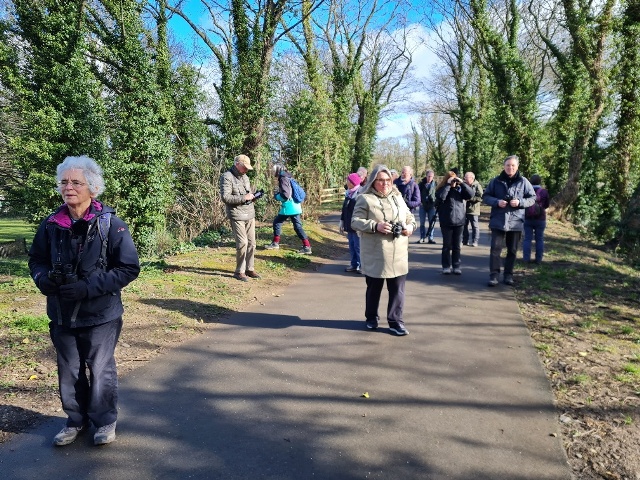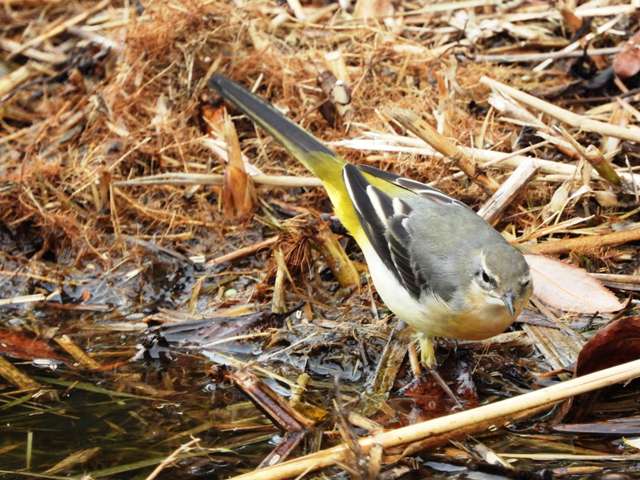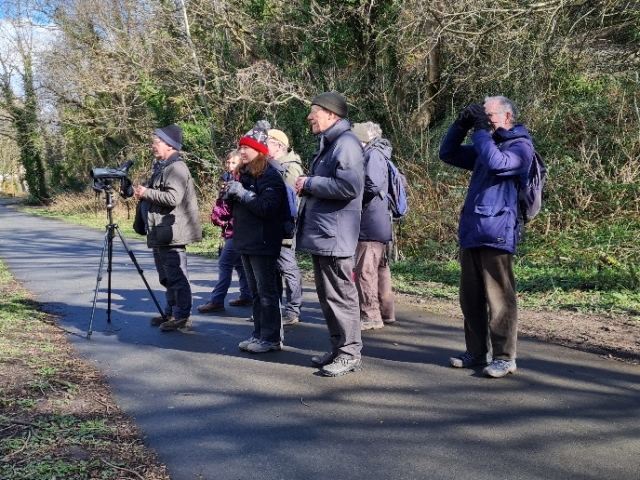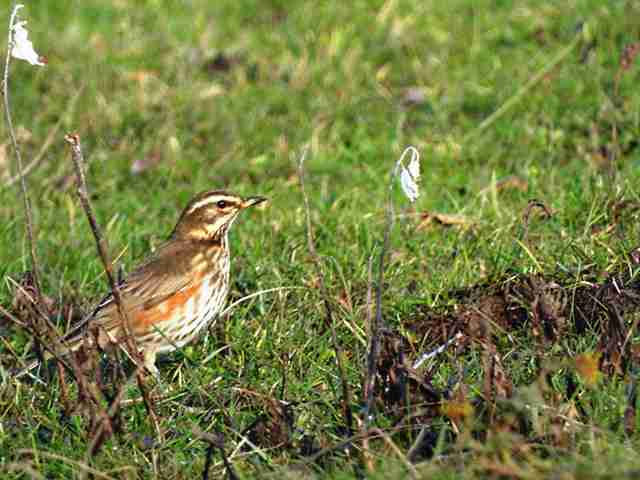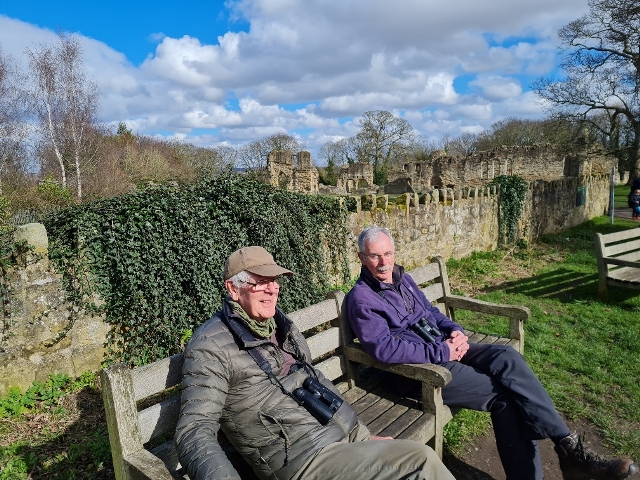 Marshside RSPB and Mere Sands Wood Nature Reserve – Saturday 12th February 2022
The birding got off to a good start with a Great Egret and a Peregrine seen from the car park as members were still arriving.  A small group of Pink-footed Geese dropped in on the marsh. A baker's dozen of us moved on to the screen over-looking the pools.  Several duck species were present albeit a little distant, including Tufted, Shoveler, Teal, Pintail and Wigeon.  The cold wind made it tricky to keep bins and scopes steady, so we moved on to the main hide.
Again, the birds were not as close as they often are, but there were several Gadwall and a male Pochard, and Colin picked out a sole Snipe.
Periodically clouds of Lapwing took to the air.  Sometimes Golden Plover accompanied them.  Then we realised why they were so nervous when we spotted a pair of peregrines hunting at the back of the reserve for several minutes, putting all the birds up as the hunters swooped up and down in earnest.  What a display!
We decided to brave the wind again and walked down the road to scan the salt marsh.  We took advantage of road work hardware to shelter behind!  But the marsh was quiet and we returned to the cars.  The last species here seen by Ellie was Reed Bunting including a lovely male bird.
We moved on to Mere Sands Wood. Here we had an early lunch and made use of the new café and visitors centre, before resuming our birding.  Now we were much more sheltered and there are more hides to make use of (although 3 were unfortunately closed for repairs).  We quickly started to add more species from scanning the main pool – Little Grebe, at least 4 smart Goosanders and Cormorant. Little Grebe and more of the usual duck species were also on the water, and a Mediterranean Gull was found amongst a small flock of Black-headed Gulls.
It was initially quiet walking through the woods but then we came across a hive of activity with Siskin, Goldfinch, Redwing, Fieldfare, Great-spotted Woodpecker, Treecreeper and Nuthatch all seen in quick succession, plus 4 tit species and numerous Robins.  On farmland surrounding the reserve 3 Hares were noted. Sadly, we didn't see a Kingfisher, but that is a good reason to come back again soon!
The group as a whole saw 56 species in total across the two sites, a very successful day.  And the rain kept off which was a great bonus.
Thank you to everyone that turned out given the weather forecast.  I hope you enjoyed the day.
Photos are curtesy of Ellie, Mike and Hugh.
Hugh Stewart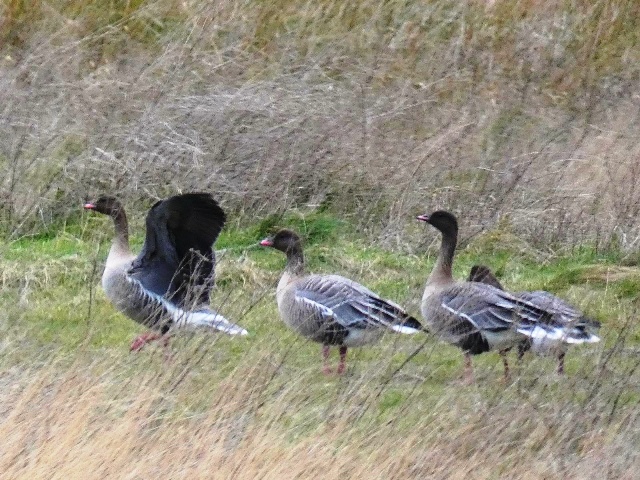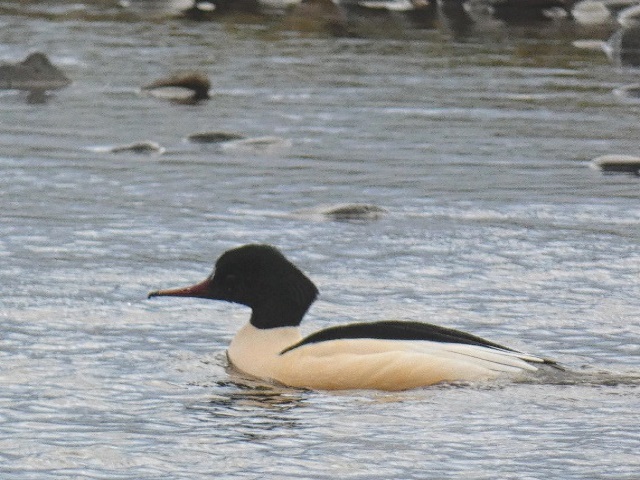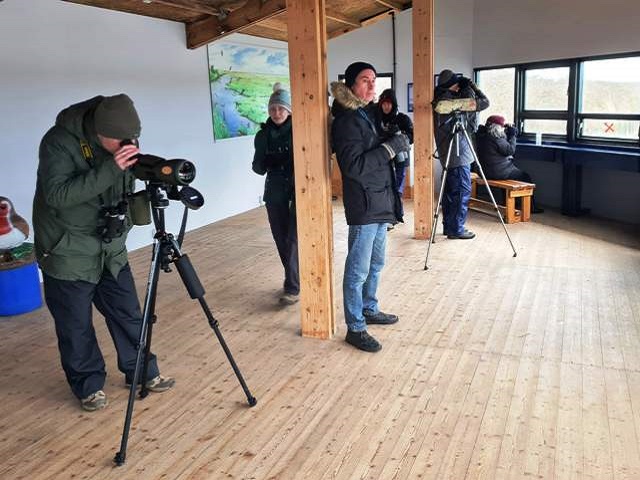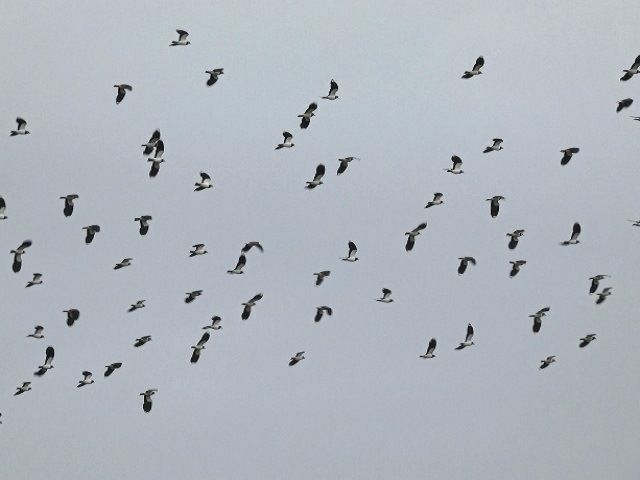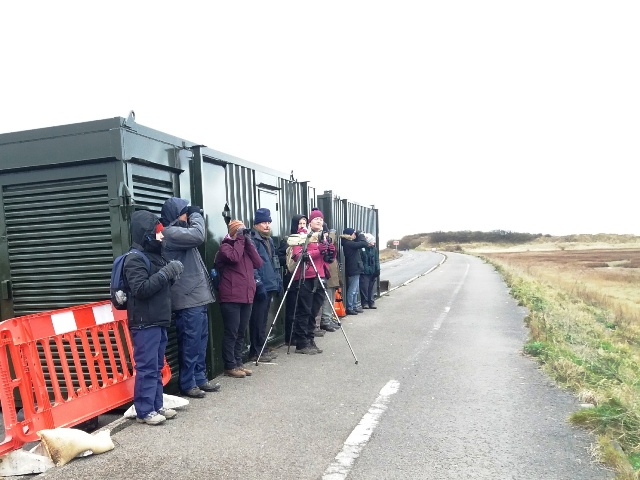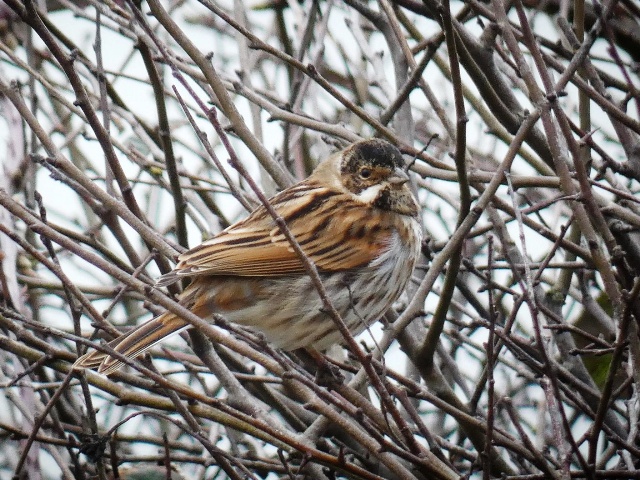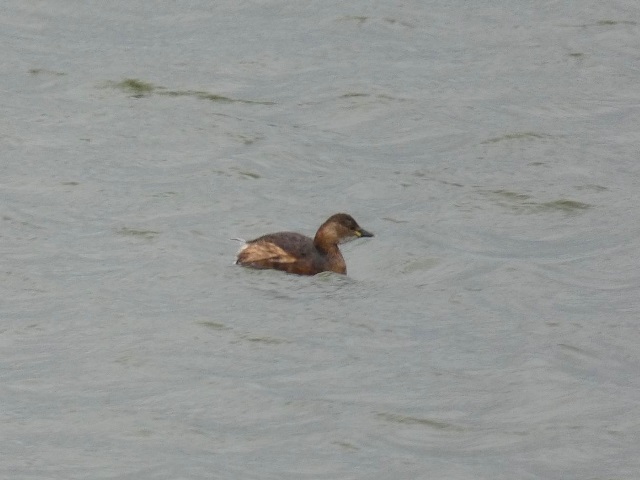 Burton Mere Wetlands RSPB – Thursday 6th January 2022
First of all, a big "Thank You" to the members that turned out on such a cold, wet day!  We started off taking shelter in the Visitors Centre.  The Mere was somewhat lacking in birds but Carolyn picked out a Water Rail working the margins just outside the window – a great spot.  Also on Reception Pool were a Great Egret and a Little Egret allowing an educational comparison.  Redshank, a few Black-tailed Godwits and a single Curlew were the only waders.
The rain eased a bit and we braved outside.  Walking around the fishing lakes, the rain came on again and we moved quickly on to Marsh Covert Hide.  We saw little from here other than distant birds on Bridge Pool. Eventually the rain let off again, and the clouds even lifted a little.  Bridge Screen held Teal and Shoveler, and a brief Gadwall in flight.  A Kestrel hovered nearby.  At the new Border Hide, there were more duck and a Grey Heron, but it was still rather quiet bird-wise.  A Buzzard did pass slowly over.
We started to retrace our steps. Initially the view from the Reedbed Screen looked empty, but then we saw some movement in the water.  It turned out to be an Otter, which gave brilliant views as it dived and resurfaced close by. Without doubt this was both unexpected and mesmerising.  We were so entranced that we forgot to take photos!
A bit further on, we were entertained by a pair of tame Robins that fed from our hands, thanks to some bird seed that Bill had secreted in his pocket!
Just before we got back to the warmth of the Centre, we saw a small flock of Siskin and Goldfinch feeding high in the trees.
Despite the awful weather, we saw 50 species between us.  Not a bad start to the year.
Hugh Stewart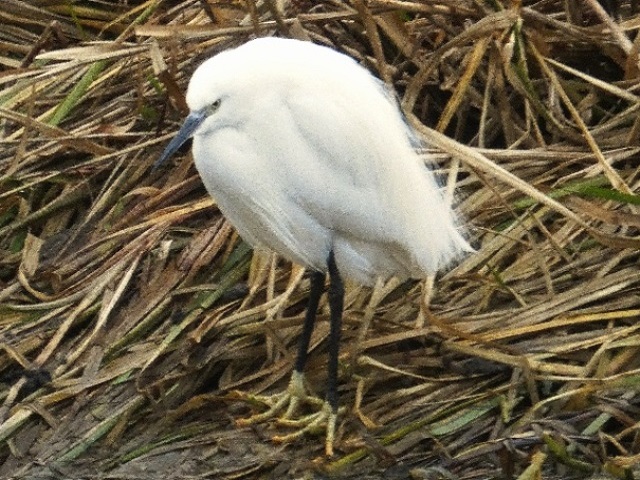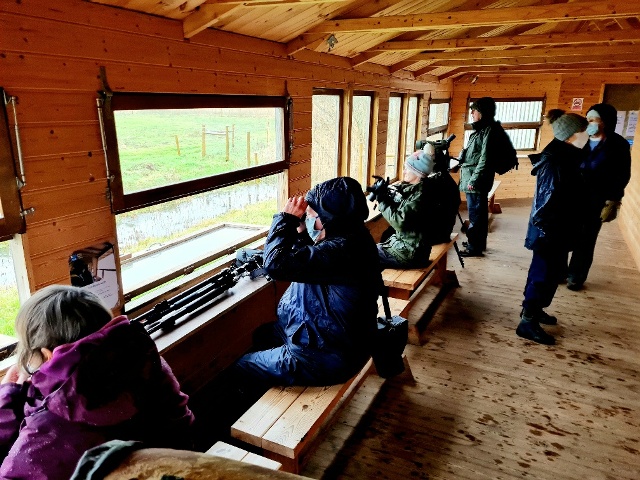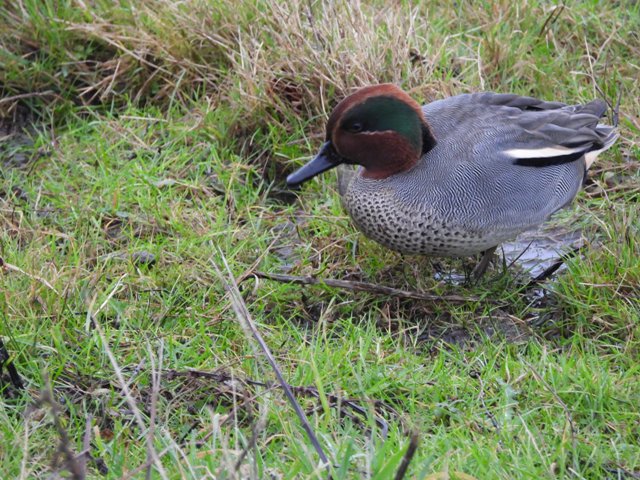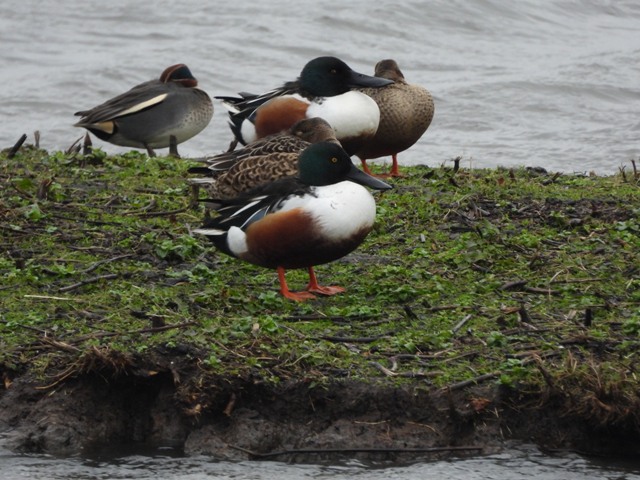 Thornton Hough – Sunday 19th December 2021
I optimistically thought the fog would lift – but I was wrong!  Meeting up by the church, we could make out a Rook and a few Jackdaws on the top of the tower, but it was obvious that conditions were not ideal.
Not down-hearted, we set off. Carrion Crow, Wood Pigeon and Collared Dove were atop a farm structure.  Moving on to the fields, we struggled to see far along the hedgerows.  Chaffinches, Robin, Great Tit and Blue Tit were seen though.  A family of Pied Wagtails fed close by to the path.  Pink-footed Geese were heard overhead but there was no chance of seeing them through the low clouds!  Another field held a few Fieldfare and a couple of Redwing just about discernible in the gloom, along with a nice view of a Hare scampering into the distance.
Onto the wider avenues, we found 2 Goldcrests feeding non-stop and later a Treecreeper moving mice-like up the trunks.  A long billed wader was seen by 2 or 3 people briefly flying overhead, but we could not be sure if it was a Snipe or possibly a Woodcock.
A series of fields with spilt sweetcorn after harvesting held hundreds of Wood Pigeons that periodically circled around.
We completed the walk with still no sign of the fog lifting, so we decided to call it a day.
Despite the cold and mist, it was an enjoyable walk that eventually threw up some nice birds after a little effort.
Conditions were poor for photography, but the photo of the wagtail was from the walk.  However, the shots of the Goldcrest and Treecreeper were taken previously but still on Wirral!  All by Ellie.
Hugh Stewart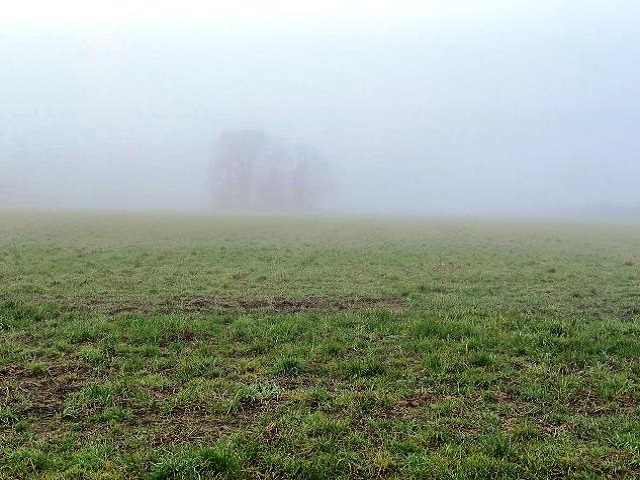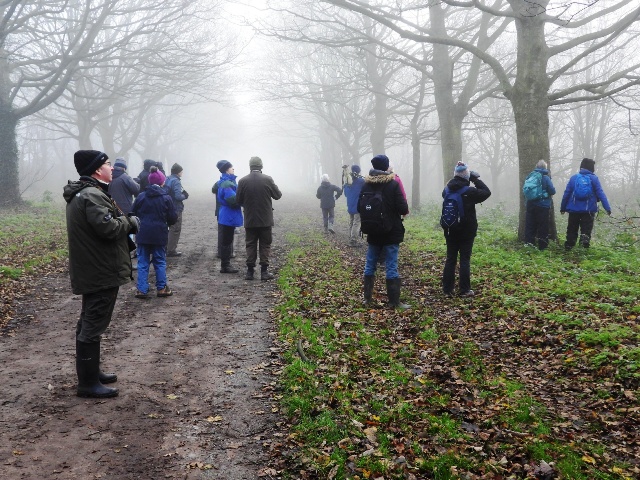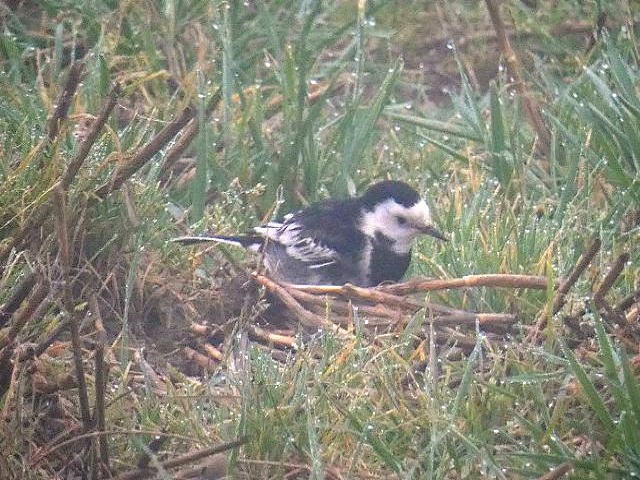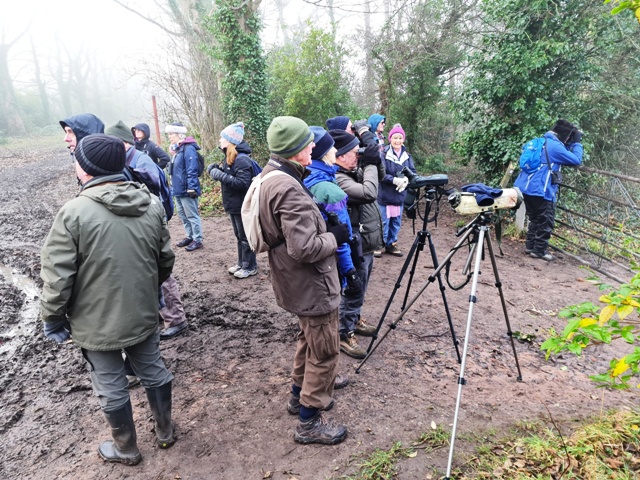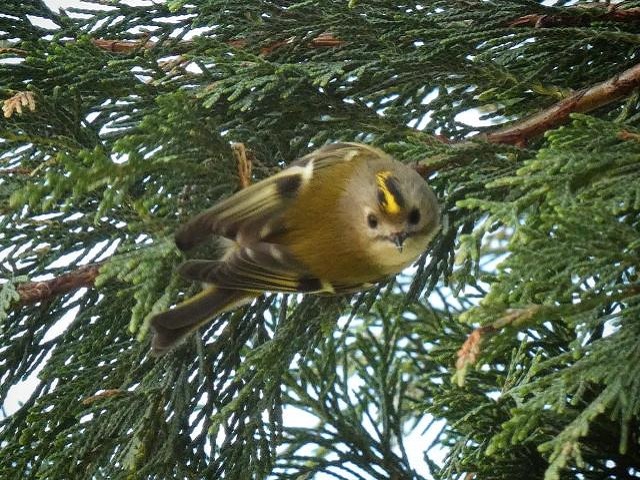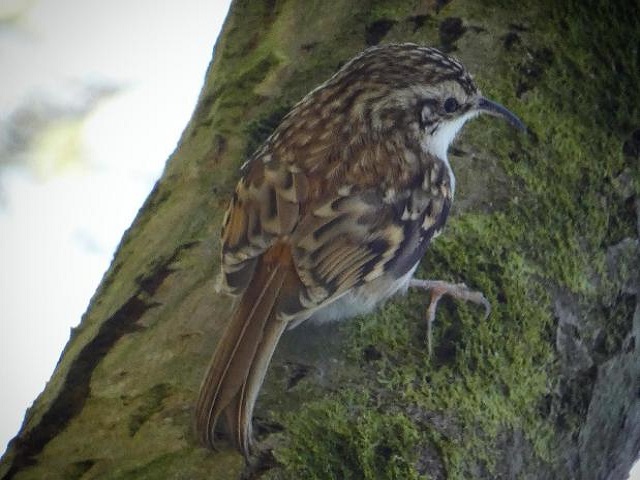 Parkgate at Dusk – Sunday 21st November 202
It was one of those wonderful, crisp winter days with blue skies and little wind. Perfect conditions for our walk, and not surprising that we had a grand turn-out of 20 people!  Thank you everyone for your support.
While we waited for the final people to get ready, we enjoyed good views of 2 Marsh Harriers, and we were to see this species almost continuously all day.  A few Pink-footed Goose were on the Old Baths Flash giving relatively close views.  Walking initially towards the Wirral Way, we spotted a Blackbird feasting on rosehips.  It was busy along the Wirral Way but still a very pleasant walk.
Descending Cottage Lane, a Buzzard sat on a barn roof carefully scanning the ground below for a potential lunch. Eventually it flew off, quickly chased by a very raucous Carrion Crow.
Back on the marsh wall, a couple of Stonechat fed close by.  A male Kestrel worked its way along a tree line on the golf course.
After lunch, we ambled down the Promenade, scanning the marsh still. We counted the Snipe on the Donkey Stand Flash several times and eventually settled on 8 birds! A Little Grebe was feeding here too.  Some members indulged in tea, cakes and ice-creams!  Why not?
Back at our cars, we waited a while longer as the sun set, and were graced by more impressive Marsh Harriers and a smaller, more delicate ring-tail Hen Harrier.  Finally, a real thrill as 2 Barn Owls put on a grand show feeding close to the wall.  What a finish to a wonderful day!
A big thank you to Ellie, Colin and Bill for their bird photos.
Hugh Stewart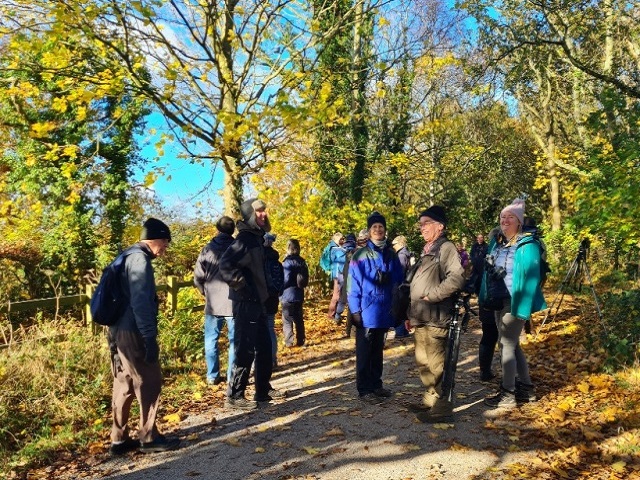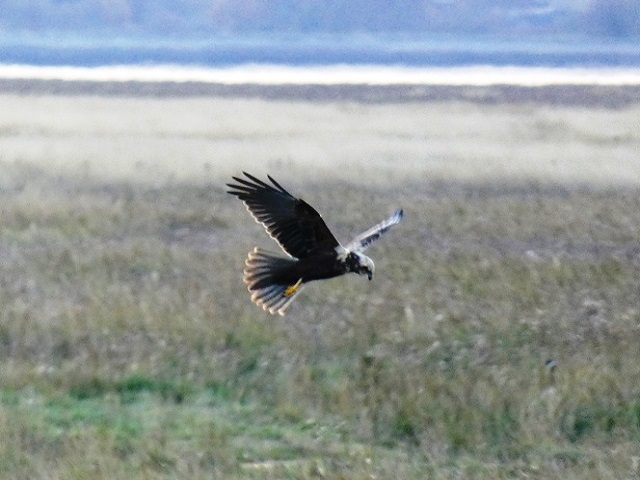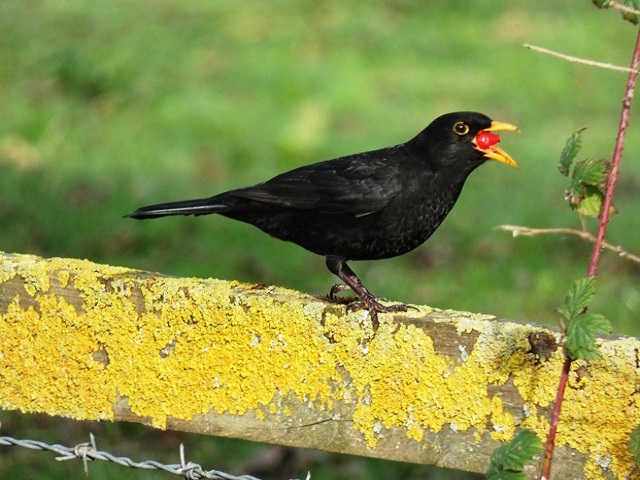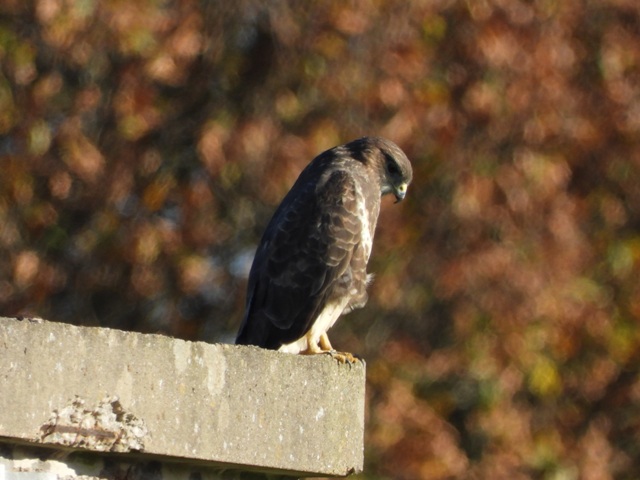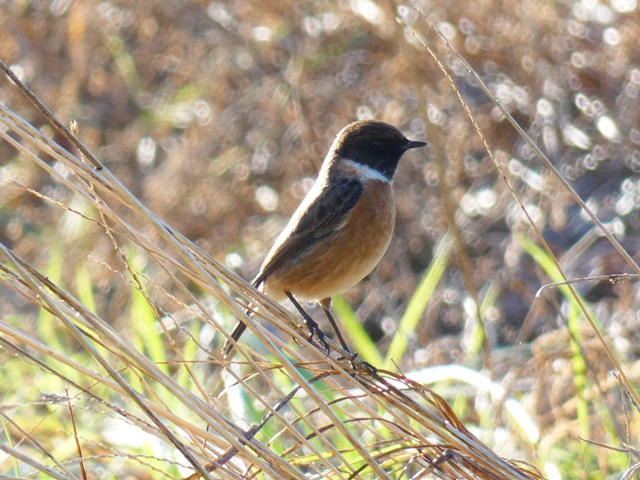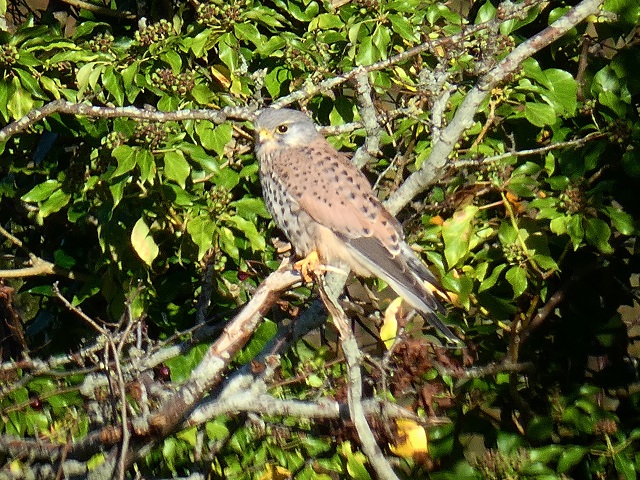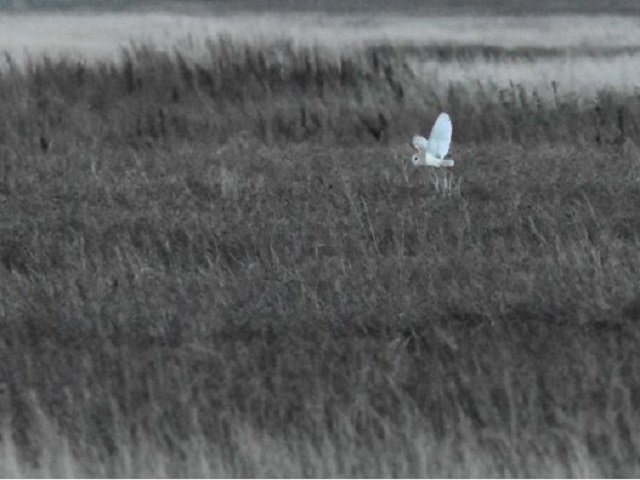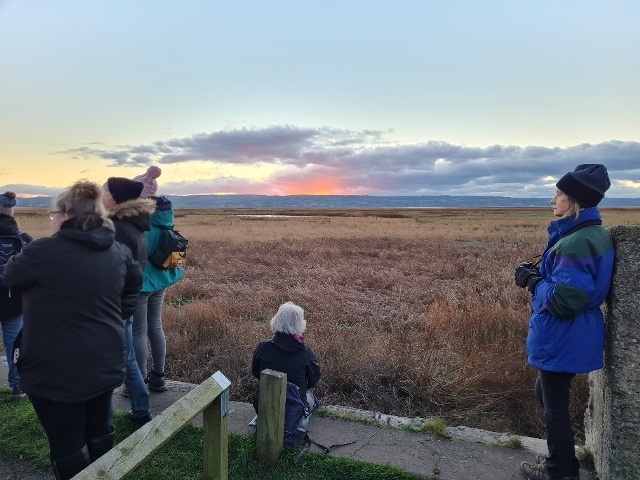 Flint and the River Dee – Saturday 23rd October 2021
It was great to see some new members at our field meeting at Flint Castle. Welcome aboard!
While we were congregating, we noticed a Lifeboat crew member looking out over the river – but this turned out to be a life-size statue, complete with binoculars!  We also saw a statue of a Fishwoman, sat on a bench.
A Raven honked and settled on one of the Castle towers.  A Mistle Thrush also perched on the tower – but not too close to the Raven!
The tide was still fairly low to start with so many of the birds were scattered over the mud flats.  Shelduck stood out though, as well as Curlew.  Walking along the riverside path, Skylarks and Meadow Pipits passed overhead, mostly moving southwards.  A few Goldfinches were feeding on thistle seed-heads.
Inland, a mix of Black-headed, Herring and Common Gulls had settled on a grass field, together with several Wood Pigeon – including 2 young birds.  Further on we had good views of a male Great-spotted Woodpecker on a dead tree, and a Sparrowhawk circling overhead.
As the tide came in, we managed to pick out Pintail, Wigeon and Teal, as well as Redshank, Black-tailed Godwits and still distant Knot.
We were lucky with the weather.  It remained dry and the sun occasionally tried to break through, but it was cool when the breeze picked up!
A few of us dropped into Burton Mere Wetlands on the way home for a short visit. Highlights here were 6 Cattle Egret and a few Golden Plover.
We hope everyone enjoyed the day and we look forward to seeing you on the next trip.
Hugh Stewart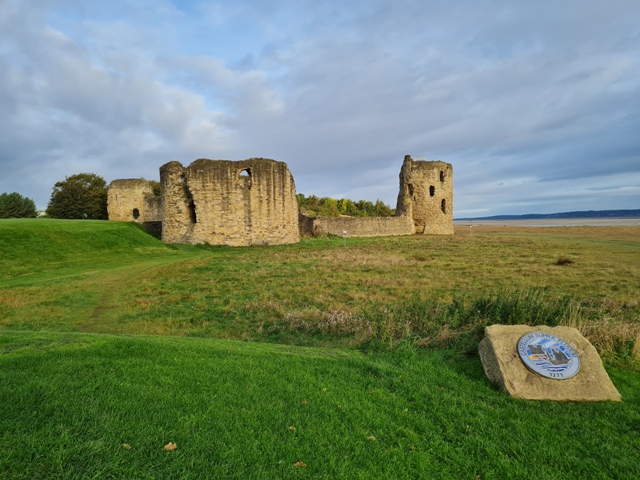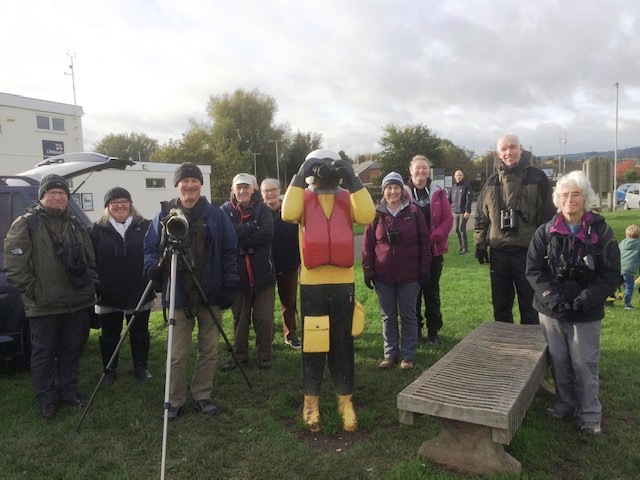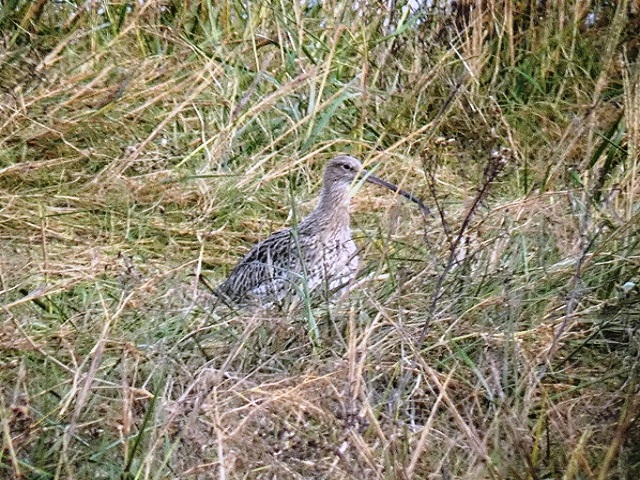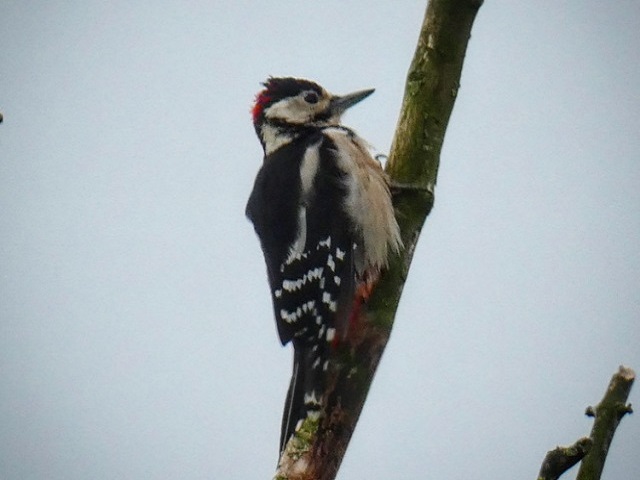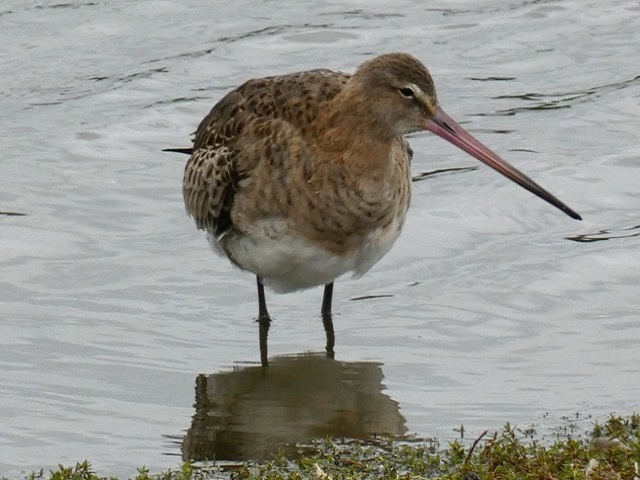 Hilbre Over High Tide – Tuesday 7th September 2021
With previous planned visits to Hilbre aborted due to variously a fire, terrible weather and the pandemic, what a joy to finally have a successful day on the island in glorious, warm sunshine.
Large numbers of Oystercatchers and Dunlin surrounded us.  Amongst them were several Ringed Plovers and a few Sanderling, plus single Turnstone, Purple Sandpiper and Curlew Sandpiper, and Grey Plover.  Until they were flushed, first by a pair of canoeists, then by a marauding Peregrine!
A flock of Linnet fed on seed heads. Both Meadow and Rock Pipits allowed comparison.  One of the two Wheaters present was particularly approachable.
There wasn't much movement on the sea with very still winds but 3 Common Scoter were noted.
Bird of the day for many was a Firecrest that was mostly skulking but gave occasional good views.  A big thank you to Hilbre Bird Observatory for the tip-off and access!
We saw or heard 33 species, but just being on this magical island over the high tide was reward enough.
Thank you to Martin Donaldson for his photographs featuring Sanderling & Dunlin, and Turnstone.
Hugh Stewart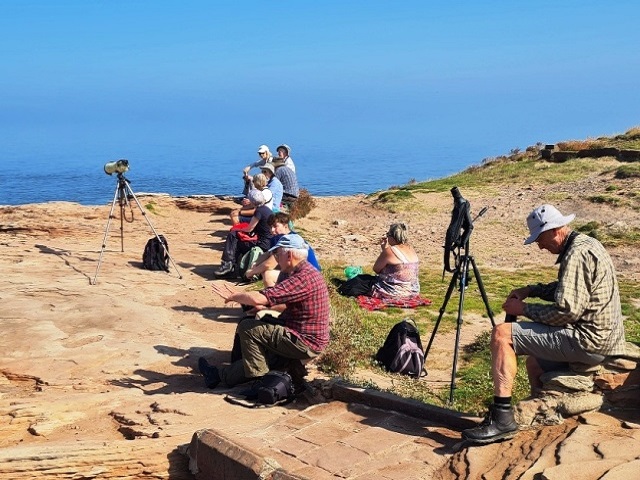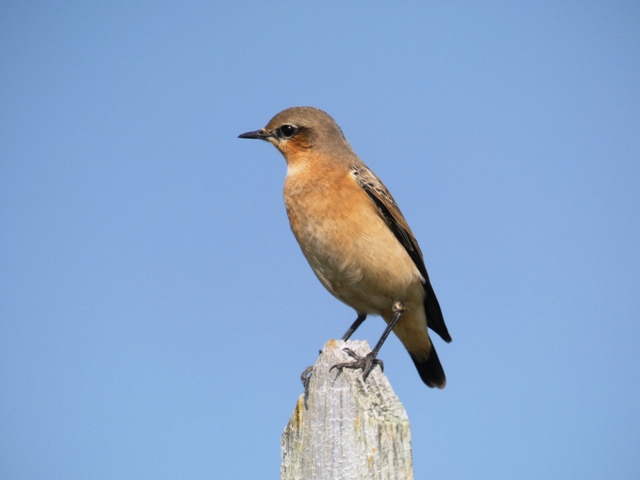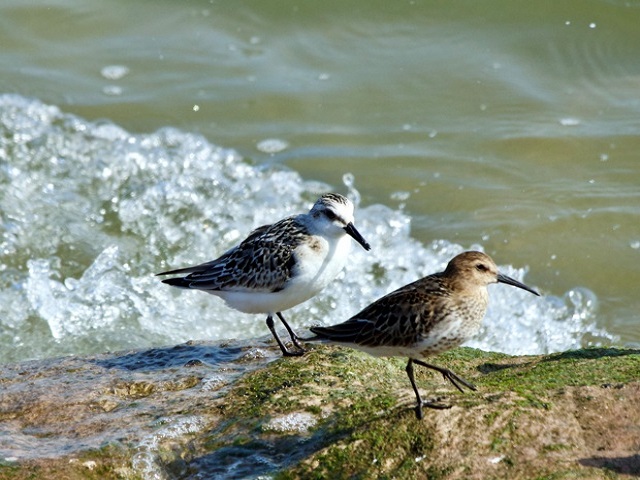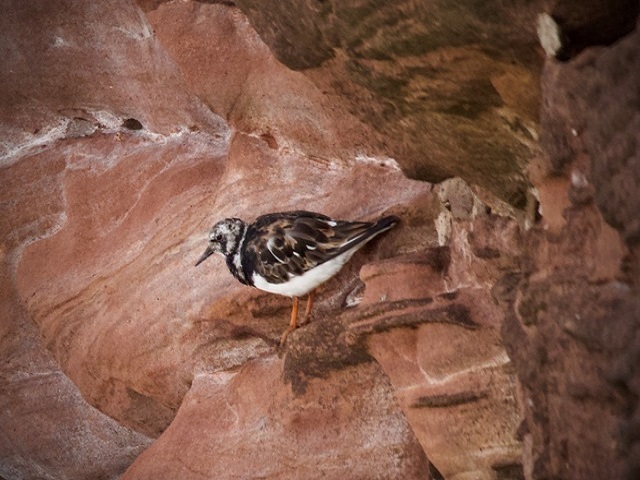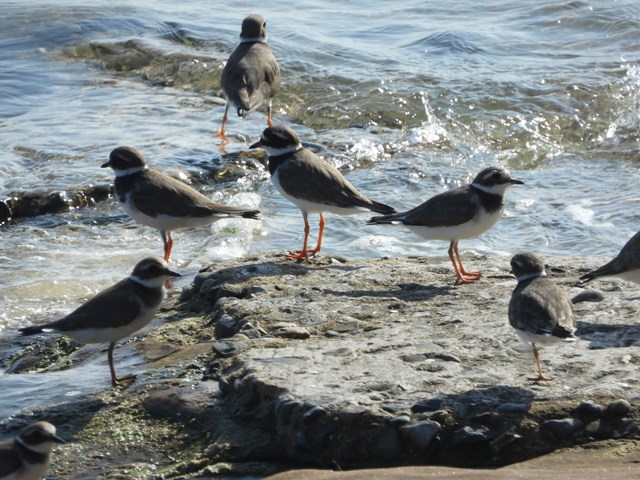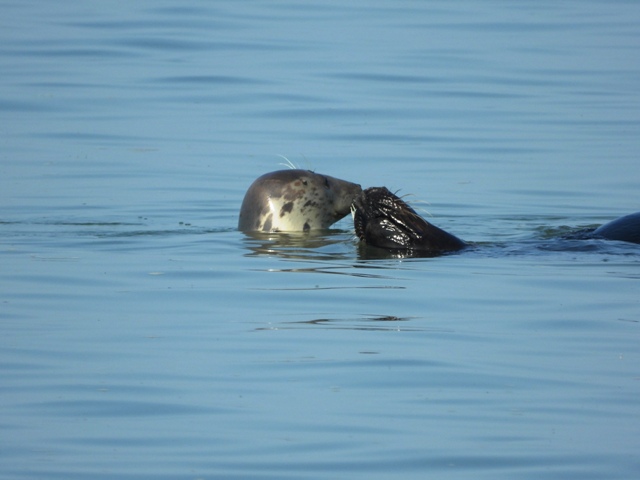 Dove Point – Thursday 15th July 2021
It was a very select group for our meeting at Dove Point.  Maybe the change in weather to overcast skies and a cool wind put some off!  As we chatted, a small numbers of Swallows looked as though they may have been heading on their way to Africa already. We started scanning the expansive sands and saw several Oystercatcher and Curlew.  Most of the gulls were Black-headed, along with slightly fewer Herring Gulls than Lesser Black-backed.  Amongst the latter were two juveniles begging a parent for food – but not with any success!
We were rather surprised to see two models involved in a photo session together with a snazzy sports car – not really the weather for bikinis!
A small flock of Starlings fed on the tideline by the Prom.  Walking on towards Leasowe, we found at least 15 Little Egrets by the groyne together with a single Grey Heron.  Our first Redshanks of the day were here too, and a little further on a Turnstone was picked out still showing some the gorgeous chestnut feathers of its breeding plumage.
We didn't quite reach the Lighthouse but turning inland, we were sheltered from the wind.  A sole Gatekeeper was the only butterfly we spotted, rather disappointingly as this can be a good spot.  Returning along Park Lane, Swallows were feeding young on overhead wires.  More Swallows and Goldfinches were seen flying over the adjacent fields.  We could hear a Greenfinch in a tree but only managed a fleeting glimpse as it flew off from its hidden perch.
Back at the cars, we decided to call it a day.  Not an especially productive list but it is still nice to be able to meet and take a stroll.
In September, the new programme will start, where we have more interesting and varied sites arranged that we hope you will to enjoy.
Hugh Stewart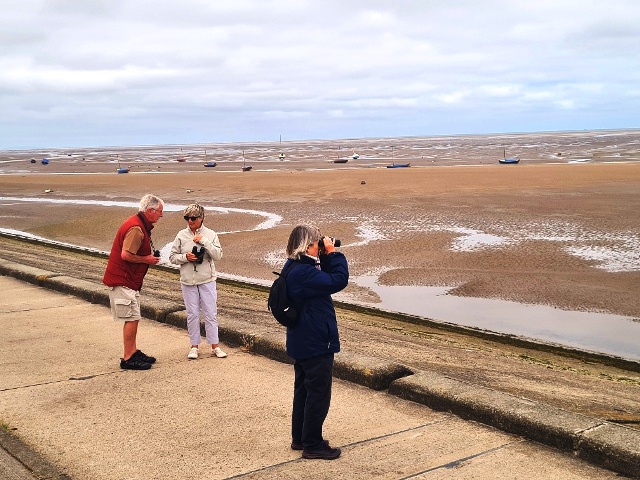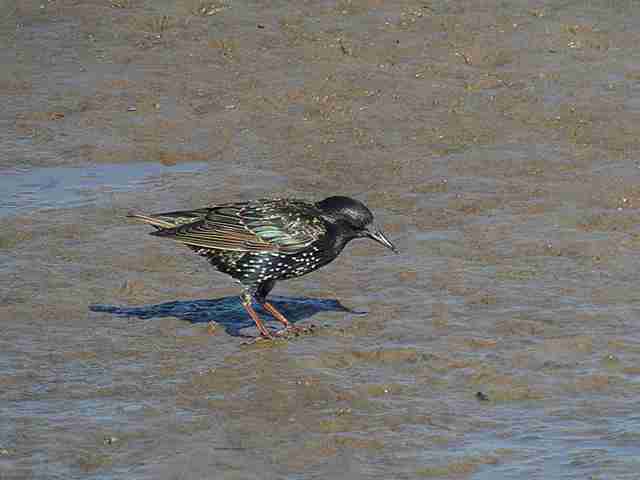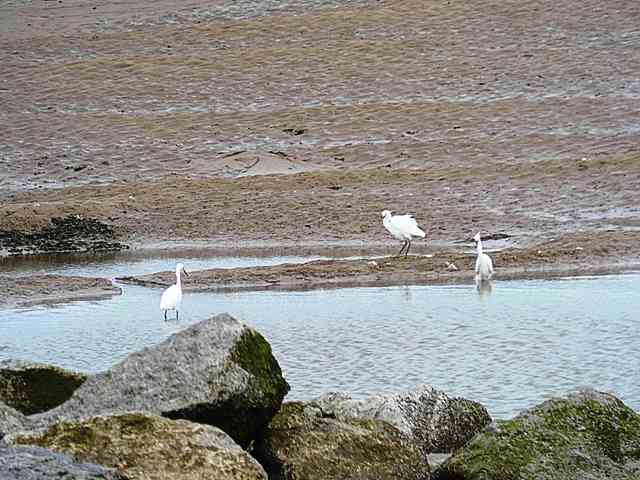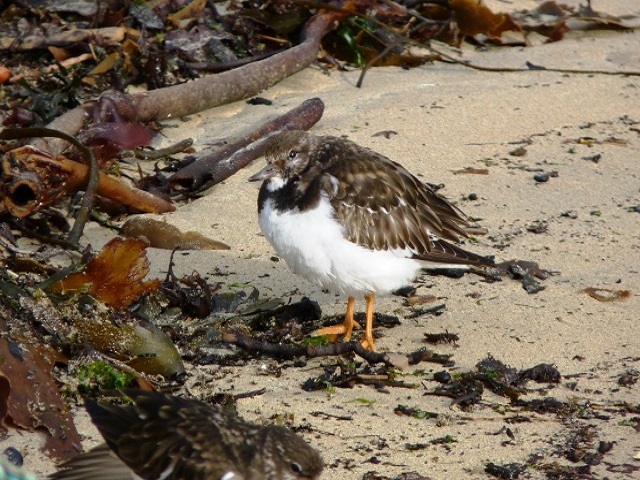 Hadlow Road Railway Station – Sunday 27th June 2021
The car park was heaving as we congregated, and it became apparent that the fortnightly serving of bacon butties inside the station was responsible for the extra footfall!
Tearing ourselves away from the tempting smell, we ambled down the Wirral Way a little way before turning off and quickly losing the crowds. Jackdaws were vocal overhead, and a small flock of House Sparrows reminded us how numbers have plummeted nationally although they are relatively common still on Wirral.  Should we count the chickens and Muscovy Ducks on a farm – maybe not?!
Crossing a couple of sheep fields, a Greenfinch gave its pleasant song. House Martin and Swallow were seen but only in small numbers.  A short walk in the village didn't offer much, but turning onto a quite side road was more productive, adding mixed tit flocks, elusive Nuthatch, Collared Dove and Mistle Thrush.
Entertainment came in the shape of a couple of Llamas – or were they Alpacas? – and an Eagle (statue)!  Yes, we were getting a little desperate! Returning to the car park, a pair of Buzzards flew low overhead.  Some members left at this stage, while a few stayed for lunch.
After our break, we made a short loop in the opposite direction.  A small pool had a Mallard and a Moorhen with 2 chicks.  The last species we added was a single Swift. Finally back at the station, we succumbed to coffee and cake!  A nice end to a pleasant day.
Hugh Stewart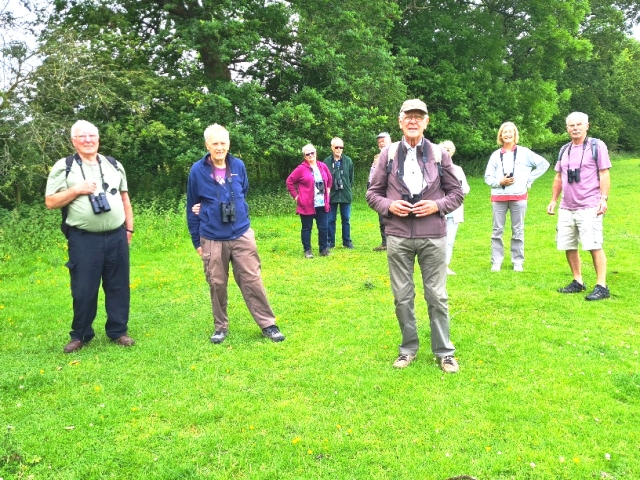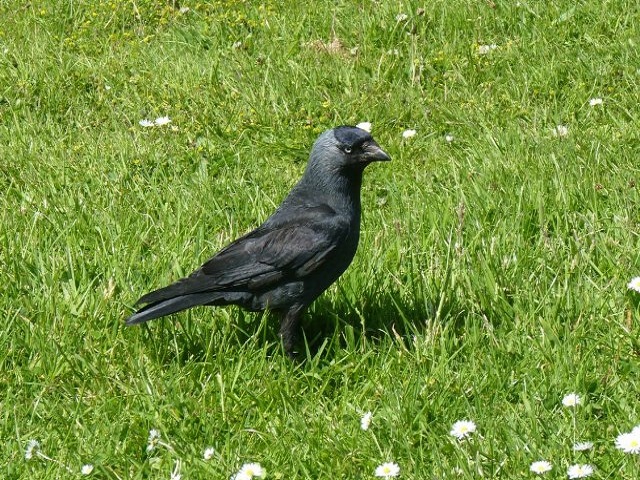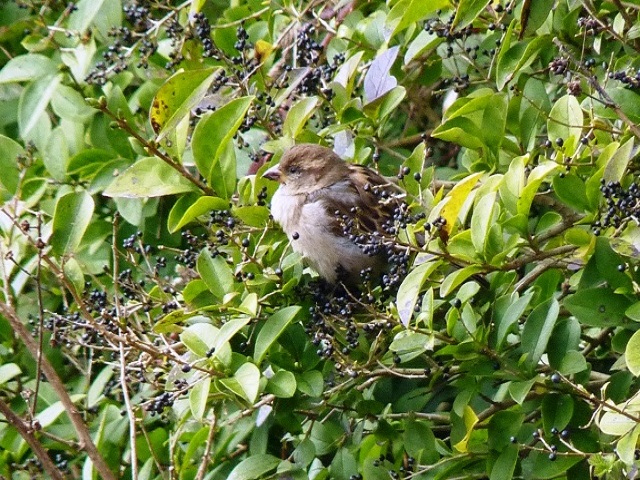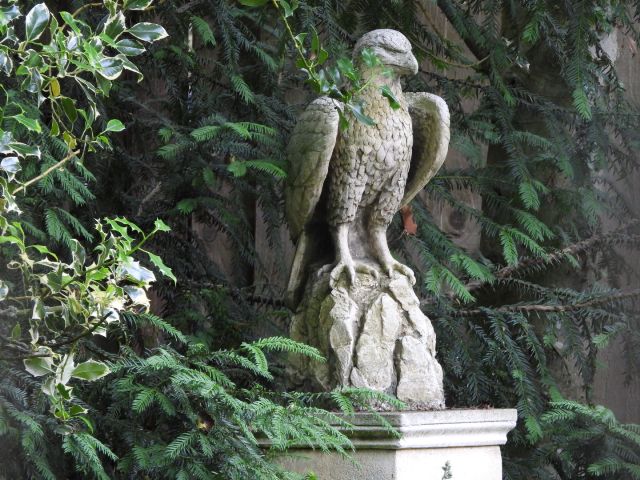 Parkgate – Thursday 10th June 2021
Our last outdoor meeting was early March 2020, so it was great to finally meet up again for our walk around Parkgate.  As we gathered, there was a lot of catching up and general chit-chat going on.  It was lovely to see the friendly, social aspect of the Club returning!
From the Old Baths Car Park, a young male Marsh Harrier gave superb close views, and we were to see a female too, later from the Prom.  Meadow Pipits made song flights and Skylarks could be heard high over the marsh.
Walking inland across the golf course, we saw Blackbird and Mistle Thrush, and a Coot with a chick on a small pond.  Many birds were only heard, with the trees in full leaf hiding them.  We added Chiffchaff, Whitethroat, Goldfinch and Chaffinch.  Above us were several Swifts and a pair of Swallows were nesting in a barn.
After lunch, some members departed and the remainers strolled along the Prom into Parkgate.  House Martins wheeled around us at eye-level – brilliant views!  The odd Oystercatcher and Redshank were presumably summering breeding birds.  We scanned every white bird out on the marsh, with nearly every one being a Little Egret! Two very distant Great Egrets disappeared quickly into the vegetation, but sadly we couldn't find a Spoonbill.
After welcome ice-creams, eyed closely by a Black-headed Gull, we returned to our cars and reluctantly departed.
We saw or heard over 40 species, but more importantly the Club is up and running again!
Hugh Stewart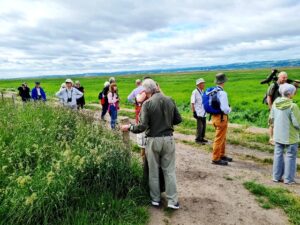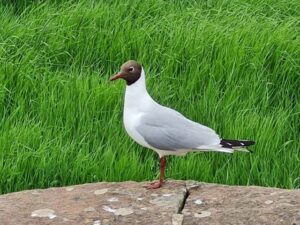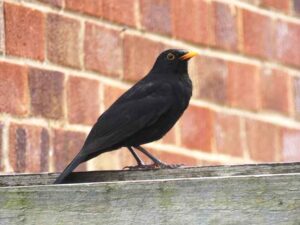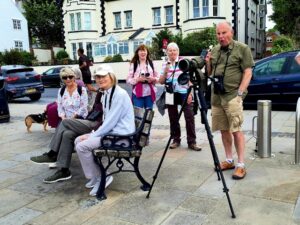 Lunt Meadows – Sunday 1st March 2020
After a fortnight of variable weather extremes it was a splendid, sunny morning with barely a cloud in the sky, the only negative being the strong wind which provided a considerable wind-chill factor.  A dozen members eventually assembled and we set off into the reserve where it was already alive with aerial activity.  The footpath was predictably muddy but we were gaining some protection from the wind from the low scrubby vegetation.
Over to our right, in the main pool, could be seen a variety of ducks and geese including Pintail, Gadwall, Pochard, Shoveler and Wigeon.  A couple of Grey Heron were keeping their heads down out of the wind.  A pair of Black-tailed Godwit were hiding amongst the tussocks with a Lapwing for company to confuse identification. It was at this time that Hugh took a look behind and called "Barn Owl!" That got people's attention.  There it was, quartering over the eastern end of the reserve, distant, not where we were heading just then.
A Wren trilled in the undergrowth.  On the other side of the pool we could see a number of Cormorant looking quite superb in their Sunday black with white thigh patches prominent.  It was noticeable that many birds were in new spring plumage, the Pintails and Godwits previously mentioned looking very smart.  We walked up on to the top of the Alt bank to see the Pink-footed Geese and Lapwings in the arable fields but they were quite firmly settled there and weren't going to put on a mass flying spectacular for us.
We dropped back down out of the wind to make our way back to lunch in the cars. Remember the Barn Owl?  It was still out hunting and we had some great views of it. A Kestrel was not happy with its presence!  It was mid-day! Looking for a Little Owl roost (unsuccessfully) Hugh did pick out a Grey Partridge almost invisible in a field of low-lying green vegetables.  A great spot!
After lunch our numbers thinned out as we started retracing our morning route. A pair of Stonechats was an early find and as a contrast in size a Great White Egret dropped into the reed bed ahead of us.  We got onto the easier walking of the bank of the Alt even though the wind was still blowing hard.  The flat countryside prompted one of our number to remark that it was "Big Sky" country. The Barn Owl was still flying around as we reached the Eastern end of the reserve.
Hugh and Joyce diverted to examine a Mesolithic excavation site (the area has several of these important workings) while the more weary of us returned to our cars.  A final neat finishing touch to our day was the sight of five female Goosanders looking very attractive, cruising the last pool of our visit.
A very good day, the sunshine helping enormously.  A great place, largely unknown to us, within easy reach.
Mike Hart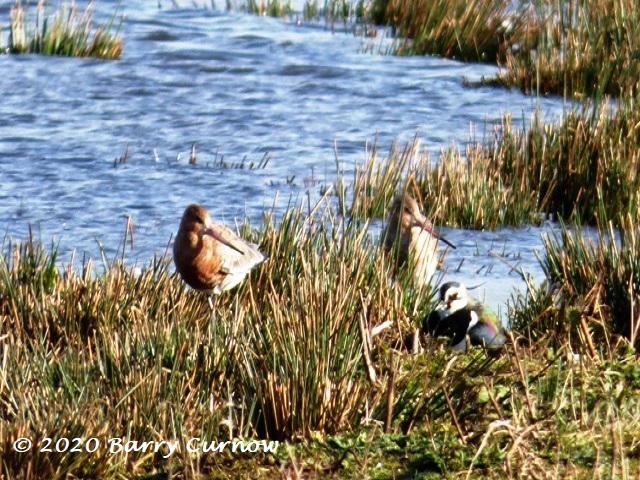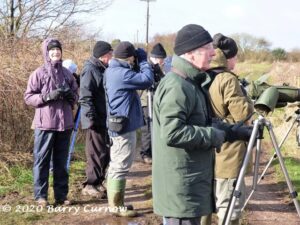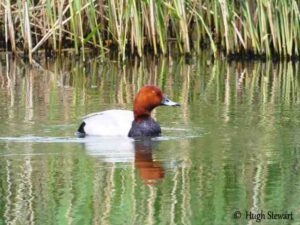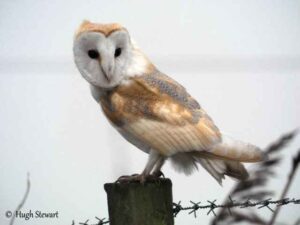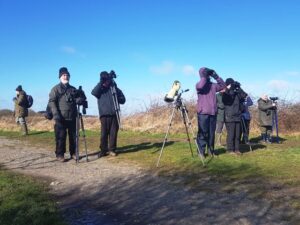 The Spinnies – Saturday 25th January 2020
The first field meeting of this year and a good start in that it wasn't raining! Cold, yes, but dry with a light chilly wind from the south.  A dozen of us met at the car park facing over the Menai Straits with Beaumaris directly opposite and Puffin Island over to the right of the panorama.  Small groups of ducks were visible, mostly Wigeon, their whistling quite clearly heard over the water.  Good numbers of Shelduck were hugging the shore by Penrhyn Castle and over 60 Great crested Grebe were further out in the strait.  Smaller numbers of Goldeneye were easily identified when accompanied by their drakes.
We made our way to the first and newest hide, the "Viley" where the volunteer wardens were filling the feeders,  Blue, Great and Coal Tits waiting impatiently for them to finish. On to the Kingfisher hide where, apart from the usual feeder species we were treated to a variety of waterfowl including Gadwall, Tufted Duck, Little Grebe and Teal.
The Sea hide gives views back towards the Kingfisher hide and also out across the Ogwen estuary.  As we arrived a skein of Greylag Geese flew in off the water and occupied the field behind the reserve.  The big attractions of this hide are a Kingfisher (which wasn't showing for us today) and a Water Rail which did eventually condescend to parade in front of us.  A Great Spotted Woodpecker was also rather shy but the usual suspects at the feeders were supplemented by a rather attractive Siskin. Meanwhile on the other side of the hide waders including Redshank, Knot, Black-tailed Godwit and Dunlin were disturbed from their high tide roost where they were virtually invisible at the waters edge and took to the air to swirl spectacularly until they gradually settled back down.  The noise of their many wings as they twisted and turned in the air was like thunderous applause.
The sun was shining as we ate our lunches back at the cars and then it was on to Llanfairfechan.  Our arrival coincided with that of several hundred Oystercatchers on the shore in front of us.  With them was a score of Turnstone, another example of the wonderful camouflage of winter waders.  Jackdaws were picking for morsels on the front.  We checked the river for Dippers but without success so it was on to RSPB Conway.  Here, apart from taking advantage of the 'facilities' we were hoping to see the Firecrest that has been frequenting the site.  It was not to be but we did get to see a Goldcrest which demonstrated to us just how hard these little "kinglets" are to find and follow.
A good day, lovely country and sea, plenty to look at.  Good company, thank you.
Mike Hart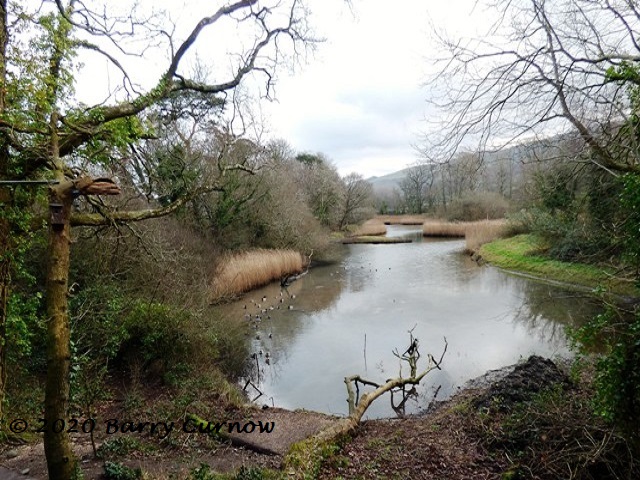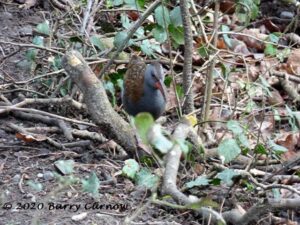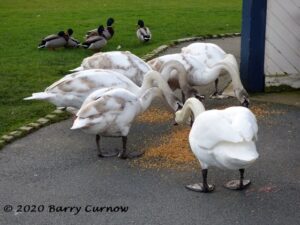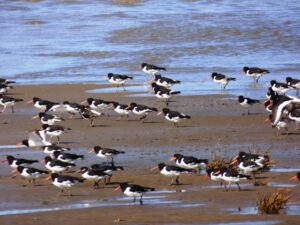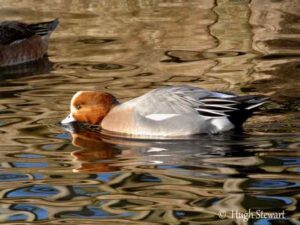 Denhall Lane and Dee Marshes – Saturday 14th December 2019
Our December pre-Christmas field meeting does not have a brilliant record because of adverse weather.  Today didn't promise much other than cold, rain showers and wind.  Dropping down to the coast through Burton the showers were clearly visible driving over the marsh from Wales.  However over a dozen of us donned numerous layers and after a short delay to allow a shower to pass set off, the marsh brilliant in the low winter sunshine and a lovely  rainbow beckoning us on. Sheep and geese grazed while the air was corvid territory, Carrion Crows and Jackdaws but also including a number of Raven whose voices could easily be mistaken for those of the geese. Closer in to the path a pair of Stonechats were easily identified perching prominently at the top of marsh grasses while a flock of Green Finches flitted low down and provided more of a challenge.  The presence of feeders at Net's café attracted other finches and House Sparrows that played up and down the slated roof. We resisted for the time being the call of the café and carried on, pausing briefly to look at Decca Pools where a small number of Mallard, Wigeon, Teal and Shoveler were sheltering from the wind while a flock of Lapwing flew over head.
Next stop was Denhall Quay where we had a fine view up the estuary but were exposed to the wind but fortunately the rain showers had stopped.  Wigeon were disturbed from their pool by dogwalkers while a Kestrel hovered and a pair of Goosanders flew over.
The suggestion of retracing our tracks to the café was seized on eagerly and we were soon enjoying warmth and refreshment.  The hard liners amongst us decided to walk as far as Burton Point which was enjoyable in the sunshine but yielded only a few birds. Mistle Thrush, Grey Wagtail, Pheasant, a small flock of Linnet, a Buzzard. A Peregrine carrying something and flying to somewhere with a purpose which we couldn't figure out.  The sun disappeared behind the clouds and a skein of pink-feet hinted that it was time to go home.
An enjoyable day once the showers stopped.  Thank you all for coming.
Good wishes for 2020!
Mike Hart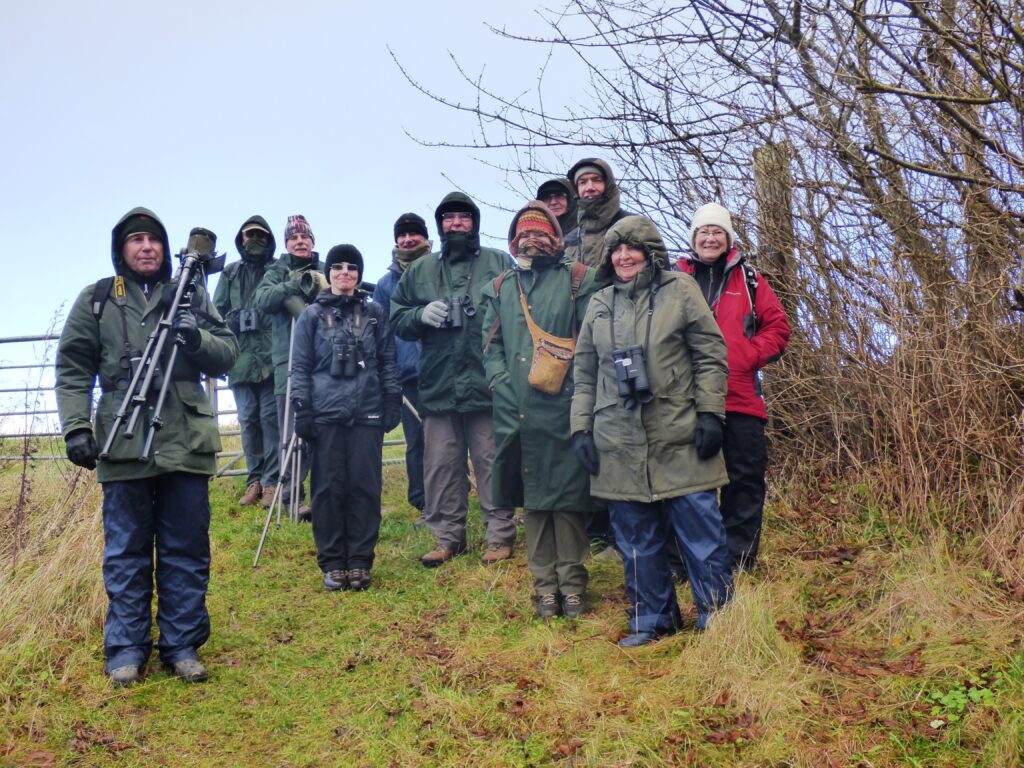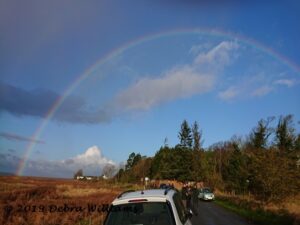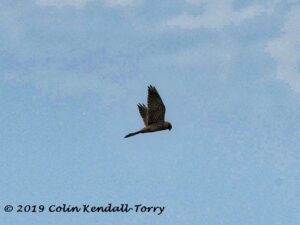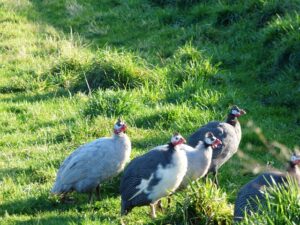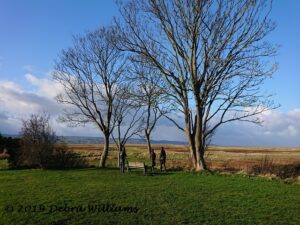 Moore Nature Reserve – Sunday 17th November 2019
An overcast but mild and fine morning saw 17 members meeting at this reserve between Runcorn and Warrington.  Some of the best sightings were in the first few minutes as a Kestrel sat on a power line and a handsome Buzzard in the top of  a small nearby tree.  Redwings and Fieldfares were in the bushes close to the car park. A fine male Bullfinch made a brief appearance, then we were down the steps to the first lake, Birchwood Pool with its three hides giving good views of the commoner waterfowl such as Coot, Mallard and Tufted Duck together with Gadwall, Wigeon and Great Crested and Little Grebe.  Unfortunately it started raining and this was to continue in patches throughout the rest of the day.
We walked east through Birch Wood devoid of activity at this time of the year, calling at the hide at Pump House Pool and continuing on to the easternmost Phoenix Hide. En route our attention was drawn to a large gathering of dark birds on the nearby railway bridge.  It was easy to jump to the conclusion that they were Starlings, however on closer examination and using our ears rather than our eyes it turned out to be a flock of about a hundred Jackdaws.  The excellent Phoenix Hide (though too small for our numbers) is built on a mound overlooking a lagoon on one side and the Eastern Reedbed on the other.  No Bitterns were on show but there was a brief sighting, caught by a couple of members, of the resident Kingfisher. Here it was easy to look down onto the Great Crested Grebes and Little Grebes and wonder at the contrast between their vivid summer plumage and the ghostly winter garb.  The Kingfisher was showing reluctance to make another appearance and so we wandered back the way we came in the increasingly heavy rain to the car park where we continued with lunch "on the hoof".
While some members decided enough was enough, a dwindling number spent time at the Lapwing Lake hide and were rewarded with a sighting of another Kingfisher. The dull weather and dwindling light did not prevent the Wigeon on Lapwing Lake showing well in their colourful plumage.  At the feeding station nearby there was a continuous stream of small birds, mostly the commoner Tits but also a lovely Willow Tit amongst them and a Robin and Nuthatch nipping in now and then.  A female Great Spotted Woodpecker had another feeder to itself and was gorging away.  A walk along the sunken route of the old canal and then it was back over the other side of the lake, taking in the Cormorants going to their roost up in the birch trees. Reluctant to leave even in the rain we took a lingering look at the ship canal with its swing bridge. What a feat of civil engineering, now largely neglected and sadly derelict! Time to go home.
Mike Hart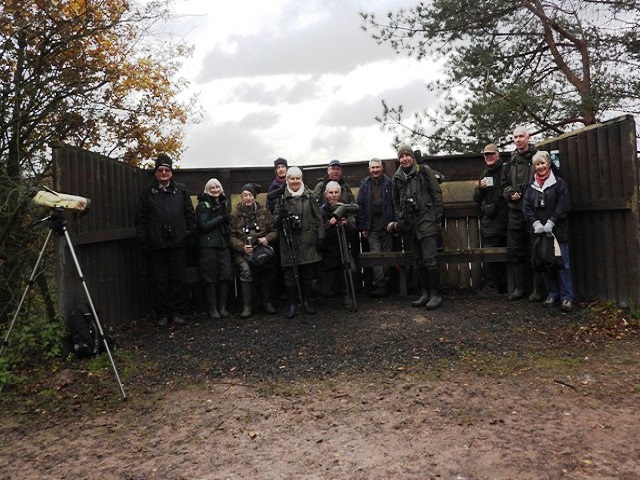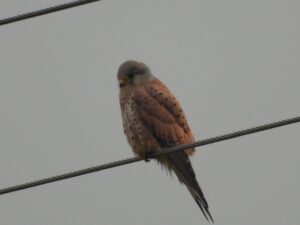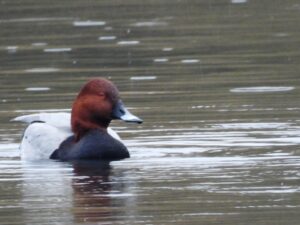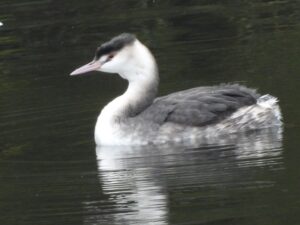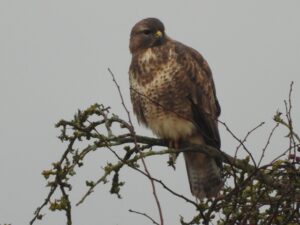 Point of Ayr – Saturday 2nd November 2019
The weather forecast was not encouraging with a large slice of luck needed.  The TV charts had shown a huge low revolving over the Irish Sea and rain was falling heavily on the drive out to Talacre.  However eight of us assembled in the car park and started out along the path and boardwalk Northwards.  Looking down into the flooded scrub we noticed a pair of Stonechats flitting from bush to bush and showing well for us.  A pair of Robins competed for posing rights.
We walked through the gap in the sand dunes emerging onto the beach with the familiar leaning lighthouse in front of us.  The rain was easing and visibility improving as we scanned the sand for birds but there were only a few of the regulars, Herring Gulls, Cormorants and Oystercatchers while Pied Wagtails flitted around our path. Heading around the corner towards the estuary we paused to look over the lagoon which has been formed by the advancing sand spit.  At least eight Little Egrets were in evidence although the muddy gullies could provide cover for dozens more.  A number of small "LBJs" gave us much discussion as to their identity and there again the mud and grasses provided excellent background to disappear into.  Linnets was the final decision.
After turning back at the RSPB rope barrier, erected to protect birds roosting at the end of the spit from human encroachment, we made our way back to the cars for lunch.  The rain had now stopped although heavy cloud held the threat of more to come.  Refreshed, we strolled along the sea wall of the lagoon looking in vain for the resident Kingfisher.  A flock of Lapwings headed inland as small birds including Wrens, Robins and a variety of Tits teased us with their briefest of glimpses in the hedge.
Arriving at the RSPB hide, the sunshine was lighting up the end of the spit where several thousands of waders roosted while numerous ducks paddled about on the watery inlets.  A solid black line indicated the Oystercatcher camp while on the edge of the tide grey waders would include Curlew, Knot, Grey Plover and Dunlin.  Ducks included Shelduck, Pintail, Teal and Wigeon. After we had sat watching the comings and goings of these birds for some time there was a sudden disturbance and Oystercatchers started to stream away across the water.  Everything followed until the spit was devoid of birds and then half a dozen humans with their dogs appeared, having defied the warning notices.  Stupid people and very annoying!
Apart from that, fortune favoured us with the weather and all in all a good day out.
Mike Hart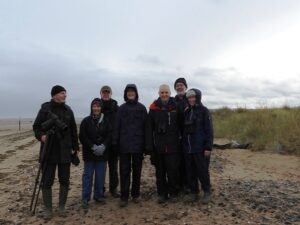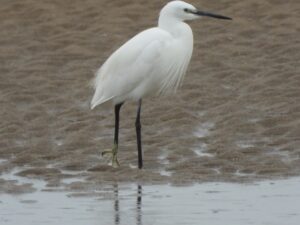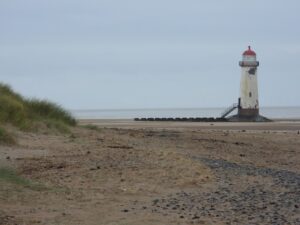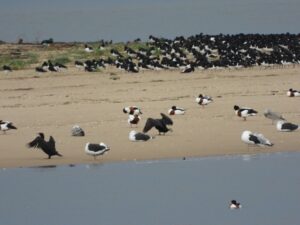 Wirral North Coast – Saturday 28th September 2019
The weather forecast wasn't encouraging and I wasn't surprised that no one else was parked up when I arrived.  However Joyce had followed my tortuous route to the front so I wouldn't be alone.  Just opening the car door against the wind was an effort as was the scramble to grab the loose items which threatened to escape and litter themselves over the beach to New Brighton.
Astonishingly there were soon sixteen of us assembled in the lee of the toilet block (at one time we were up to eighteen).  Despite the rain which had by now started everyone was full of enthusiasm and eager to get off.  The tide was advancing rapidly and, as usual, driving before it a flock of Oystercatchers.  Those flying at ground level looked to be making better progress than those higher up which were almost flying backwards! Perhaps those actually on the sand marching against the wind were best off.
We made our way from one shelter to another, finally arriving at the lifeboat station. The Oystercatchers were still the most numerous species by far although tagging along with them as they moved ahead of the advancing tide were small numbers of Redshank, Knot, Curlew and Dunlin.  Four Sandwich Terns and one or two Bar-tailed Godwit were picked out.  A number of Shelduck and the usual number and variety of gulls were also present.
The skies were lightening, the clouds breaking up and the sun showing itself as we were tempted to walk just a little further (always with some shelter as the next goal, note).  One or two Pied Wagtails were seen on what bit of shore remained uncovered by the tide. Several Meadow Pipits had been seen flying over in the rain earlier.
Although the sun was now shining we decided that we had done a fair morning's effort against the rain and wind and there was little to gain by staying longer.  Some returned, with the wind behind them, back to the cars while half of us repaired to Popsy's café over the road at Hoylake Community Centre for refreshments and a chat. This is always a welcome aspect of any field trip and today was no exception. I recommend Popsy's.
In conclusion, while bird numbers and activity were not exceptional the enthusiasm and camaraderie that was evident in the face of adverse conditions was great to experience. Well done and "Thank you" to everyone.
Mike Hart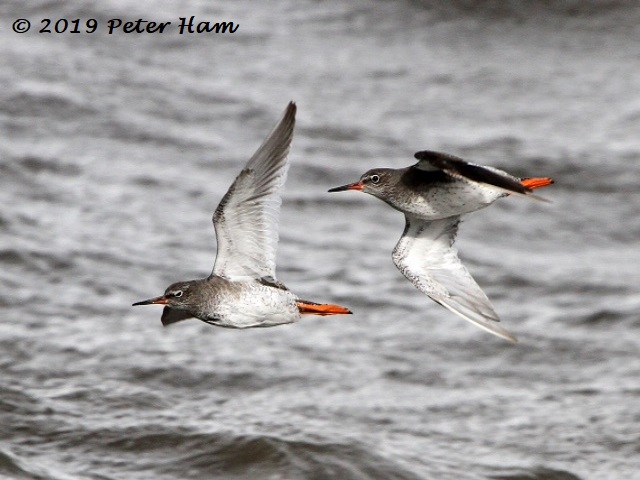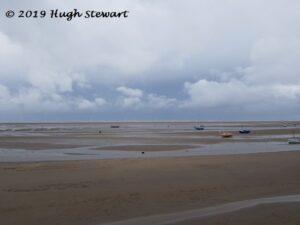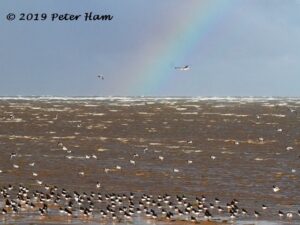 Red Rocks and Hoylake – Friday 30th August 2019
This was to have been an outing to Hilbre Island with a stay over the high tide period, however the island had been temporarily closed to the public after a fire.
As it was, sixteen members turned out on a cool, overcast and blowy morning. The walk out from West Kirby up to Red Rocks was rather quiet although we did have a Peregrine Falcon cruise overhead and a solitary Swallow flash across the Royal Liverpool Golf Club. Far over the estuary Cormorants and Oystercatchers lined the sandstone reef between the islands while several Little Egrets skulked in the saltmarsh closer in.
Rounding the corner of Wirral we were presented with the muddier expanse of Hoylake shore.  The tide was still some way out and we carefully picked our way towards King's Gap finding some respite from the breeze in the small bay.  Soon we noticed a small flock of waders, Dunlin, Ringed Plover and a few Sanderling.  A steady stream of birds came from around the corner in the Dee Estuary as the tide flooded there and they sort refuge on the Hoylake shore.
We found ourselves on an expanse of spartina grass, yellowed by the recent controversial application of a weedkiller to prevent Hoylake following the fate of Parkgate.  The birds didn't seem to mind and soon the small flock had grown to many hundreds, supplemented by several Knot, one or two Bar-tailed Godwit, Grey Plover and Turnstone.  A number of these birds were still showing breeding plumage which is such a contrast to the winter drab shades of grey.  Several Sandwich Terns were lingering by the water. Oystercatchers were along the tide-line in their thousands like a miniature army marching together to who knows where?
Out at sea our sharper-eyed members spotted a Pomarine Skua and later on a couple of Arctic Skuas were over Hilbre and three Common Scoters.
The tide turned and we chose to return to Red Rocks overland rather than by way of the shore, avoiding the wind in our faces and adding a migrating Wheatear to our list en route.
It wasn't Hilbre but we had a very enjoyable and productive outing, probably seeing more birds and certainly having wonderful views of them.
Mike Hart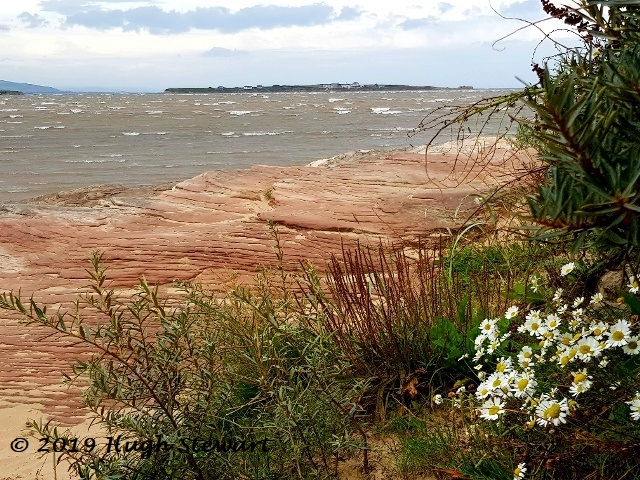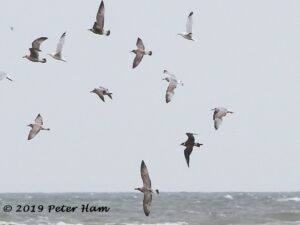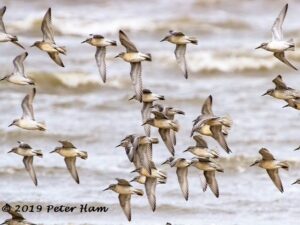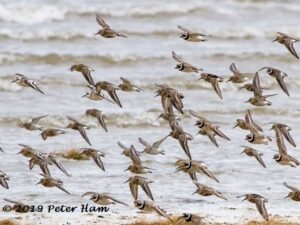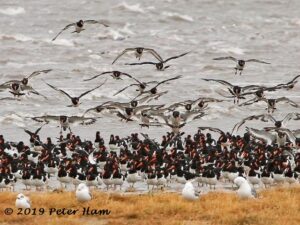 Gronant – Wednesday 17th July 2019
A dozen of us met at the car park on Shore road.  Sunshine but breezy, what to wear? Along the road we went, thousands of caravans on the site to our right, country to our left.  Over the railway bridge and onto the coastal path and we were immediately tip-toeing avoiding the many Cinnabar Moth caterpillars that felt it necessary to cross the path.  Quite a long pause on the little bridge that crosses the Prestatyn Gutter, a Little Egret skulking round the water station, Mallards and Moorhen with young, a Grey Heron motionless in the reeds, a Sedge Warbler, Wren and several doubtful identities (not the last of the day!) mostly of young birds including a 'chat' which flitted low around the reeds but was caught on camera (possible ID?) by one of our number.
And so onto the board walk that leads to the viewing platform and onto the beach where the tide was coming in.  A short way along the sand we stopped and focussed on the waders and terns being driven up the sand spit by the rising water.  Good numbers of Dunlin were in breeding plumage as were the few Sanderling.  Of course the main attraction were the Little Terns, both adult and youngsters that were settled on the sand but frequently took to the air and did a little fishing.  How easily they become invisible against the sky but they are quite noisy little birds and easily located by ear.  Two Peregrine Falcons were seen over the sea but they kept their distance from the colony.  Stretching ahead of us up the shoreline were the fences of the nesting site.  Rope to deter humans, electric (powered by solar panels) for foxes, stoats and hedgehogs.  Kestrels are deterred by vigilant wardens and volunteers. The area which requires fencing grows each year and steadily moves Eastward as the shingle spit extends through weather and wave action.  It will take an army of wardens and volunteers a week to get it dismantled in mid-August.
The sun was shining, the sea and sky were blue, sand golden, a fresh breeze – paradise!  But we had to move and the group broke up.  Some stayed and had lunch and later explored the down the length of the dune to the wardens' hut and the tiny hide.  The hide has the best view of the nesting area but unfortunately is very small and would be a problem to a group of any size. We were able to get closer views of the terns and also Ringed Plover.  On the walk back we were amazed at the number of birds that frequent the dune slack, with flocks of Linnet, Meadow Pipit and Goldfinch and a number of Skylark.  Although past their best Pyramidal Orchids were numerous and Sea Holly abounded. The rain began as we reached our cars. Nice timing!
Mike Hart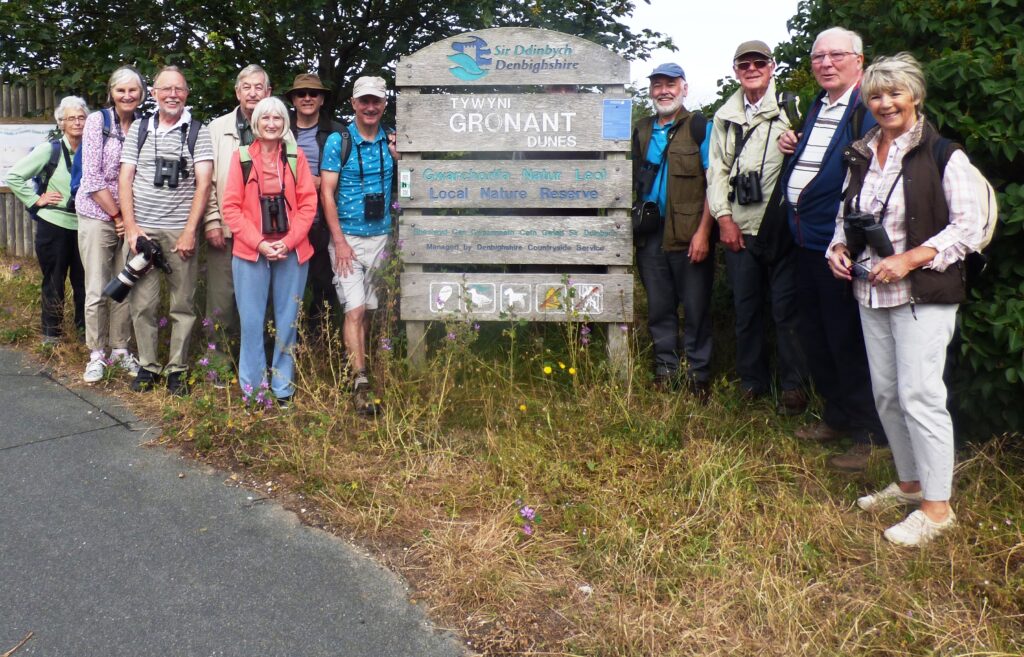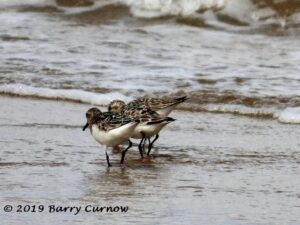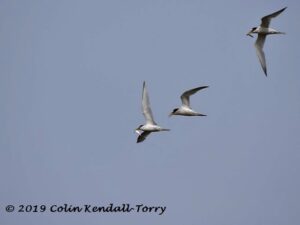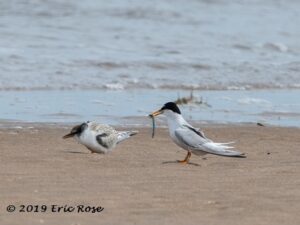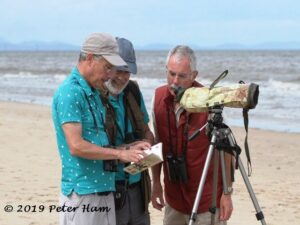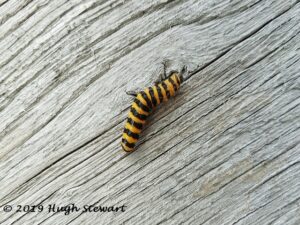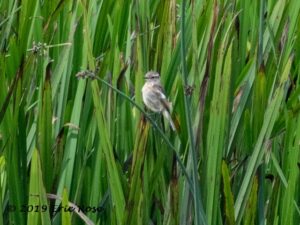 RSPB Leighton Moss (by coach) – Saturday 15th June 2019
I expect that most of us were watching the weather prospects for our day out with dismay during the preceding week.  It was a coach trip so we were all committed to going and as it turned out it was not at all bad.  The sun was shining (mostly), the air was warm and we only had a little rain and that on the journey home.
Arriving at the reserve we were greeted by David, a long-standing staff member who briefed us on what was going on and what we might look out for in our time there. Then it was off to explore the various hides (or café or shop I suspect of some!) the majority of members choosing to start with the longer walk along to the Causeway Hide where Reed Buntings were flitting around right under our noses while Little Grebes bobbed about close by and Great Crested Grebe were more distant.
A Lesser Black-Backed Gull shared a nearby islet with a Cormorant.  A mother duck with five ducklings provided a lot of speculation as to its identity and without Hugh's presence to help us there was an awful lot of debate and field-guide consultation before Pochard was settled on, the final decision being made with the presence of a male later.
Along to the furthermost hide, Lower Hide, where the close-in attraction was a Lapwing with a single chick on its nest of a pile of straw.  Further off we had the treat of a Bittern standing in the reeds in classic pose with its neck stretched straight up towards the sky.  I must admit that we had the help of a RSPB volunteer who pointed it out to us, so "Thank you" to him.  Walking back, we were pleasantly surprised to find a family of Greylag Geese quietly minding their own business in a small trackside creek.  Easily missed.
Back to the visitor centre (with a stop to check on the Pochard I.D.) and the next attraction was the "Sky Tower", a thirty foot high steel tower which gives a panoramic view across the reserve. (note to self – book Alton Towers next year).  I arrived at the top to find half of Wirral Bird Club there, Steve and Karen bubbling over with excitement at having been looking down on a couple of passing Marsh Harriers which were very close in.  Perhaps not as exciting but we could also look down on the various birds on the water including pairs of Gadwall and Garganey, a number of Mute Swans with cygnets and several Black Headed Gulls on nests.
On to the Tim Jackson hide where we watched a feisty Coot taking on an intrusive Carrion Crow and then, to finish off, at the Grisedale hide we were treated to Marsh Harriers obviously nesting as they made repeated journeys back and forth to an unseen location on the fringes of the reserve. And so back onto the coach and a good run home.
Mike Hart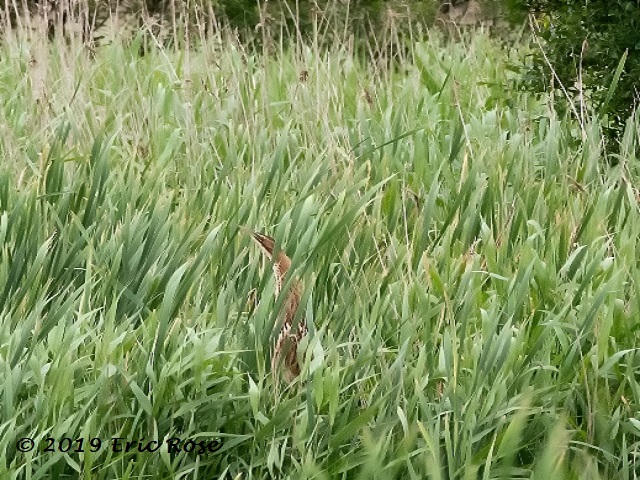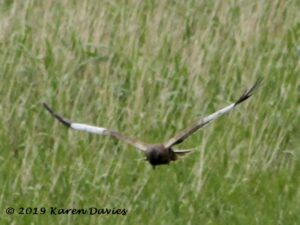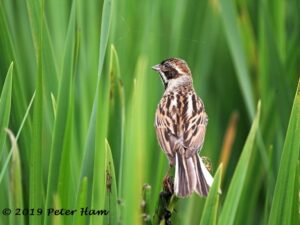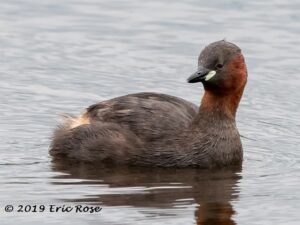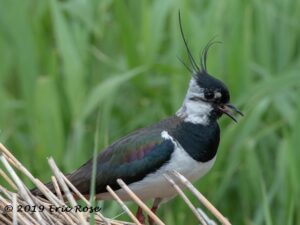 Beeston – Saturday 25th May 2019
I was desperately hoping that the number of members turning out might improve on the last field meeting.  I really wasn't expecting eighteen in total but then it was a lovely morning with the sun shining and the birds singing (always a good sign!).
And so we started off from the Castle Car Park through the pine wood and out onto lovely farmland under Peckforton Hills.  Buzzards, Carrion Crows, Rooks and Ravens were flying high while Jackdaws pecked in the fields where Pheasants hid in the grass.  Bushes and hedgerows concealed many small birds which could be heard but not seen.  A small herd of heffers commanded our undivided attention as we moved through their field.  Sensibly neither they nor us got overexcited.  Next it was on to the electric fence obstacle.  I crawled under it on hands and knees, Hugh approached it with a dead tree branch, Derek was advocating touching it with a green leaf, while Pam just lifted it up with her hand and the rest of the party walked underneath.  Our heroine!
Pausing for a sit down refreshment break we had our first sighting of Peregrines.  Very high and distant but well spotted, Tim.  More concealing hedgerows and trees and distant sightings of raptors as the approach of lunch and The Shady Oak lured us onward.  Arrival at human habitation and the canal produced a sudden flurry of bird activity with Swallows and Housemartins busy nest tending and even a Treecreeper making a fleeting appearance.  Moorhen and Mallard with ducklings were at home in garden ponds while a majestic Mute Swan cruised the canal no doubt anticipating scraps from pub patrons.
Refreshed, we strolled the towing path past Wharton's lock (known to those who have been on club canal cruises) and it was here that those birds that had previously been skulking out of sight made themselves visible.  We started off with a Song Thrush collecting invertebrates for a young family hidden in the undergrowth.  Next we had a very good view of a Chiffchaff singing at the top of the hedge and then a handsome male Blackcap which rewarded our patience by showing himself off well. Finally the continuous chunnering in the hedge materialised into a Sedge Warbler which we were very pleased to put a name to.  The sharp alarm of a Great Spotted Woodpecker came from the trees on the far bank.
On the slow walk back uphill to the car park (more cows and a totally uninterested bull) we were able to make out the silhouette of a Peregrine which Hugh had spotted earlier high on the crags close (presumably) to its nest.
Not too many birds to be seen at this time of year, but a good off-road walk in lovely countryside, warm sunshine and … we missed the rain!
Thank you for coming.
Mike Hart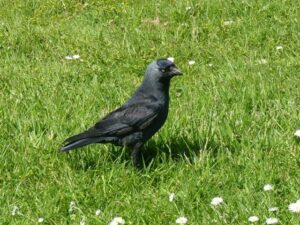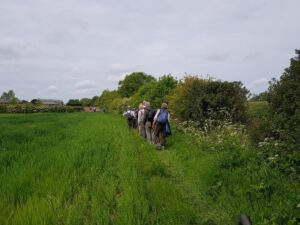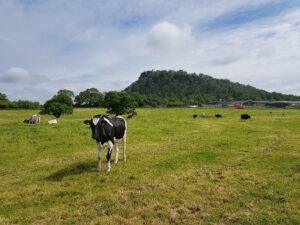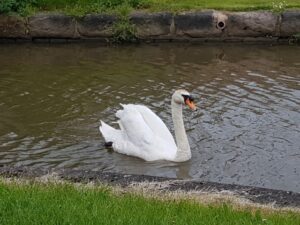 Maeshafn – Wednesday 1st May 2019
Unlike the previous two days the weather was not forecast to be good. At least the rain was "light" rain, there was no wind and the temperature was reasonable.  I had previously visited the location two weeks earlier and Spring had really transformed the scene in that time, the trees now clothed with fresh green leaves and what had been barren-looking fields, now showing new crops sprouting vigorously.  The Rookery on the far side of the main road was virtually invisible in the treetops.
We started easily, downhill, to where the River Alyn flows towards Loggerheads. Small birds, finches and Blackbirds, flitted in and out of the hedgerows.  It was now time to regain lost height and up we climbed steadily, the rain stopping in the meantime, common small birds in attendance, eventually reaching the woodline. Strangely, once in the woods it became very quiet and it wasn't until we reached the outlying human habitations in Maeshafn that birdsong picked up again.  We took the opportunity to take a sit and snack on the only bench and watched the Blackbirds and House Sparrows busy with their nests in the nooks and crannies of houses or buried deep in their ivy cover.  A solitary Siskin mixed with the Chaffinches and Goldfinches on the telephone posts.
'Mostly' downhill I promised from then on.  'Mostly'  A gentle descent through Aberduna Local Nature Reserve gave us views of The Clwydian Range and lots of bird song and call to identify.  A Common Buzzard soared over the valley.  Goldfinch were in and out of the hedges, a Chiffchaff sang high on a tree and a male Black Cap was seen in the hedge.  Swallows and House Martins passed by overhead.
Near the valley bottom we diverted down to the River Alyn again, this time passing over a rocky bed through a small wood with the ground covered with Wild Garlic in flower.  Chatting to the occupants of a most desirable cottage on the banks of the river at this point, they confirmed that Kingfisher were present and lots of Dippers although we saw neither on this occasion.  A short walk and we were back to our cars.
In the afternoon Moel Findeg beckoned with great all-round views and the most obliging Chiffchaffs, Willow Warblers and Nuthatches.  A matter of standing quietly and letting the birds come to you!
Nothing spectacular but a pleasant day.  Thanks for your company, Bill!
Mike Hart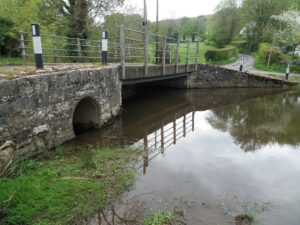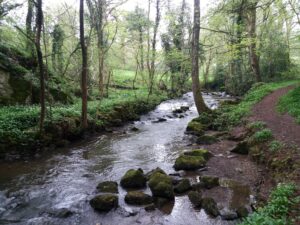 RSPB Blacktoft Sands – Sunday 14th April 2019
"Wrap up well" was the advice coming from the East coast.  Wise words to be heeded and take heed we did.  Once on the coach we had a speedy and comfortable journey over the Pennines before arriving at our destination on the banks of the River Ouse.  This RSPB reserve consists primarily of tidal lagoons and reed beds.  The country is flat and low-lying.
The cold wind was blowing in from The North Sea but the sun was shining as we checked out the facilities at the reception hide (hot drinks and a warming stove for later!)  We were soon setting out to the other hides, six in number, some double-deckers, all roomy, each one giving a surprisingly different picture of the various species even though they were not far apart.
The most obvious birds of the visit were, arguably, the Marsh Harriers.  It was almost impossible to see just one at a time, there were always others in the field of vision, usually quartering low over the reeds.  Several were seen to take their prey and 'food passes' were seen on more than one occasion.
From the Townend hide we had a great view of the other obvious birds, the Avocets. Theirs was a small flat island in the middle of the lagoon and no doubt nests will become apparent before long.  What fantastic looking birds these are, especially when flying.
All the while there was a 'supporting cast' of a steady passage of Hirundines in the air while on the water were good numbers of ducks, geese and other water fowl. Shovelers appeared to have paired up and were paddling round each other in tight circles, huge bills sifting the water for food.  Teal, Wigeon, Goldeneye, Gadwall were all present and brilliantly illuminated by bright sunshine showing their beautiful colours to best advantage.  The discovery of a single Ruff, identified after much discussion, led to several more being picked out while some fleeting glimpses of a pair of Snipe ended up with the two birds slowly parading very obligingly through the grasses right in front of our hide. Absolutely stunning birds!  A Yellow Wagtail put in an appearance as we reached the farthest point in our exploration.
There were, of course, lots of other birds, too numerous to list but including a Cetti's Warbler mostly heard but not seen in the grasses and reeds inland of the hides but then it was time for a drink in reception before boarding the coach for home.
An excellent site, the visit helped by the weather which, while cold, didn't distract from the birding.  Other club members for company and help in spotting and identifying the various species.  And a coach to take us home.  What better?
Mike Hart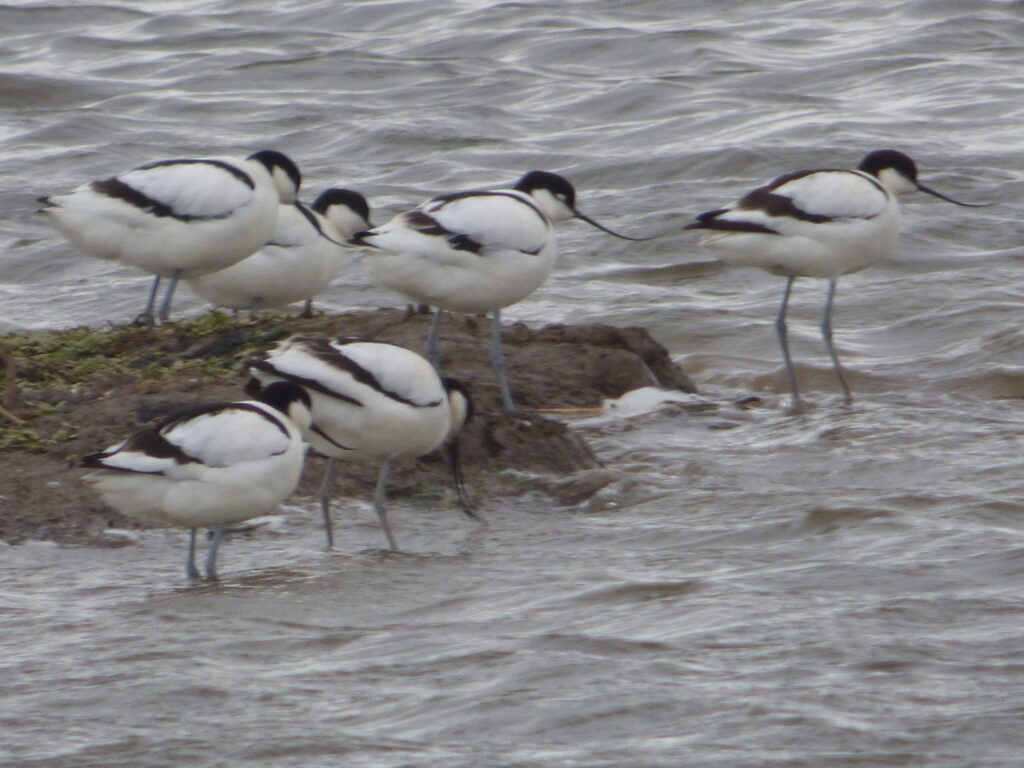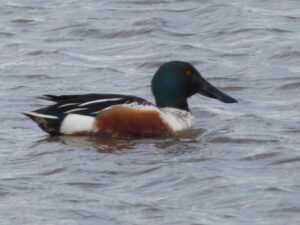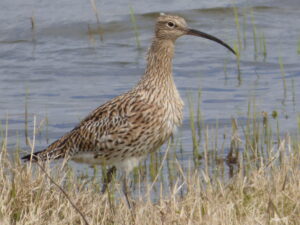 Leasowe – Sunday 31st March 2019
The earlier start of 9am, coupled with the start of British Summer Time stealing another hour in bed meant that it was a great turn-out by the hardy two dozen members who assembled on a chilly, grey morning.
We set off with a short diversionary walk up the road towards the bridge, the fields on either side giving the usual good start to our spotting being busy with Pied Wagtail, Blackbirds, Song Thrush and Curlew.  A pair of Fieldfare were showing well and provided a year tick for several members.  A cock Pheasant was strutting his stuff beyond the hedgerow.  Turning back to our primary route we watched a pair of Kestrels flying around the top of the lighthouse and wondered if they might be contemplating setting up home high in the sky.  We were treated to a fine view of a Chiffchaff sitting high in a bush, the morning sun just making its presence seen and felt.
Further on, in the paddocks where a number of horses were grazing, sharp eyes picked out what at first glance appeared to be a white stone or scrap of litter. Unfortunately, there was a fence between us with a lower rail at exactly the wrong height for the average birder to get a clear view.  Kneeling down solved the problem although a prayer was said by myself, if no others, that I could get back up on my feet again!  It was well worth it to see not one, but two magnificent male Wheatears.
While attention was centred on the Wheatears, there was plenty of activity elsewhere with several Buzzards taking advantage of the warming air to soar off to great heights and on the other side of the sea wall a flock of Shelduck moved location as the tide ebbed.  Curlew, quite well camouflaged, could be picked out in the rough pasture among the sheep while the hedgerows accommodated a variety of finches. Walking out towards the sea, we passed two corrugated iron barns which were hosting any number of House Sparrows.  Good that not all their nest sites have disappeared under redevelopment.
Out on the sand and mud were small numbers of Redshank, Oystercatchers and Turnstone.  A solitary Peregrine was spotted a long way out on the banks.  Back on shore clumps of gorse provide cover for any number of overactive Linnets.
After lunch, the day now warm and sunny and our numbers reduced (Mother's Day?) we walked inland, pausing for some time at the bridge over the Birket, hoping to see the local Kingfisher but having to settle for watching a pair of Long-tailed Tits working on the early stages of a nest in the bankside scrub.  The track leads eventually to the railway line but is bordered with high thorny hedges, the Blackthorn blossom being at its beautiful best right now.  The star bird amongst the many there was a singing male Blackcap.  Last sighting of the day was a suspected Sand Martin, the only Hirundine on show for us today.
Mike Hart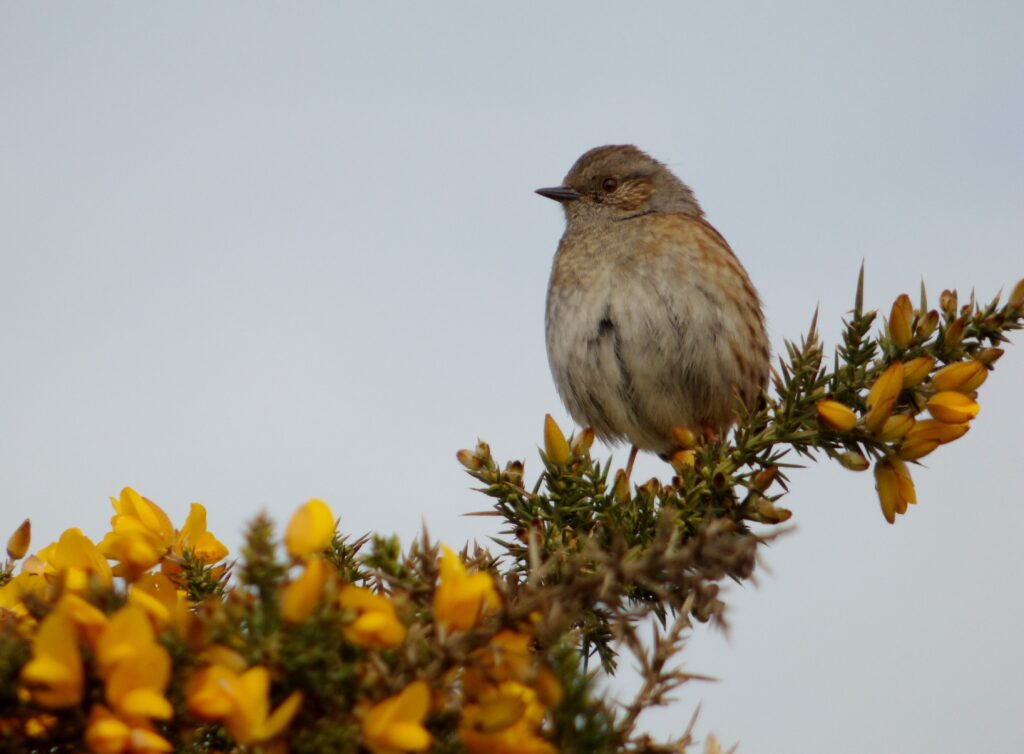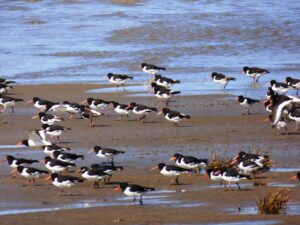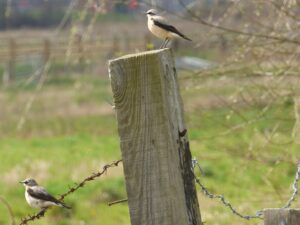 Dyserth – Saturday 23rd February 2019
The Spring-like weather that we had enjoyed in recent days continued so it was with some enthusiasm we managed to squeeze our cars into the ever-shrinking parking area.  A short chat with the workmen with their JCB reassured us that we were safe to leave them for the day!
And so we set off and the first sighting of the day, even as some were still changing shoes for boots, was a Dipper working its territory under the brick arch of a nearby bridge.  Also seen was its neighbour, a Grey Wagtail, flitting about in the riverside undergrowth.  A great start!  We made our way slowly, now on the track-bed of the abandoned Prestatyn – Dyserth railway line last in operation in 1973.  Robins were, perhaps, the most common bird of the day, easily heard but typically difficult to spot in the still leafless trees and bushes.  Treecreepers are always challenging as they move around the trunks and branches and the usual Nuthatch was also seen in the same vicinity.
Two or three Buzzards took to the warming air and we had a great view of one which chose to land in a low branch almost over our heads.  The Buzzards continued to soar over us but unfortunately we didn't get any local Ravens to compare their sizes which exceed the Buzzards.  Indeed the only Raven seen was one, identified by its voice initially, cruising over the meadow.  Carrion Crows and Jackdaws were our main corvid sightings.  A more exciting spot was a Red Kite but this was a bonus for Colin and Pat who had quietly sat down on a bench to have a cuppa!  The rest of us carried on until we arrived at Melidan Golf Club where we were able to sit outside and consume our lunches while enjoying liquid refreshments from the club.  Tea and coffee, that is!  A very welcome break.
Starting the return leg, for a change, we took a parallel footpath and were rewarded with a very difficult sighting of a male Bullfinch almost hidden in the scrub.  The Treecreepers were still in their home territory and both the Dipper and Grey Wagtail in the river.
With what was left of the afternoon and with weary legs, a few of us opted to conquer the dizzy heights of Graig Fawr (153m – 500') which we had been able to see from our lowly railway track.  Well, we did cheat and drove up to the National Trust car park before five of us went for the summit, ticking some Dunnocks on the way (We are a bird club, after all!)  A neat finish to a good day.
Mike Hart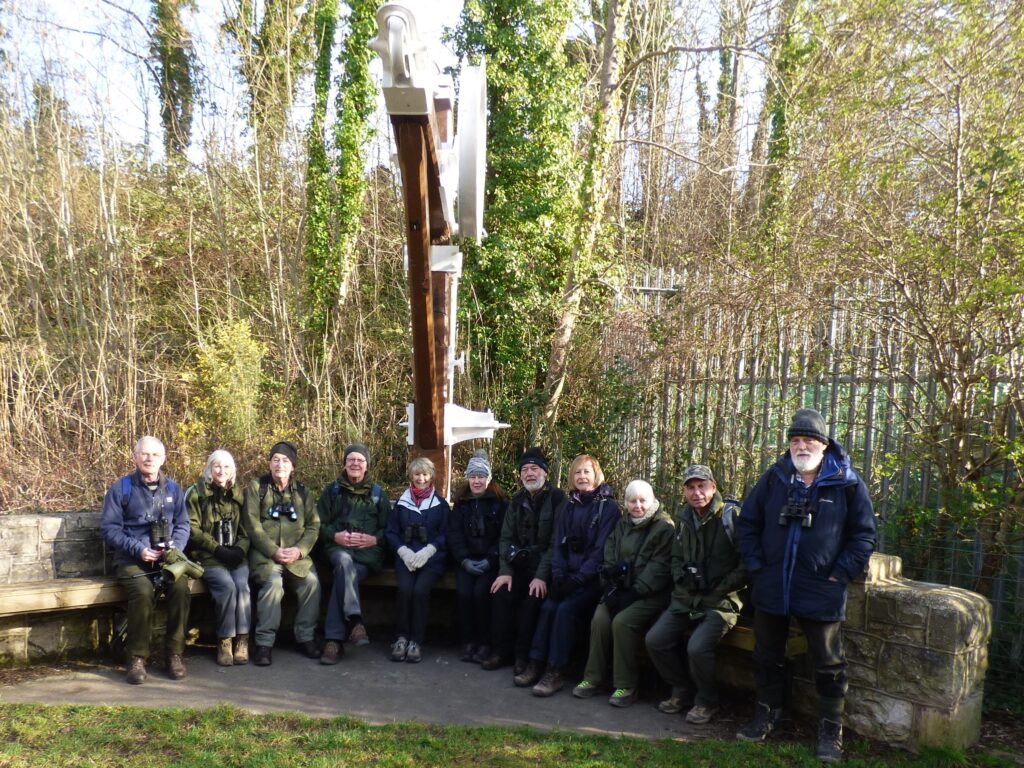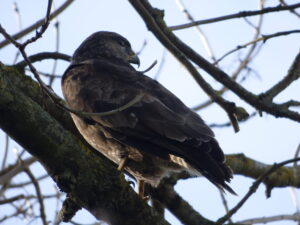 Pennington Flash – Saturday 26th January 2019
It was with some dismay that we found the large car park at this country park nearly full on our arrival but it turned out that these were people intent on keeping fit and participating in the Saturday morning "park run" and they were off home within the hour.  Fifteen of us started our day with a look on the main lake at the usual Mallard, Coot, Moorhen and Black-headed Gulls which expect humans to feed them.  Farther out on the water and a taste of things to come were Tufted Duck, Shoveler, Goldeneye, Great Crested Grebe and Goosander.
Soon we started out on the circular walk that takes in the seven hides, each one good with its own particular merits.  The day was fine, the light was good, and we had many excellent views of the waterfowl often seen as distant blobs but now revealed in absolutely beautiful detail.  Early on there was a very brief glimpse of a Kingfisher.  Further on and we were wondering just how many Grey Herons the site supported?  In the meantime, after much searching, Ken spotted a Common Snipe on the edge of a scrape.  Motionless among the dead scraps of last year's reeds it was relying totally on its 'cryptic' colour pattern to keep it safe and how effective was that!  A great find.
It was very noticeable that the vegetation and hedging at the side of our paths had been cut back with a tractor-mounted machine.  The ragged, torn branches were in stark contrast to the older hedging which had obviously been properly laid some years ago.  Perhaps it is a sign of the financial struggle to maintain our open spaces?
After walking as far as the canal, the Leigh branch of the Leeds and Liverpool, we started on the return leg of our walk.  Calling at the Teal hide provided arguably the most spectacular sight of the day with a magnificent Mute Swan dominant on the small island, centre-stage, about thirty male and female Goosander drifting in and out of sight and with many Gadwall showing beautifully, and other lesser ducks.
And so to the feeding hide where a multitude of feeders attracted a multitude of small birds.  There was constant movement as birds flew in, snatched a small offering and sped off to cover again.  Reed Bunting, Bullfinch, and the commoner Tit species were plentiful while the Willow Tit, a speciality of the site, less so but still caught on camera by members.  Meanwhile in the adjacent "Pengy's Hide" (for children?) a Water Rail was showing well in the vegetation right under the windows. While undoubtedly a star attraction it could not detract from several Pochard further out on the lake which were well lit by the afternoon sunshine.
Shortly after our completing the circuit of hides, clouds covered the sky and the promised rain arrived.  While providing a challenge for the drivers, we had at least got a great day's birding in.
Mike Hart