Marbury Country Park – Saturday 24th November 2018
It was distinctly chilly but dry and the occasional appearance of the sun promised a reasonable day.  Thirteen of us assembled in the car park of what was already a busy park but there was plenty of room for everyone and we were not too troubled by dog walkers and families out for fresh air.
Among the first birds sighted were a Wren and a Nuthatch, both exploring holes in a pair of exotic-looking Oriental Plane trees.  We made our way, via the ruined remnants of the long-demolished Marbury Hall, down to the bird hide on the banks of Marbury Mere also known as Budworth Mere.  Here, in front of the hide, was the first of several well stocked bird tables where a frenzy of various Tits provided continuous interest.  Out on the water were good numbers of Great Crested Grebe along with Cormorants, Tufted Duck, one or two Shoveler and of course numerous ubiquitous Coot.  Suddenly a Kingfisher flew in from off the lake and landed right in front of us. It didn't linger long but enough for everyone to get a good sight of one of our favourite birds.
We walked along the lake shore path.  A flock of several hundred Canada Geese took to the air from the fields on the far side of the mere making a tremendous racket before they finally settled down on the lake.  We headed into Big Wood, pausing to try and get a decent look at Goldcrests at another hide which was well stocked with birdseed on its table.  Of course Goldcrests never pause in their foraging.  On through the beautiful woodland we walked, down to the Trent and Mersey Canal and then back through meadows where young bullocks were grazing, obviously inured to the presence of people and dogs, and so to a very welcome lunch.
Refreshed, we headed to Witton Mill car park (with varying degrees of navigational success) for Neumann's and Ashton's Flashes.  The footpath dividing the two was bounded on both sides by small silver birches shining magically in the late afternoon sunlight.  We paused to scan Ashton's which was totally dried up and looking like a desert but with Buzzards instead of vultures sitting in the stunted trees.  On our left, on Neumann's, many Lapwings occupied a sandy spit, sharing space with numerous Teal.  We were now looking to complete our circuit of the Flash but Colin's sharp eyes spotted movement in a bit of scrubby undergrowth.  A Water Rail!  Typically it was not too co-operative towards bird watchers but we all got to see at least a little bit of it.
Back to our cars and a mere ¾ hour drive home.  A very good site to visit and one to remember for the future.
Mike Hart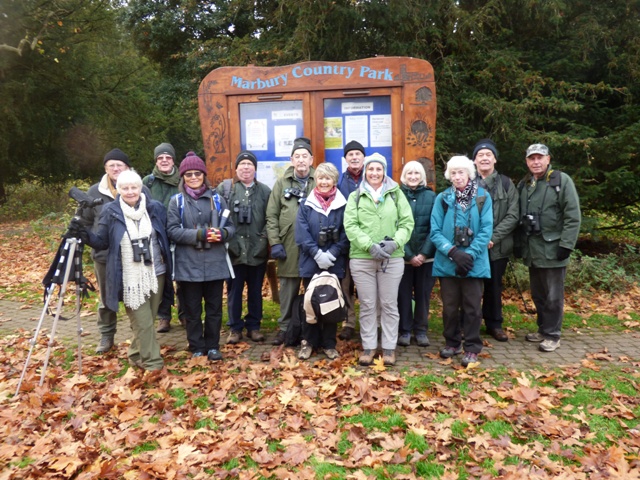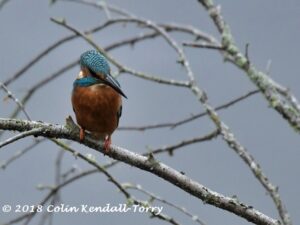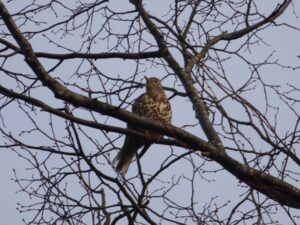 Frodsham Marsh and the Weaver Bend – Sunday 21st October 2018
The weather forecast was all over the show but the sun was shining as we met on the bridge over the M56 motorway.  What a noisy spot, but the Hand of Man is everywhere in this landscape with the vast dredging spoil tanks now mostly dry but dotted with huge wind turbines, the Manchester Ship Canal cutting what was once marsh off from the Mersey Estuary and Weston Point and Rock Savage industry as background on the far banks of the Weaver.
Members had turned out in good numbers (21) and we made our way along the farm track and footpath to the banks of the river.  Small birds had been numerous but elusive in the hawthorn hedgerows, a glimpse of two or three thrushes being insufficient to positively ID them.  On the river there was variety if not quantity and most quite distant.  Mute Swans were numerous, Little Grebe and Great Crested Grebe, Shelduck and Cormorants finding plenty to feed on.  A small flock of Lapwing flew over and although common enough a flyover of Canada Geese was welcome. After a slow stroll along the bank we turned back for lunch at our cars.
The blue sky had now disappeared as we walked to the Number 6 Tank.  Here there were good numbers of mostly ducks.  Teal, Mallard, Wigeon and Shoveler were easy to spot.  Also several Pintail, but an almost complete lack of waders (one Redshank!).  The drizzle had now started and we could see that there was more to come.  A mixed flock of Tits crossed ahead of us.  Our numbers dwindled to single figures as we made our way further along the track.  In the distance we could see a Buzzard on the ground intently feeding on what was probably the remains of a sheep.  One or two Buzzards and Kestrels had previously been sighted but had not been very active and, disappointingly, the local Peregrine had not put in an appearance.  For the die-hard few it was time to turn away and make our way back to our cars.  By the time we arrived it was raining properly and birding was certainly over for the afternoon.
A slightly disappointing day for birds compared with previous visits.  A good place to revisit with more time to explore the area further.
Mike Hart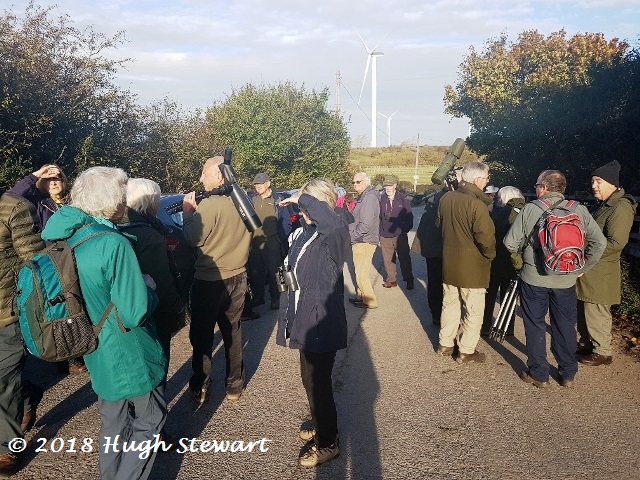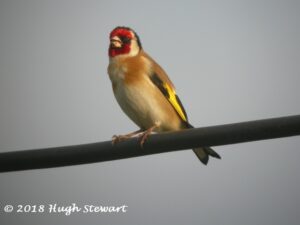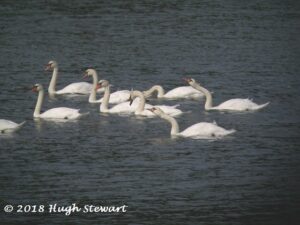 Hilbre Island – Tuesday 11th September 2018
Rain all night and rain was still falling as a dozen of us assembled ready to cross the sands.  The weather forecast, however, predicted some improvement and by the time we got as far as Little Eye the rain had stopped.  Although still gloomy, visibility had improved and we were able to see Atlantic Grey Seals hauled out on their sandbank and closer in we saw the first of the winter waders.  We took the footpath over the top of Middle Eye and as we dropped back down at the far end we found a lovely Wheatear flitting about, perhaps wondering where its pals had disappeared to. Over on our left on the seaward side of the island there was a huge roost of birds, the majority being Oystercatchers along with a few other waders and gulls.  And so we made our way over to the main island, noticing as we went a solitary Eider duck close by in the water.  The sun was shining and the skies clearing.  We were now cut off by the tide.  Hilbre was a true island.
We were able to have access to and the use of the 'day room', courtesy of Ken and Pam and The Friends of Hilbre (our thanks!).  We were all ready to have a sit down and enjoy a drink and a bite.  Then it was off to the old lifeboat slipway at the North end of the island.  The tide was getting high and rough.  Seals were bobbing up and down and 'bottling' which describes them when they are hanging vertically in the water, snoozing, with just their heads and noses sticking out above the waves. Quite at home!  From the top of the slipway and the sea-watching hide above it (more thanks) we spotted a Red Throated Diver in flight along with half a dozen Common Scoter.  Also seen were Shelduck, Great Crested Grebe and a very elusive Manx Shearwater.  Sandwich Terns passed by occasionally and small flocks of Ringed Plover and Sanderling included Dunlin in their midst.
Back to the South end to look at the tide as it peaked.  The large wader roost was still in evidence although the tide had forced it to move from its previous location. Then we made a general exploration of the island which resulted in a most unexpected sighting.  A Fox!  Apparently it has been resident for a little while and obviously manages to find sufficient food in such a restricted area.
It was a beautiful afternoon, warm sunshine, blue sky and a fresh wind but the tide had receded and we needed, reluctantly, to return to the mainland.  On the way we saw a few Knot in a gutter, again passed the Wheatear and from the top of Middle Eye a Peregrine Falcon was spotted quite high up.  It wasn't hunting but just by its proximity it managed to scare a good number of waders off the sandbanks into the air.
Thanks again to Ken and Pam and Friends of Hilbre and the lady from the bird observatory who opened the sea-watching hide for us.  It turned in to a very enjoyable day.  Thanks to everyone who came.
Mike Hart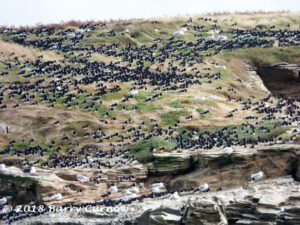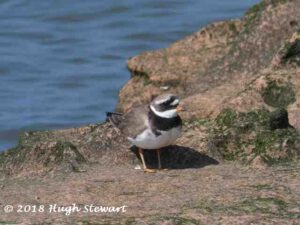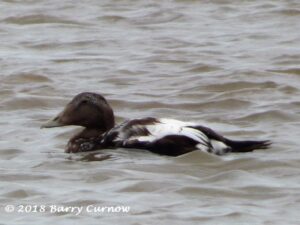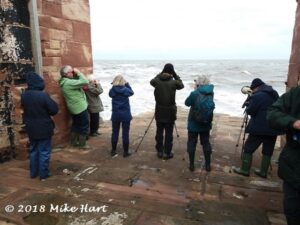 Whixall Moss – Saturday 28th July 2018
Once again the weather changed overnight and not for the better.  It seems to be a given for Bird Club field trips.  Long trousers which had been advised to deter biting and stinging insects were of better service keeping us warm.  Alison even wore her woolly hat.  And yet everyone arrived early and enthusiastic.  We met up at "The Manor House" which is a misnomer these days as the original 15th Century, timber framed house, gave way in the 1970's to modern portacabin-like structures and ugly tin barns.
We set off to follow the "History Trail" out onto The Moss.  At least it wasn't raining, but the brisk wind had all the trees and bushes moving and deterred any of the small birds from sitting in full view.  The most obliging were Stonechats which of course are fond of sitting atop bushes and posts at anytime but many birds gave only momentary glimpses of themselves as they dashed from one bush into another and so remained "LBJ"s.  A flock of 60+ Lapwing had been sheltering in the hollow of a dried up pool at the side of the track and these decided to relocate to a more distant, still wet, pool already occupied by various gulls and ducks.  A small raptor gave us hope of a Hobby but it turned out to be a Kestrel.
We stopped for refreshments, sitting at the side of the track in the lee of some bushes, the wind being still fresh and gusty but the sun shining.  And so our guide, Stephen, found us.  Stephen is a volunteer with a great knowledge of the reserve and his photographs may be seen on Facebook.  With him we learned so much about the importance of the peat in relation to carbon storage and climate change. Over the years the whole vast area of The Mosses has been exploited and abused by man and it is only recently that restoration work has been carried out in an attempt to rectify the damage caused.  The human history of the area is additional to the natural history and is quite amazing with both World Wars seeing the Mosses 'in action'.
Unfortunately Stephen couldn't work miracles for us and there was an absence of the expected dragonflies and butterflies (and biting and stinging beasties) and while we had a brief positive sighting of a Hobby, there was not the prey available to give us better views of these beautiful local birds.  We resorted to getting down on hands and knees to study Sundew insect eaters and sample Cranberries (but not too many!).
Arrival of a heavy rain shower marked the end of the walk but we just might be back next May when we are assured the number of Hobbies arriving on migration can run to double figures.  Well worth a visit at any time.  Thank you Stephen.
Mike Hart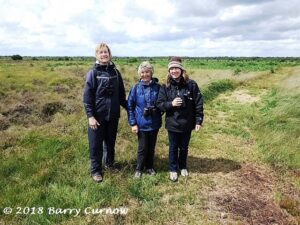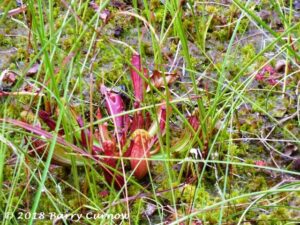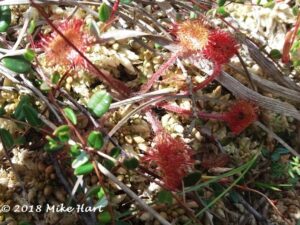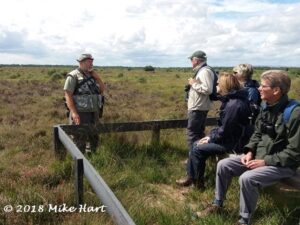 Cynwyd Forest – Tuesday 3rd July 2018
The weather has been from one extreme to the other in the last twelve months and recently we have enjoyed (or suffered) weeks of hot sunshine.  On arrival in the forest, while the sun was indeed shining, there was a very agreeable breeze to temper its early heat.  A wind which would make spotting small birds in trees difficult but improved our chances of raptor sighting.
Shortly after setting off up the forest road we did in fact have our first raptors, a fast moving Sparrowhawk low down after some unidentifiable prey and a Kestrel more easily visible as they tend to be.  Uphill from our road a gap in the trees showed us a hillside where a herd of young bullocks (and their leavings) was probably attracting meals for the numerous Swallows filling the air.  Luckily, our gaze being in that direction, we spotted a magnificent male Hen Harrier further up on the skyline.  This we watched, naturally, until it finally went out of sight behind a fold in the hillside.
On we went but small birds were not readily visible although we could often hear their voices.  Blackcap, Chiffchaff, Redstart, Blue Tit, Great Tit, Wren, Willow Warbler, Song Thrush.  Some glimpsed, others heard.  More visible were the large dragonflies which were flying in the open space between the trees provided by our road.
We eventually emerged from the forest onto the lower slopes of the Berwyns. Immediately we were confronted with about a dozen LBJ's perching on the line of fence posts at the side of out path.  Even though we were able to get a good look at them we could only mark them down as "chats".  Time for lunch!  We sat in the sunshine on the side of the path looking over to the far hillside.  The male Hen Harrier reappeared and made his way slowly down the valley before disappearing from view.  Was that large brown bird nearby a female Harrier or just a Common Buzzard?  We did have Buzzards and also Red Kites to watch for after our lunch.  A meal always tastes better out and about even without a side order of such avian delights.  Making our way back to the forest path we encountered the ubiquitous Robin and some Meadow Pipits while a distant Cuckoo could be heard.
Making our way steadily downhill along the line of the small stream we came across hundreds of 'farmed' birds in the shape of Pheasant chicks being raised for 'sport'. These birds live their early days in wire pens being fed and watered by gamekeepers. By the time we passed by they were getting big enough to escape over the wire netting and we found ourselves gently herding more than a few ahead of us down the path.  They have until October 1st to explore without fear.
Past the small Cynwyd reservoir which held a few Canada Geese and a family of Mallards and then it was the uphill home stretch.  Pauses for a Whitethroat perched on a power line and a noisy Jay in the trees and then we were back at our cars.  Red Kites were still giving us good sightings and we commented on the way that these beautiful birds seem to use their every part, especially their tails, when airborne.  It had been warm but not too warm.  A longish walk but a good day out and the undoubted star bird just had to be the Hen Harrier.
Mike Hart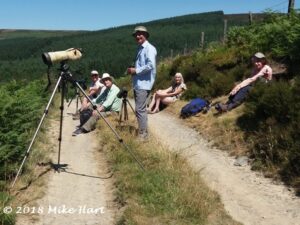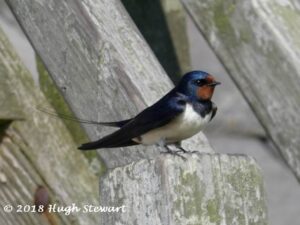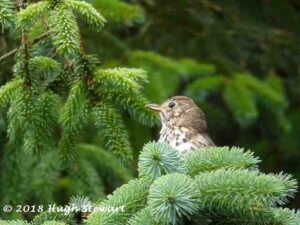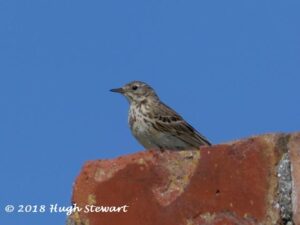 Elan Valley – Saturday 16th June 2018
The morning was grey and damp but the coach journey was smooth and trouble free and arriving at Elan Visitor Centre in time for elevenses the light drizzle was not too demoralising.  Several Red Kites had already been sighted from the coach and having collected ourselves we were straight away gazing to the rugged skyline where Peregrines were monarchs of the sky.  The yellow/black bulk of the Caban Coch dam dominated the view up the valley as we made our way past the old turbine houses, crossing the waterway with its weirs where the outlet flume from the reservoir became the lovely River Elan.
Invisible Blackcaps sang loudly as we climbed up to the top level of the dam where the renowned view was lost in the light drizzle.  We followed the track back through Cnwch oak wood with a Wren showing very obligingly and a slightly more elusive Willow Warbler carrying a worm or caterpillar and wanting to feed its youngsters without showing us where its nest was.  Brief glimpses were had of Pied Wagtails but better was to come.  Some of our fragmenting group had their patience rewarded by finding a Great Spotted Woodpecker nest.
We picked up our lunches from the coach and dined in the sun at the side of the river.  Numerous House Martins were back and forth to their nests under the eaves of a small utility building.  We noticed that mixed in with them there was at least one more Pied Flycatcher.  Later we found that this bird was feeding two fledglings sitting on a branch almost within touching distance.  Also close by were Redstarts, one of which gave excellent views as it foraged for its family.
We strolled down the right bank of the River Elan, always on the lookout for Dippers (we were not to see any, however).  A Grey Wagtail fed a juvenile on a mid-river rock and we found another Woodpecker nest.  A high, solitary, Osprey was identified by Hugh which seemed to signal that it was time for raptor spotting.  For quite some minutes we had various raptors flying high over the ridge.  Red Kites were many and easy to pick out.  Buzzards and Ravens perhaps a little more difficult to separate.  A lone ring-tail Hen Harrier was a nice find.
The clock was ticking and we had to return reluctantly to the coach.  Some of our number diverted to get good views of a Wood Warbler, the more leg-weary just paused to take in more of the Redstarts and Pied Flycatchers (and young).
An excellent day out, the weather was kind, there were birds in abundance, many with young and most visible even with the summer leaf cover.  The group worked well together and the photographers among us had a field day.
Thanks to everyone for a great day.
Mike Hart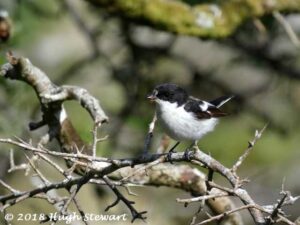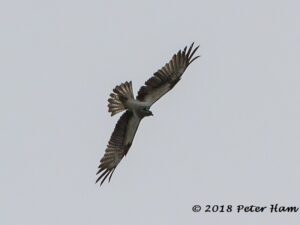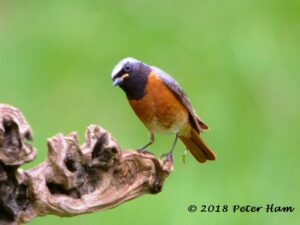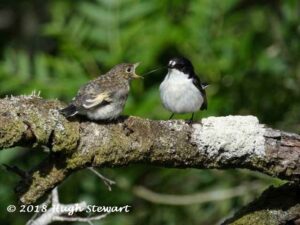 Moelydd – Wednesday 16th May 2018
Mornings of sunshine and blue skies with no clouds?  There is plenty of lovely weather about but not when we went out birding.  After enduring a rainy journey though peak time traffic it was quite surprising that any other members turned up at all and everyone arrived before the stated meeting time.
We kitted up and set off from the village where House Sparrows were numerous and Jackdaws were nesting in chimney pots.  Easily missed was a huge bird sculpture carved out of a dead but still standing tree trunk.  At the top, twenty feet up, was an eagle with its raised wings formed from the diverging trunk branches.  Underneath was a lesser work of two owls peering out.
Leaving the village behind we walked across farmland where 'little brown jobs' were hiding in the trees and hedges.  A Blackcap was giving his position away with his loud melodic song.  Marsh Marigold was bright near the small bubbling stream.  The trees were 'forty shades of green' with buds and new leaves.  A couple of Swallows were circling low to the ground around a small herd of cattle no doubt picking off insects as they flew.
There seemed to be a general shortage of birds as we walked on but a small angling lake provided us with some Mallards, Tufted Duck and Moorhens.  On we walked to the top of Moelydd.  Anyone hoping for a panorama of the surrounding countryside was going to be disappointed.  It was wet, windy and cold but we found a spot out of the wind, got out our sitmats and settled down to lunch.  Doesn't it taste all the better when the weather is against you?  Jackdaws scavenged the sheep-cropped grass around us.
We started downwards, no-one wanting to take advantage of the farmhouse selling ice-cream even though the weather was improving.  After a length of quiet road we started heading back with common species such as Blackbird, Song Thrush and Starling singing and showing.  A very russet Buzzard took to the air and as we passed through a deciduous wood Hugh heard, very briefly, a Pied Flycatcher.  We all stopped and listened, and listened some more, but to no avail.  All we saw and heard were a number of Great Spotted Woodpeckers nesting there.
The rain had now stopped and the sun was starting to appear.  We walked on, briefly detouring into a slurry yard by accident (not recommended).  More Buzzards were taking to the air as the afternoon warmed up.  On arrival back to the cars, there was some discussion about how far we had walked.  It was actually 4 ½ miles but felt like more!  Birds had been few and what we did see were common species but the day turned out fine in the end and we enjoyed the outing.
Mike Hart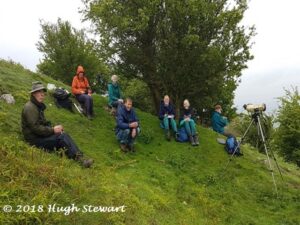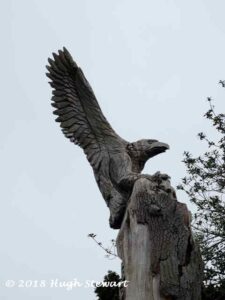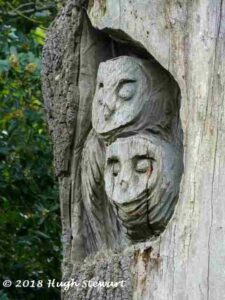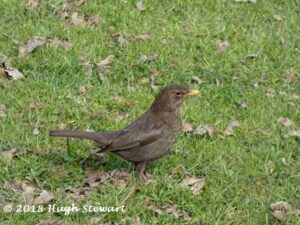 World's End – Sunday 29th April 2018
It was grey and misty (or was it cloud?) driving over the mountain road from Minera but the presence of several vehicles parked at the side of the road gave away the fact that Black Grouse were on display.  Sure enough, up to eighteen were to be seen posing to us passing humans at no great distance from the road.  Only one or two Red Grouse, outnumbered in this locality, showed their heads above the heather. Further on, the crags of Eglwyseg Mountain loomed through the gloom as though this were really the end of the world.  Get off here!
Our small group kitted up and set off.  Immediately we were bird-spotting.  A Cuckoo started up in nearby trees and before we had even stepped off the tarmac we were treated to a fine Whinchat and a Redpoll on the ground, both spotted and identified so quickly by Hugh.  A bold male Pheasant patrolled the path ahead of us.  The Cuckoo was still calling but apparently moving its location.  Kestrels and Buzzards flew along the distant ridges.
Suddenly four Black Grouse were spotted on a small patch of grass.  Scopes were quickly focussed and we saw that two of the birds were lekking, their white tails raised in display as they postured before their onlookers.  We watched until the birds flew, possibly disturbed by a walker.  After a short break for "Elevenses" we headed south along the top of Craig Arthur, the view of the impressive scree covered crags opening up until we decided to drop steeply down to the Offa's Dyke path for our return.
We stopped for lunch on the hillside, hoping that Redstart and other migrants might come our way, but none appeared, even the more common birds being largely absent.  Raptors could be seen, but only in the distance apart from three Buzzards which gave us good views as they glided up and down the valley.
And then the Cuckoo was singing in a tree almost above us.  As we tried to stalk it, it moved off, perching in trees and bushes near the top of the ridge.  We had great views of it as it made its way up the valley.  Hearing it had been good.  Seeing it was the icing on the cake!
A very enjoyable day, the weather stayed dry, good walking, great scenery and excellent birds.
Mike Hart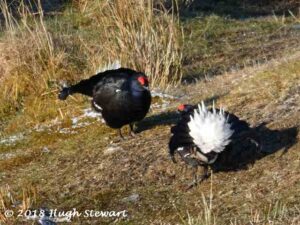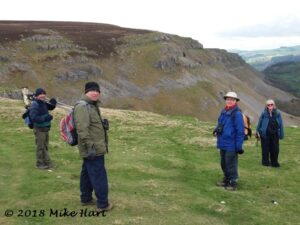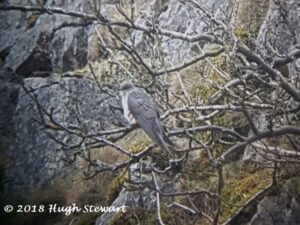 R.S.P.B. Old Moor – Sunday 15th April 2018
While not exactly summer, it was a pleasant, cool, dry morning as we boarded our coach.  We chose the scenic and most direct route across the Pennines via the Woodhead Pass and arrived at Old Moor in a little over two hours.
Old Moor has been created on what was, in the past, the highly industrialised landscape of the River Dearne valley.  A series of shallow meres and scrapes provide an attractive habitat for a great number of species (we were to total over 60 for the day).
After calling in the visitor centre, we split up and meandered our various ways along the two main paths which lead visitors out into the lagoons with their eight large, roomy hides. Black-headed Gulls were probably the numerically dominant species, but provided cover for several Mediterranean Gulls which when picked out made it easy to compare them both. Many of us will feel more confident in our Med Gull identification in future.
Spring migrants seemed to have been slow in arrival but were present if only in ones and twos.  Tufted Duck, Teal, Gadwall, Wigeon and Pochard were among the ducks while Great Crested Grebe and Little Grebe while being lovely to see were rather eclipsed by the two Black-necked Grebe (Bird of The Day?) showing well from the Wader Scrape hide.  Waders were in short supply with only a few Lapwings, Oystercatchers and Common Snipe.  One of the specialities of the site, the bearded Tit, was briefly seen by just one of our members.
Along the Reedbed Trail, the hope was for the sight or sound of the Bittern.  Several of our members did hear the distant "boom" of a bird but we were not to see any. The weather was closing in and time was running out.  The hide at the visitor centre provided good views of a pair of Bullfinches amongst other finches and a pair of Pheasants so close that the colours in the male were astonishing.  The centre facilities were put to good use before we set off for home, again able to admire the beauty of the Pennines from the comfort of our coach.
Mike Hart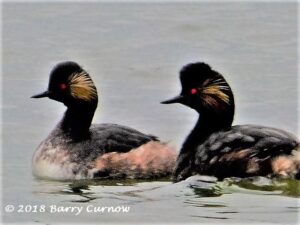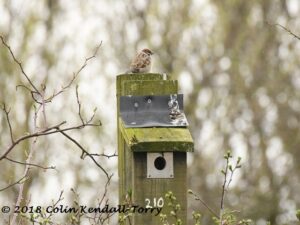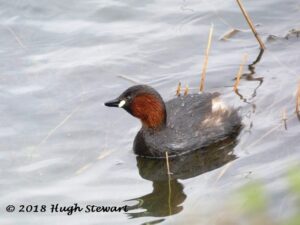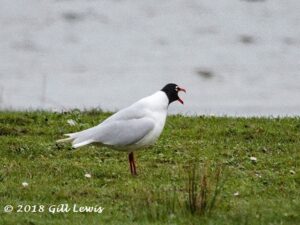 Ellesmere – Saturday 24th March 2018
A regular venue for Club meetings over the years, our trip to The Shropshire Meres last Saturday did not disappoint this time.  Once we had sorted out the car park ticket machine only taking credit cards, the seven of us set off to scan The Mere from the visitor centre.  We were met by the usual farrago of geese with mixed parentage, waiting to be fed!  A line of ducks in the middle of the water were all Wigeon, with a few Tufted Duck and a single Great-crested Grebe by the far bank. We also saw a few lingering Goldeneye, both males and females.  On the island several Herons were already settled on nests, with loafing Cormorants looking on.
The path through the park and woodland was productive, with several Treecreepers and the common Tit species.  Early signs of the coming breeding season were evident from a Starling and a Blue Tit exploring tree holes.  A Great-spotted Woodpecker was drumming very close-by but never showed itself; we did see one later on though.  At the far end of the path 8 Buzzards circled high over-head.
After lunch we moved on to Wood Lane Nature Reserve.  From the first hide we saw Teal, Lapwing, Oystercatcher and Gadwall.  Black-headed Gulls were starting to pair off and would soon be nesting.  Sadly there were no Sand Martins present, probably delayed by the recent cold weather, but thanks to Lynn's shout we did have a tantalising brief glimpse of a Red Kite from the second hide.
Our final destination was Colemere.  Initially there seemed to be no obvious new species around.  We decided to walk around the mere though and were rewarded with a small flock of Redpolls feeding in some alders, and a single Curlew calling as it flew past.  In a stubble field across the canal were at least 300 Fieldfare together with several Redwing and Starlings.  The total number was difficult to estimate as they spread over the brow of the hill.  Ken also picked out 2 Red-legged Partridge close by.
As we returned to the cars for the last time, a Snipe was flushed by someone walking across a wet area.  One or possibly two Tawny Owls called from the woods we had just left behind.  Then to round off a great day, a Red Kite gave a wonderful display for us as we stood in the car park.  We wondered if it was the same bird we had seen earlier or whether there could there be a pair.  Intriguing!
A big thank you to Mike for arranging the permit for Wood Lane – sorry you couldn't make it, we hope you feel better soon!
Hugh Stewart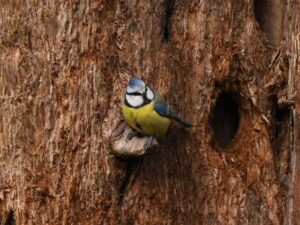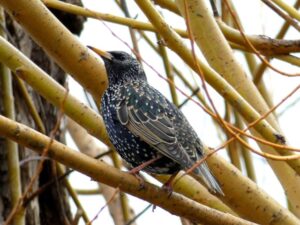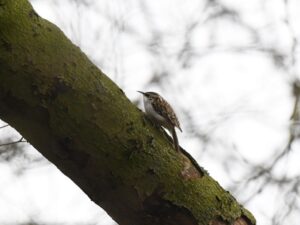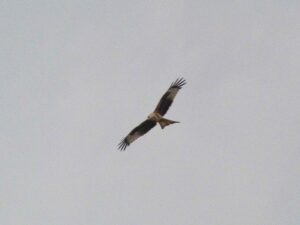 Burton Mere Wetlands RSPB – Sunday 4th March 2018
This was to have been a visit to Rhos on Sea, The Little Orme and RSPB Conway. However the days previous to this date had seen some horrendous weather and a decision to relocate somewhere closer to home was taken.
The bird-watching began even as we drove down the approach drive to BMW, the farmers' fields being covered with a mix of mainly Redwings, Mistle Thrushes and Fieldfares.  We met up in the Reception Hide with its roaring stove and picture windows making it a tempting place to spend the day!  Ice still covered a lot of the water but there was plenty of free water available for birds.  From here we had great views of a variety of ducks with a number of Teal being close under the windows and showing how beautifully coloured they are.  Also under the windows was a secretive Common Snipe, quite difficult to pick out in the dead reeds which so matched its camouflage plumage.
We moved off out from the comfortable warmth to take a look at the feeders close by which were being well used by small birds, mostly finches but with also a Great Spotted Woodpecker and at intervals a very bright male Brambling which would arrive to feed off the seed dropped to the ground underneath.  What a contrast in brightness between this bird and the Snipe!
We retraced our steps and had a short warming pause at Reception before walking on past the ponds which held a variety of ducks and then calling at Marsh Covert Hide.  There was not a lot to be seen here although the reed beds could hide a lot. Coot predominated and further off Wigeon could be glimpsed, while a solitary Little Grebe crossed the open water and a Pied Wagtail patrolled the ice edge.  A couple of Black Tailed Godwits were dipping into the shallows.
We continued on along the excellent boardwalk to eventually arrive at the old Inner Marsh Farm Hide, on the way picking up a Goldcrest in the scrub.  Here we had better views of the Wigeon along with other ducks and gulls and a lucky one or two members got a glimpse of a couple of Avocets but these were not cooperating for most of us.  Leaving the hide we walked up onto Burton Point following the Hillfort Trail.  The visibility here was unfortunately not brilliant but on closer examination of the marsh we could see that there were thousands of Pink Footed Geese grazing there.  At one point these were disturbed and took to the air giving a great aerial display.
Before we went home, a few keener members returned to the feeders where there were reports of a Jack Snipe to be seen in a drainage ditch.  Wow!  It took some searching to find.  One member managed to get a decent photo while others had to make do with spotting just an eye and the bill, and some of us didn't see it at all!
An excellent day for the thirteen of who turned out with over 50 species seen and only a short drive home at the end.
Mike Hart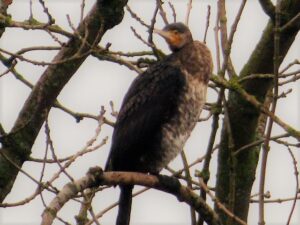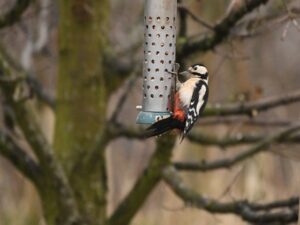 Whitegate Way – Sunday 28th January 2018
It was a bright, dry morning which attracted a good number of members to Cheshire's Vale Royal and the disused railway line at Whitegate. This short line was built to carry salt from the Winsford mines to the main railway between Chester and Manchester.
A couple of Buzzards over the car park put us into bird-watching mode and off we set, the quick pace soon slowing as we started examining the many small birds flitting through the mature trees which line both sides of the old track-bed. Somebody commented that spotting birds when there were no leaves on the trees should be relatively easy.  Not that easy!
Persistence produced three fine male Bullfinches, a Treecreeper and a Nuthatch, while Redwings and Fieldfares were to be found high in the far trees. A flock of Lapwings flew overhead.  We reached Newchurch Mere and were greeted with a selection of water birds to sort out.  Numerous Coot and Tufted Duck were familiar to us, rather less so were Gadwall, Wigeon and Great Crested Grebe.  A female Goosander was a bonus.  A pair of Mute Swans accompanied by their two cygnets from last year glided into view.  Heading back down the track to our lunches we picked up a Goldcrest and a Great Spotted Woodpecker, along with the more common birds.
Lunch was eaten at the Whitegate car park with its comfort facilities, then it was off again, this time towards Winsford. There were now noticeably fewer birds, possibly because of the lack of human presence in the form of houses, caravans, stables and horse paddocks, all sources of food.  Nevertheless we were treated to half a dozen Fieldfares sitting in a tree in the afternoon sunshine looking very attractive.  Two more Buzzards soared low over the open fields.  Three male Bullfinches were probably those we'd seen in the morning.
We heard, on more than one occasion, Song Thrushes and a Green Woodpecker, but were unable to get a sight of them unfortunately.
A lovely day to be out in the Cheshire countryside with plenty of birds to be investigated even if a lot were familiar species.
Mike Hart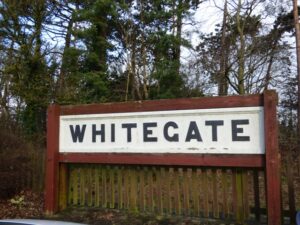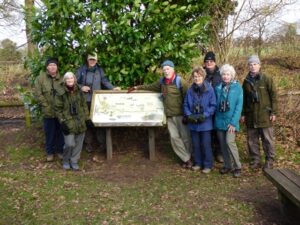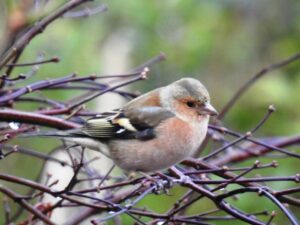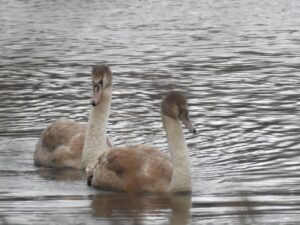 Eastham Country Park – Sunday 17th December 2017
Nobody could have blamed us if we had just got back in our cars and gone home, but the seven who turned up at the country park on this wettest of mornings were made of sterner stuff. Waterproof-clad and with a couple of umbrellas to be on the safe side we set off along the edge of the river.  EasyJets were climbing out of Speke into the overcast rainclouds and a couple of ships on the flat calm river were creeping up to the locks of the Manchester Ship Canal as the tide peaked.
In the trees and bushes on the edge of the water several Long-tailed Tits drew our attention to the presence of their mixed feeding flock. A Song Thrush on the ground tempted us to take a closer look and there in a small patch of vegetation overhanging the river we found more Tits, two Treecreepers and a Goldcrest. Nuthatches and a Great Spotted Woodpecker could be heard and occasionally seen overhead while a Blackbird, Robin and a couple of Dunnocks shared the shelter of a small bush, making occasional forays to feed.  Little moved, birdwise, on the river.
We continued, circling away from the river, bird activity being confined to Carrion Crows and Jays. The rain had eased and we walked on in the sure knowledge that every step brought us closer to the café, which was our ultimate goal!  Eventually we got our opportunity to enjoy a snack and hot drink before we finished off our morning in the comfort of the bird hide at the visitor centre.  Here several well stocked feeders attracted a constant stream of four varieties of Tits, great views of Nuthatches and even a pair of Great Spotted Woodpeckers.  Happy that we had not let the weather get the better of us we decided to call it a day and head off home.
Mike Hart
I still call Liverpool Airport "Speke". Apologies.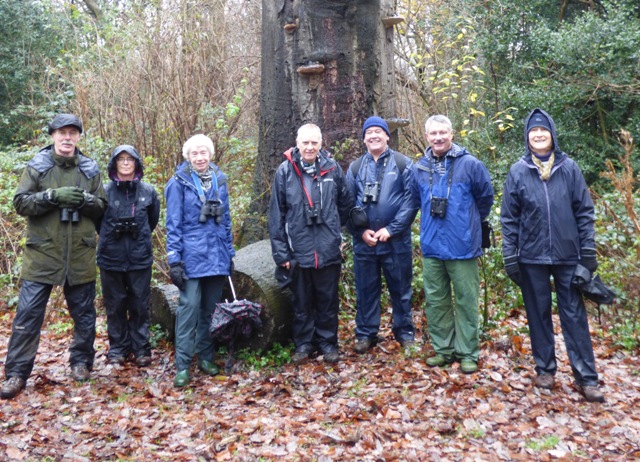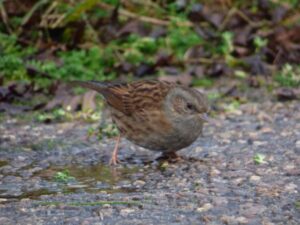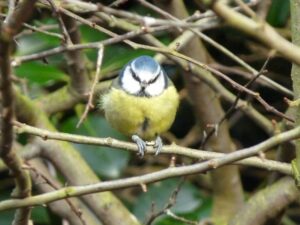 Marshside and Mere Sands Wood – Sunday 26th November 2017
A cold, stiff wind was coming in off the Irish Sea, bringing with it heavy showers of rain and hail. Not the most promising weather to tempt bird watchers.  However it was but a short walk down to the first of the hides and inside we were warm and comfortable.  In front of us was a vast flat expanse of flood water and low lying muddy islands.  There were birds everywhere and flocks great and small were taking to the air for one reason or another.  Lapwings, Golden Plover, Godwits, mostly Black-tailed but also one or two Bar-tailed filled the sky.  Far away, high in the sky we could see great "V"s of Pink-footed Geese over the Lancashire fields.
Examination of the ground with binoculars revealed large numbers of a variety of ducks and vast numbers of geese, mostly Pink-footed. A couple of distant geese had us scratching our heads until we decided that the bright red band around their necks was nothing nasty but probably some sort of monitoring device.  The only raptors that we would see all day were a pair of Kestrels sitting on distant adjacent fence posts.  From time to time the rain and hail rattled on the roof of the hide!
After a quick scan of the weather coming off the sea we took a chilly walk down to Nel's hide half a mile to the south. This location gave us a new aspect and better light on the birds.  And what a wonderful sight they were.  Pintail, Gadwall, Wigeon, Shoveler, Shelduck and numerous Teal all looking very smart in their new feathers and most of them quite close to us.  Let's not forget the Mallards, those familiar ducks that can so easily be overlooked, but which were also in their "Sunday Best", at one point about eleven drakes parading in front of a solitary duck!  However I think the male Pintails won in the elegance stakes.
Lunchtime and we decided to take in Mere Sands Wood. Making our way from Marshside we were astonished at just how many Pink-feet there were, a lot on the marsh only being visible when they put their heads up.
Mere Sands Wood gave us respite from the wind and time for refreshments and use of 'facilities'. Then it was a pleasant circular walk on the path around the lakes visiting several of the hides.  Quite a few water birds we had already seen in the morning, but the Little Grebe in front of the first hide had a fish that was almost too big to swallow.  Great Crested Grebes abounded here but perhaps the best bird or birds of our visit were two brilliant male Goosanders and a more subtle female bird. We were not fortunate enough to see the three otters which had been reported and despite a last special foray of the day a sighting of a Kingfisher remained wishful thinking.
A very satisfying day, all the more so given the discouraging weather. Eleven members saw 56 species.
Mike Hart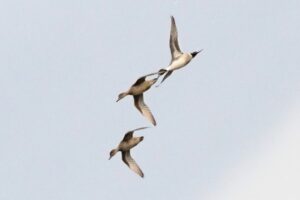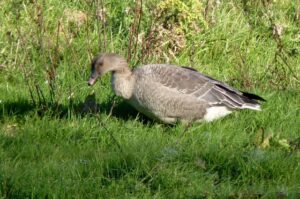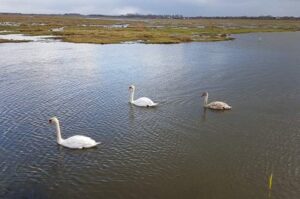 Wigan Flashes – Tuesday 31st October 2017
This was a new venue for several members and a wonderful turn-out of 16 members enjoyed a mild autumn's day walking around the various flashes and woods on either side of the Leigh branch of the Leeds-Liverpool Canal.
Not surprisingly, water birds were the main focus with a great mix of Tufted Ducks, Pochard, Wigeon, Shoveler, Teal, Mallard, Gadwall and Goldeneye. We even picked out 3 Ruddy Duck – a rare bird these days following the national cull!  The flashes also held Mute Swan, Great-crested and Little Grebe, Moorhen and lots of Coot.
The wooded areas were not empty though, bringing Blue, Great and Long-tailed Tits, Jay and Magpie. Robin, Blackbird and Song Thrush were seen.  A few species were less conspicuous, so Willow Tit and Kingfisher were only seen by a few members.  A Cetti's warbler called from a bramble patch but did not show, while a Water Rail squealed from deep in the reeds. As the light started to fade we returned to our cars.
We were told by a local that a Peregrine was roosting on the church where we parked, but again only a couple of our group saw it!
So, it was a very pleasant day in a lovely setting, even though 2 or 3 species did not co-operate! We still counted 47 species seen or heard.
Hugh Stewart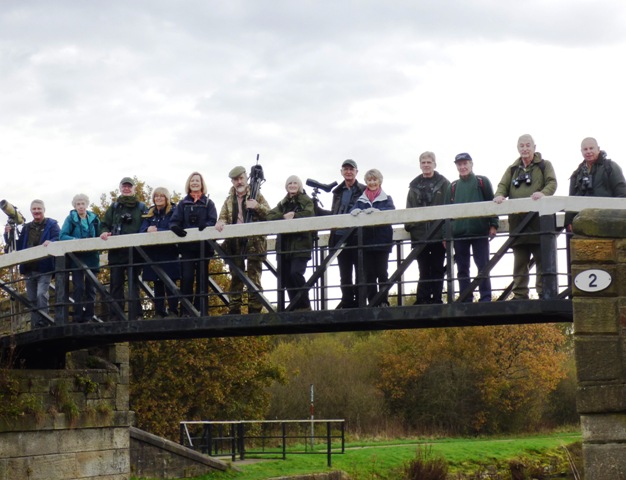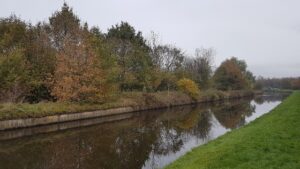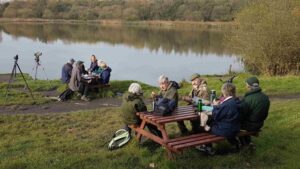 40th Anniversary Field Meeting – Sheldrakes and Heswall Fields
Sunday 8th October 2017
Some 23 members assembled at the Banks Road car park in Lower Heswall. This was a good start and probably a record number on a morning that couldn't make up its mind weatherwise.  We started down onto the shore path and along past the Heswall boat yard.  Boats that still have life in them and those further out on the mud that are destined never to roll and pitch ever again.
A Kestrel was hovering over the marsh as we scanned out towards Wales, our reward being a distant sighting of a Marsh Harrier. Overhead a small skein of Pinkfooted Geese headed up the estuary.  Lower down and closer in we had a charm of Goldfinches foraging in the grass, while one of the moored boats in the gully was festooned in Starlings.  Another boat had what turned out to be a plastic owl in the rigging to deter birds such as the Starlings which leave a mess behind them.
Wellies proved their worth on the track along to Heswall Fields, where we could climb up from the shore and gain a few feet in height so that we could see what was hiding in the gutter and across the mud banks to where the tide was already taking over. Redshank were the almost exclusive waders present in the gutter with Shelduck in good numbers.  Lapwings were in flight with one or two Curlew and some Teal.  Further out were ranks of Oystercatchers marching steadily away from the encroaching waters.  The tide seemed to suddenly surge up and the birds took to the air, swirling round before disappearing up the estuary.
A little light rain set in and with the tide threatening the shore path we returned via an inland route which turned up smaller wood and hedgerow birds such as Blue Tits, Long-tailed Tits and Chaffinches. After the plastic owl earlier we now encountered what appeared to be a carved Dodo-like bird on top of a distant fence post though what its purpose was in that position is a mystery.
And so we arrived at Sheldrakes restaurant for our soup, sandwiches and hand-cut chips. Is that why our numbers were so good?  It's certainly a very pleasant social way to end the walk.  Nobody was eager to do any more birding in the rain, but those that paused to look over the now flooded marsh before departing for home were rewarded by the sight of two Great White Egrets, easily recognised as such by the size comparison with the Little Egrets alongside them.
Mike Hart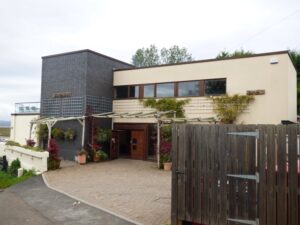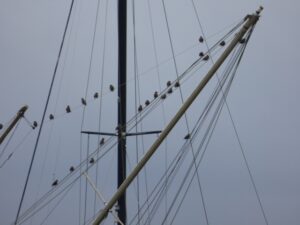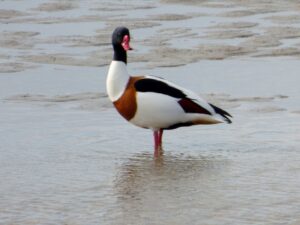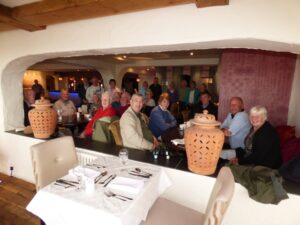 Cilcain – Sunday 30th July 2017
There was a heartening turn-out of members on a lovely, if fresh, Sunday morning. "Sunshine and showers" seemed a reasonable forecast. Colin (Garside) was the only one brave enough to face the day wearing shorts.
Starting up the road, everyone except Lynne and Hugh, bringing up the rear, missed the Redstart in the field just over the gate from the car park! There was not much bird activity evident as we gently made our way upwards. It was good to note that there were still Swifts with us and a number of Rooks were with the sheep feeding higher up the hill.
We left the farm enclosures behind and followed the road, now a rough, stony track, onto the open hillside of bracken, gorse, bilberry and grass. The sun was still shining but the wind was strong and the vegetation was being blown about making the spotting of any perching birds difficult.
However, we then hit upon an oasis of relative tranquillity and the keen-eyed spotters of the group picked up Wheatears and a Stonechat. Along with some Meadow Pipits and Linnets this made up for the previous lean time. The Wheatears, particularly, were very accommodating and showed well through the scope.
Trekking on, we reached the ridgeline and looked down onto The Vale of Clwyd. Rain could be seen in the distance so we posed for some souvenir photos and then turned and started back down.
Reaching a small stream, it seemed the ideal spot to sit down for lunch, all the time keeping an eye on the clouds coming behind us! We never did get any rain but we did spot a large flock of Mistle Thrushes flitting about below the skyline. Hugh reckoned there were 33 of them and no-one argued!
The walk back to Cilcain was uneventful, but we did pick up a Wren, a Coal Tit, Nuthatch and Treecreeper all within one small patch of woodland. There must have been tasty offerings there.
While there was not an excess of birds to watch, the day was very enjoyable, the scenery wonderful, the weather could hardly have been better (o.k.less wind?), and I think we all went home weary but happy.
Mike Hart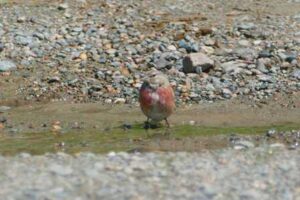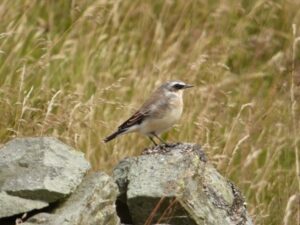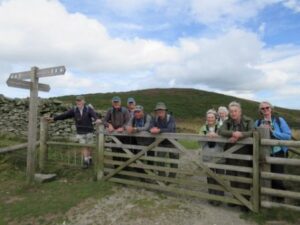 Bempton Cliffs RSPB Reserve – Saturday 17th June 2017
A blue cloudless sky and the sun was making its presence felt even as we boarded the coach. It was a long, long journey but a lot of it was spent by members with eyes closed and heads nodding. Arriving at lunchtime we found the site very popular with both birders and families on a day out.
We split as a group and wandered wherever we took the fancy on the main path which runs along the edge of the cliffs with six viewpoints built out over promontories that allow excellent views of the cliffs which are over 300ft high and thronged with nesting birds.
Gannets, Guillemots, Razorbills, Fulmars, Kittiwakes and of course the very popular Puffin all occupy any suitable ledge, platform or hole for their nests. The air is filled with birds, some, like the Gannets, effortlessly circling, patrolling the skies about their nesting colony, others dashing back, wings whirring, into the cliffs after a fishing expedition to feed chicks and parents on the nest.
Out on the calm sea great 'rafts' of birds floated lazily about in the sunshine. Close examination of the crowded ledges revealed quite a number of chicks hidden away under their parents' wings.
After our initial look at the cliffs we took a break to look inland. The bird numbers could not compete but it was a change of view. Tree Sparrows were most numerous around the visitor centre while the rough vegetation attracted Whitethroats, Skylarks and Meadow Pipits.
Overhead flew Linnets, Swifts, Swallows and a Sandmartin. A Yellowhammer was also seen in flight. At one time the fence at the south end of the site had twenty Carrion Crows each on its own post.
And so back to the cliff edge to sharpen our identification knowledge and share our sightings. The sky was still blue and the sunshine unremitting. A boat from Bridlington, full of sightseers, made its way round the headland while out at sea a steady stream of coastal vessels plied their trade.
The birds continued in their thousands, a wonderful sight and sound that made our long journey across the country worthwhile. A favourite bird? They are all superb. Puffins were few in number and difficult to spot.
Stop Press – The first Puffling of the season was seen the day after our visit! Such is life.
Mike Hart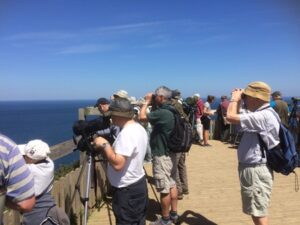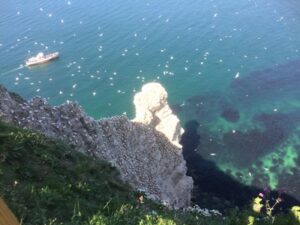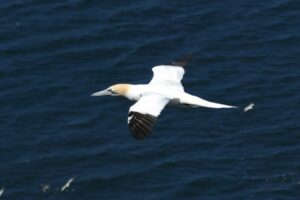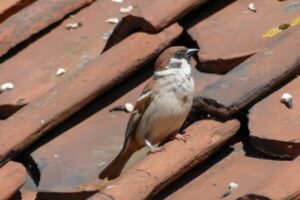 Greenfield Valley – Saturday 3rd June 2017
There are too many car parks here but we managed to meet up eventually! It was a lovely sunny morning but not many members turned out.
The valley has a series of small lakes created originally as water reservoirs but now, with their weeds, reeds and grasses, home to a variety of waterfowl.
At first glance a pond would appear deserted but quiet observation would produce Moorhens, Coots, and Little Grebes. These would disappear under the surface or into the vegetation as quickly as they appeared. Grey Wagtails flitted over the surface. A Buzzard flew through the trees, pursued by an aggressive Magpie. How does such a large bird manoeuvre in such a confined space?
We made our way slowly down the hill following the route of the old railway line and exploring the derelict buildings and huge abandoned lumps of iron machinery. Families of Pied Wagtails were foraging in the grounds of Basingwerk Abbey as we were drawn towards the cafe.
A pot of tea for three sitting in the sun and bird watching became even more pleasurable. We thought of adding chocolate Penguins to our bird list but our nerve failed. A pair of Mute Swans with two cygnets was resident in the smallest pond as we returned to our cars to drive down to Greenfield Dock.
After our lunch at the dock we walked along the shore embankment where Starlings and Hirundines vied for numerical supremacy. Both were attracted by the proximity of the sewage works, the Starlings preferring to ride on the rotating water sprays while the Swallows and House Martins wheeled tirelessly above us.
The tide was out and there were few birds on the sand and mud banks except for gulls and a Little Egret and a Grey Heron. I wondered why the heron was making hard work of feeding there rather than up in the Greenfield ponds which teemed with small fish.
Not the greatest species (or member) count, perhaps, but a very enjoyable outing. Thank you for your company, Joyce and Linda.
Mike Hart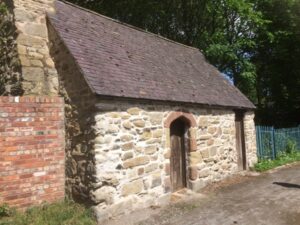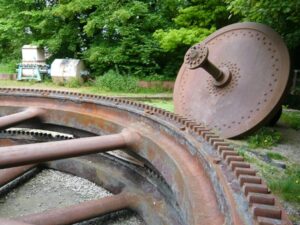 Thurstaston Common – Birds and Beer – Thursday 18th May 2017
A select seven members congregated in the Cottage Loaf car park. Had word got out that I was leading the evening walk in Mike's absence? I won't take it personally!
Swallows circled above us as we left for the path below the sandstone ridge. We heard the first of several Chiffchaffs and Willow Warblers that we encountered, though seeing them often proved more difficult.
Reaching a more open area, we picked up the snatch of a Yellowhammer song, and located it in the bare branches of a tall tree. The sun was slightly behind it, so the male's colours were a little masked, but after admiring the bird we made our way up the hill (sorry, I think I took the stepper path!). From the top, picked up the Yellowhammer again, still singing, and this time the views were brilliant. Take my word for it, the photo does not do it justice!
The vistas across Caldy Hill towards the mouth of the Dee and over the Mersey were also wonderful. We could easily pick out Blackpool Tower and even the hills of the South Lakes. Swifts and House Martins cruised the skies.
Moving on we found a Whitethroat which was singing well. Blue and Great tits occupied the same tree. The inevitable Robin came next, just as we reached the woods. A Song Thrush led us a merry dance, hiding in the tree right above our heads while singing its heart out. It finally moved and allowed us a brief sighting.
The sun was starting to go so we began back to the cars. Reaching Benty Farm, a pair of Canada Geese with goslings walked by the pond.
At the end, most of the troop retired to the Cottage Loaf for refreshments – it is important to keep hydrated! We reflected on our walk. We may not have seen a huge number of species, but the location was beautiful in the evening sunshine.
Hugh Stewart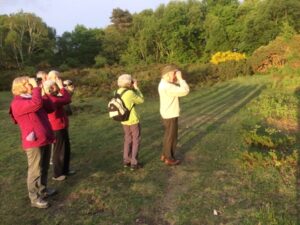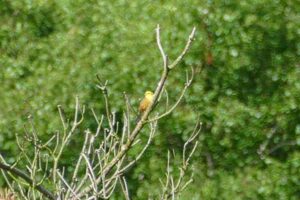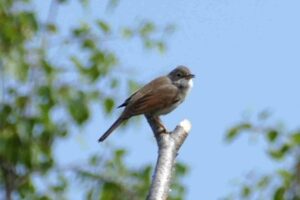 Lake Vyrnwy – Sunday 7th May 2017
What a glorious morning for a coach trip to Wales. Sit back and revel in the spring countryside passing by outside the windows. We arrived shortly after 10 and were met by a couple of RSPB wardens who kitted us out with information sheets and maps.
First stop after that, if not the cafe for a coffee or an ice-cream, was the Coed y Capel hide with its wonderful close views of Siskins flying in to the feeders from the surrounding woodland. Everyone marvelled at their wonderful colours and tiny size.
Soon the group was on its way, choosing between the 'easy' yellow route and the longer 'blue' route. We descended to the river before pulling back up through the oak wood where we were rewarded with time to get our breath while watching Pied Flycatchers flitting through the trees. The several nestboxes at this location are made good use of and we all had great views of these birds.
While the 'blue' route people sped on their way, the 'yellow' group returned at the traditional Wirral Bird Club pace (½ mile a day). Distant and fleeting sightings of 'possibles' as diverse as Goshawk and Crossbill kept us on our toes.
A pair of Garden Warblers, identified by the lack of identifying markings gave us the runaround. Swifts scythed through the air over our heads and House Sparrows occupied niches around the cottages of the village.
The coach took us to the north end of the lake where we parked up and ate some lunch. We were at the side of one of the reservoir's feeder rivers and with no great effort we were treated to a pair of Dippers that had a nest in a crevice in the stonework under the arch of the nearby road bridge. They were flying past all afternoon, undeterred by the presence of humans.
The afternoon was sunny and very warm and members generally chose to take the popular walk up the line of the stream towards the Rhiwargor waterfall. This was Redstart territory and Hugh was determined that we should not be disappointed. However, despite continually scanning likely perches we arrived below the waterfall without a sighting.
Plenty of small birds teased us from the hawthorns and conifers, Flycatchers, Stonechats, Wrens, Robins. Back down the track and we heard a very distant but distinct Cuckoo, something that we don't hear much in Wirral but which is so much a sound of hot summer days.
And then, much to everybody's delight, Hugh found us the first Redstart, sitting, typically, on a fence from where it would drop down onto the ground briefly to take some food item before returning to its lookout.
Warm, tired, but happy we boarded the coach home having logged 52 species.
Mike Hart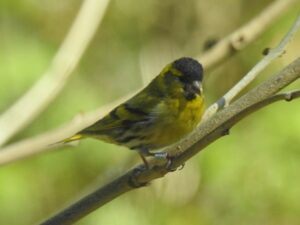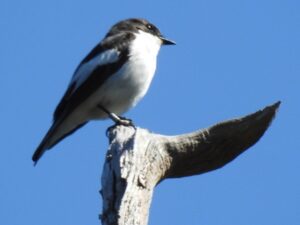 Canal Trip – Christleton to Beeston (and back) – Tuesday 2nd May 2017
Once again we enjoyed lovely weather for the canal trip with the Wirral Community Narrowboat Trust.
Sunny skies and a gentle breeze allowed us to spend most of the time on the bow, serenely passing through the wonderful Cheshire countryside.
Mallard, Moorhen, House Sparrow were soon spotted before we left Christleton. Swallows and Sand Martins were overhead, together with Buzzards, as the temperature increased.
An unexpected Common Sandpiper was spotted on the tow-path – could it possibly stay here to breed or was it more likely on passage to an upland stream or reservoir?
Also looking out-of-place was a smart Wheatear, perched on a hedge between two cereal crop fields! Both birds were still present on the return leg. Chiffchaffs were singing every few hundred yards, as well as several Blackcaps and Whitethroats.
As we passed through Wharton's Lock, a stunning male Grey Wagtail perched right beside us. A little further on the boat turned round and we returned for lunch by the Shady Oak. A pair of Mute Swans were nesting by the pub garden.
Some members walked up the lane towards Beeston Castle, but we failed to spot any Peregrines this time.
We reluctantly left for the return journey. A Kingfisher flashed over the canal and out of site, too quickly for most people to see it. However, a little later on (while I was in the toilet!) it or another bird appeared and reportedly did loop-the-loops over the boat for everyone – except me!
A big thank you to Alan and the rest of the crew from the Trust for looking after us and sharing a great day out.
Hugh Stewart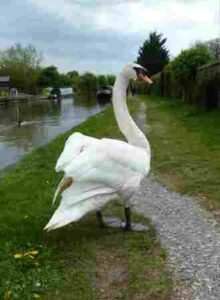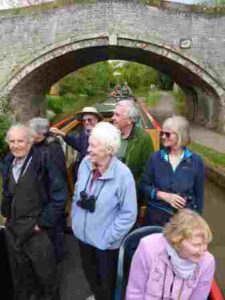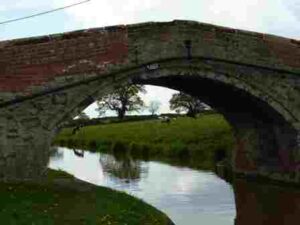 Woolston Eyes Nature Reserve (SSSI) – Saturday 29th April 2017
Everyone found the site, with or without Satnav, and all before 9am, so a good start to the day. We were met by Dave, a voluntary warden, who escorted us through the locked barriers onto the reserve. The sky was overcast, but it was dry and calm so ideal for our purposes.
We soon met up with Kieran, one of the site ringers, who had with him a number of birds which he had trapped and ringed a little earlier. He allowed us to take a really close look at the different birds and explained the finer points of identification and what was recorded about each bird. Kieran's knowledge of his subject was amazing. Sexing Long-tailed Tits was a revelation. LT Tits (m&f), Blackcaps (m&f), Chiffchaff, Blackbird, Sedge Warbler, Wren, and Great Tit were all presented in wonderful close-up detail before they were released back to freedom.
We moved on to the hides overlooking the lakes and were rewarded with our first sightings of Black-necked Grebes, for which this location is nationally important, holding over 25% of the British breeding population. We lingered at the John Morgan hide where we had close views of four Greylag pairs each with chicks. A pair of Lapwings was engaged in courtship displays on one of the small islets in front of the hide. Also close in were Gadwall and Shelduck while more distant were Little Grebes, Great Crested Grebes and Pochard.
The presence of an eco-loo on the site was an unusual bonus and the fact that a visit would include hearing the 'Reeling' song of a Grasshopper Warbler nearby was noteworthy. Few of us were able to actually get a visual fix on this elusive bird however.
After lunch we retraced our steps at a more leisurely pace and spent time trying to get better views of the Black-necked Grebes. Typically the bird would dive as soon as it was picked up in the scope but then eventually one would just sit on the surface allowing study of its features.
Wending our way towards the exit we encountered a lone Whitethroat sitting in the top of a hawthorn bush, but this bird also was not sitting still for long! As we crossed the bridge out of the reserve the three terrapins snoozing on a log in the water however were oblivious to the world in general.
As a matter of interest, the name Eyes is said to originate from a Saxon word, "Ees", meaning "land near a looping watercourse" (The Mersey).
14 members attended. 44 species logged.
Mike Hart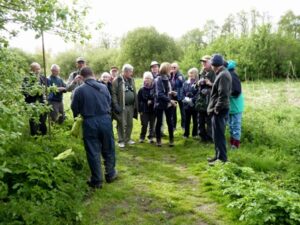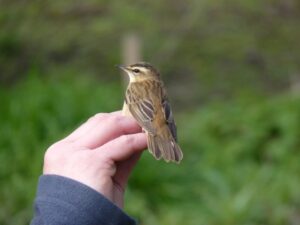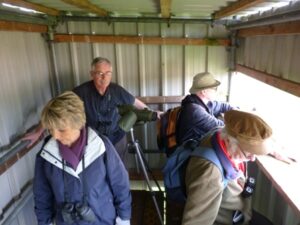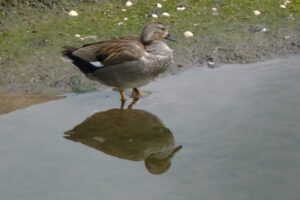 Leasowe Common & the River Birket – Saturday 1st April 2017
From dawn the sky was overcast and grey and the rain was falling steadily. But did that deter members? No! Over twenty turned up and we set off determined to make the best of it.
Almost immediately we had a Wheatear, the first of several. This was what we had come for – migrants. As we followed the footpath at the side of the horse paddocks we had more Wheatear, Linnets and Meadow Pipits, all finding pickings in the churned up, sodden earth.
Along Park Lane we found the usual hedge and woodland birds until, as we turned to retrace our steps our attention was drawn to Long-tailed Tits apparently nest building near the base of a shattered tree at the side of the road.
The rain had now stopped and the sun was out. Buzzards sat in trees and on fence posts not bothering to take to the air yet. Turning up the lane towards the shore we had brief sightings of a Swallow which was the first of the season for most of those lucky enough to see it.
Stonechat and a male Reed Bunting were on show as we made our way up to the top of the embankment to take a look at the flooding tide. Then, thanks to Paul, we all returned once more to the paddocks where a male Ring Ouzel was showing well. Probably "The Mountain Blackbird" was "Bird of the Day" for most of us.
Lunch break back at the car park happily coincided with the last of the day's showers. Refreshed, we explored over the Birket bridge, hoping in vain for a glimpse a Kingfisher, and then continued on, the hedgerows filled with small birds.
House Sparrows, finches and Starlings bathed in the puddles. A flock of a hundred Curlew flew in to join others in a nearby field, the tide denying them their roost on the sandbanks.
And so we concluded our day. That is except for Pam and Ken who had missed seeing the Stonechat earlier and stayed back to try to find it again. They didn't see the Stonechat but did spot an Osprey flying over which was, most certainly, their "Bird of the Day".
Mike Hart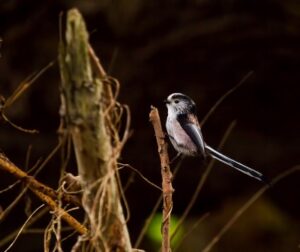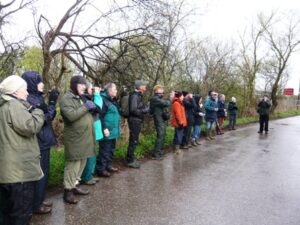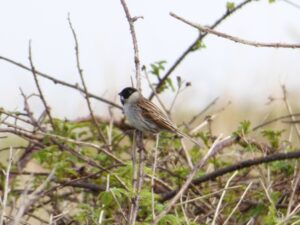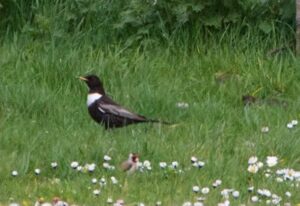 Rivacre Valley Country Park, Ellesmere Port – Sunday 26th February 2017
It was a grey, overcast morning with a chilly breeze when we met up at the car park of Rivacre Country Park and Local Nature Reserve. Not the most promising start to the day but early sightings of a Sparrowhawk pursuing, but not catching a Blue Tit, together with a brief glimpse of a Great Spotted Woodpecker, and an ever-busy Goldcrest, were encouraging.
We walked down into the aptly named Well Wood, which was in the past a source of water for the Bowater paper factory on the far side of the nearby M56. The path on either side of the Rivacre Brook is well maintained and makes for easy walking for all. It was perhaps too early in the season for the trees to be showing signs of spring but the coppiced hazels here had a fine display of golden catkins.
Unfortunately birds were proving hard to come by and we had to work hard to find them. Regular inspection of the river in the hope of Grey Wagtail and even Kingfisher, both species known to be present at this location was unproductive. We made a short diversion to scan the municipal golf course (no more jokes about birdies, eagles, etc please) and then resumed back to the river.
Lynne was on form and spotted a Treecreeper. While we were all excitedly trying to spot this elusive bird appearing and disappearing round the back of the tree, a second bird appeared on the scene. Did we have Mr and Mrs Treecreeper? Perhaps. There was certainly evidence of pairing among other birds we'd seen.
And so back to the car park for lunch. How many people can you seat at a picnic table? The weather was threatening and we decided to go a-twitching to Parkgate in the hope that we might see Waxwings which were reported by The Boathouse. Sure enough we were able to get good views of up to nine birds. There was much speculation as to whether these were the same birds that had frequented the area for over a month. Quite likely I would guess. There is a heavily berried Rowan tree at the location so perhaps they will stay for a while.
For the three tardiest members of our group, making our way back to our cars and so home, there was a bonus in the form of a male Hen Harrier flying low over the marsh, very distinctive in its flight and plumage, showing well in what was by now bright sunshine. A good end to what started as a slow day.
Mike Hart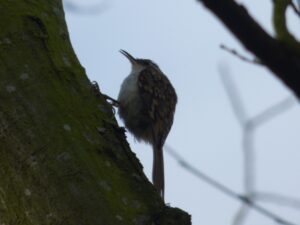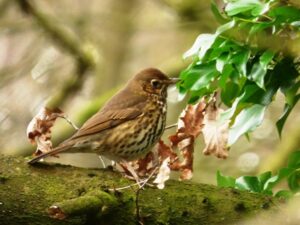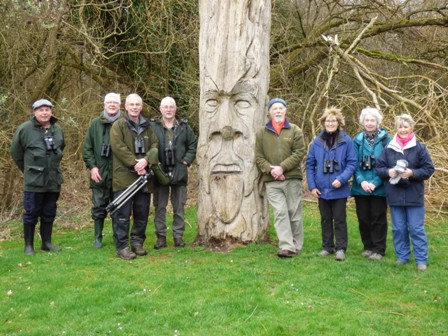 Erddig and Gresford Flash – Sunday 29th January 2017
There was a really hard frost overnight that made some pretty patterns on the windscreen. By the time we congregated in Erddig car park the air was warming up. There were plenty of birds to see just around here. Mistle Thrush, Wood Pigeon, Robin, and a high flying Cormorant were soon on the day list.
We set off and soon reached the ornamental lake. To our surprise a pair of Goosanders were sitting quietly on the bank, while a few Mallards and a Coot were seen on the water.
Moving on to the woods behind the house, we found a productive spot with lots of activity. A Treecreeper was initially hard to pick up high in the branches but eventually everyone saw it. A tiny Goldcrest was also a challenge. There were also Blue and Great Tits.
Again we walked slowly on along a path along the edge of the wood and bordering farmland. At the farm itself, we saw initially 6 Redwing, then these were joined by a large flock of over 50 birds that all flew off together. Jackdaws were everywhere in the Erddig grounds, along with a few Rooks and Carrion Crows.
We stopped at the stone bridge over the River Clywedog for a break. No Dipper or Grey Wagtail unfortunately, but a couple of Mistle Thrushes were present on the flood meadows. Two Goosanders flew quickly past – were these the same pair we saw earlier?
We reached the small bulrush-fringed mere which had a Mute Swan and lots of gulls! A Kingfisher flew rapidly over the mere and along the river, its back a beautiful flash of blue, but it was soon out of sight. A bright, male Kestrel perched on a tree, and the flash of blue betrayed 3 Jays nearby.
We completed the circuit back to the cars and had our lunch. We then drove on to Gresford Flash, with the first spots of the threatened rain in the air.
At the Flash, we were again confronted with dozens of gulls of 4 species, but nothing unusual. We did add Shoveler and a lone, sleepy Great-crested Grebe to the list though.
We called it a day as the rain got heavier, but we ended with 41 species from the two sites. It was an enjoyable walk through lovely grounds.
Some members went off to look for the Waxwings in Heswall, but that's another story!
Hugh Stewart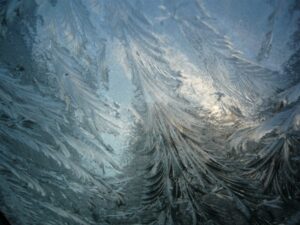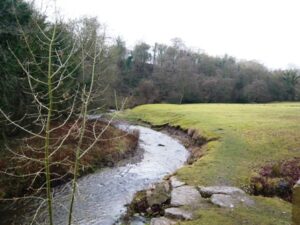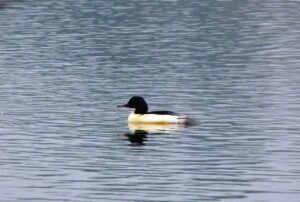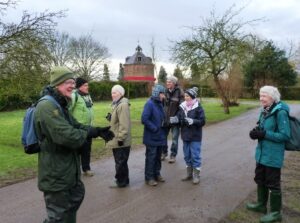 Denhall Lane – Sunday 18th December 2016
For our customary antidote to Christmas shopping and decorating, 9 hearty members met up at Denhall Lane, Burton for the December field meeting. It was a cool but a still and bright day, ideal for bird watching as long as you did not stand still for too long.
On the salt marshes we found Greylag, Lapwing and a few Teal. Walking down-river, we stopped at Net's Cafe – no, not for sustenance – but for another scan. Greenfinches and House Sparrows were using the feeding station. We decided not to tick the Guineafowl in the adjacent field! On Decca Pools we added whistling Wigeon and Shoveler, and three Snipe nestled into the reeds. Further along the path a Great White Egret was found amongst the many Little Egrets. We saw at least one, maybe two more, during the day.
Reaching Neston Old Quay and the Harp (no, we didn't go in there either!) we settled down in the warming sun to scan the marshes again. A Kestrel sat on a post. When the hundreds of Lapwing present all flew up together they made a wonderful sight. After a little wait we picked up a Marsh Harrier in flight, being mobbed by a crow. Redshank and Curlew flew past.
Reluctantly we started our return to the cars. On the way we found a single Fieldfare, a Stonechat and more views of a Marsh Harrier. A very distant Short-eared Owl could just be picked out by telescope. One or two Buzzards added to the growing raptor list. We thought we heard a Raven, and soon afterwards one flew over our heads.
After a quick lunch, some members departed but an intrepid 4 walked up-river towards Burton Point. Another Fieldfare and a Mistle Thrush fed in the sheep field. A male Reed Bunting sat in a small tree. A very distant Black Swan started the debate again on whether to tick!
As we approached the Point itself, the action really began! Two or probably three Short-eared Owls put on a lovely display, flying around then settling on posts. A "ring-tail" Hen Harrier cruised along the reed bed, periodically dropping down into the vegetation when it saw potential prey. A Merlin was also spotted by another passing birder – we didn't know which way to look! It was a lovely end to a super day. We saw 55 species – not including the Black Swan! The weather was wonderful for a walk anyway, but the birds on the Dee added to the enjoyment.
Hugh Stewart
Formby and Sefton Coast – Saturday 3rd December 2016
It was chilly but the sun was trying to break through as we set off from the car park at Lifeboat Road.
Before long, in one of the pine copses that are a feature of the landscape, we encountered a mixed flock of tits, finches and other small birds, but the star attraction was a solitary Red Squirrel. It was very obliging and everybody in the group got the opportunity to study it through the scope.
Unfortunately the sun disappeared for the rest of the day and while the birds did not actually disappear with it, they became difficult to locate and identify, unlike the rabbits which were obviously thriving in the fields past Nicotine Wood.
We returned to the car park for lunch before tackling the path over the sand dunes to the beach. The tide was in and while visibility was not great the sea was calm and Hugh excelled himself, being able to pick out Red-throated Divers, Great Crested Grebe and a couple of female Goosanders for us.
Along the tide line to the south a vast number of waders was visible. These gradually moved towards us in great swirling clouds before settling down and we were able to pick out several species including Bar-tailed Godwits, Grey Plover, Knot, Dunlin and Sanderling.
Chilled, but pleased with this reward for toiling over the dunes, we headed home with a count for the day of 39 species.
Mike Hart
Hale Head and Pickerings Pasture – Saturday 29th October 2016
Friday's drizzle was still hanging in the air when we met for our club photo-shoot under the 9'3″ statue of The Childe of Hale.
The first notable bird, a Grey Wagtail, had already been spotted on the roof of St Mary's church, conveniently alongside a pied version. We wended our way down the track towards the shore, stalking elusive Little Brown Jobs along the hedgerows. More easily visible was an overhead flock of Fieldfares and a skein of Pink-footed Geese.
The drizzle stopped, the day became a little brighter, and the tide was nearly at its highest as we followed the path alongside the river which was unruffled by wind but only had gulls and Cormorants readily visible. The reeds and grasses and thorn bushes seemed to be deserted until suddenly a 'charm' of Goldfinches erupted in front of us and preceded us until we reached the old lighthouse.
Half a dozen mysterious bumps on the skyline turned out to be Grey Partridges which we got good views of shortly afterwards. Unfortunately a couple of loose dogs, not under control, disturbed them first.
Hale lighthouse was decorated with Starlings as we decided to make our way back to our cars before the short drive to Pickerings Pasture, where we had our lunch. After lunch, with the tide ebbing, we could see many Shelduck and Lapwing on the far shore but the distance made further identification difficult.
At the hide or 'screen', birds were few in number and variety but the presence of an Egyptian Goose was interesting.
It seemed a quiet day but we still managed a count of 49 species.
Mike Hart
Moore Nature Reserve – Sunday 2nd October 2016
Mike had picked a lovely early-autumn day for our visit to Moore Nature Reserve! The air was dead still, the sun was shining and we enjoyed pleasant temperatures all day. We met the reserve ranger Anne-Marie who entertained us with a guided walk for the morning. Her knowledge of the history and natural diversity of the reserve was brilliant.
Jays were very evident, collecting acorns for their winter caches. Lapwing Lake held a few common wildfowl including Canada Goose, Tufted Duck and Mallard. A few members had a tantalising view of a Bullfinch and a Goldcrest.
A Green Woodpecker was heard from the Raptor Watch Platform, but unfortunately we did not see it. As the morning warmed up, Buzzards started to soar on thermals. There were also a few late Swallows overhead. In the distance, dozens of gulls circled over Arpley tip and the River Mersey. At the feeding station, after a little wait, Willow Tit and Nuthatch were seen as well as Blue, Great and Coal Tits, and Chaffinches.
Looping back to the car-park, we thanked Anne-Marie for her time and expertise, and then enjoyed our lunch in the warm sunshine. A Sparrowhawk flew quickly across Dog Field. Fed and watered, we set off for the eastern end of the reserve.
Birchwood and Pump House Pools held more Canada Geese, and Great-crested Grebes still feeding "humbug" youngsters. We wondered if it was a late brood or a second one. There were also good numbers of Little Grebes. There were numerous Gadwall, Tufted Duck, Shoveler and Teal.
An owl box got us all excited – until we realised the "owl" was just a shadow thrown on the inner board! Reaching Phoenix Hide, we settled down and enjoyed a wonderful display from 2 Kingfishers. One bird perched on a post and dived to successfully catch a stickleback. The bird's colours in the afternoon sunshine were just awesome!
A Cetti's Warbler was singing heartily in the scrub. We even saw the Terrapin that Anne-Marie had told us about, sun-bathing on a tree stump!
We made our return to the cars, satisfied with a really great day's birding. How much longer will this Indian summer last?! A final single Lapwing fluttered to the north. In total we saw or heard 47 species, plus several butterflies and dragonflies.
Many thanks to Mike and Anne-Marie!
Hugh Stewart
Point of Ayr – Tuesday 20th September 2016
The first Field Meeting of the new programme was a visit to Point of Ayr. We have not visited here for a few years now, and it was a new location for some of the 12 members who made the trip. We were lucky with the weather, being dry and not too windy.
The focus was on a high tide watch, but we started with a walk around the dunes. The dunes themselves were quiet, except for a charm of some 100 goldfinches feeding on seed heads and periodically flying around chattering. On the shore line, we saw a long line of Oystercatchers with an occasional Cormorant.
Out at sea were more Cormorants, and distantly quite a few Common Scoter already starting to accumulate for the winter. Returning to Talacre a small stand of hawthorn held a female Blackcap briefly, as well as Blue and Great Tit, Blackbird and Dunnock. This area looked to be promising for a spring visit.
We collected our lunches from the cars and began the walk to the RSPB hide. A small stagnant looking pool had a single Moorhen – alas not the Kingfisher we saw here last time! A Kestrel alighted on a tree allowing good views, before it flew own onto the path briefly before flying into the gas terminal grounds.
Swallows were flying all around us, feeding up before their imminent flights south. On the marshes, Redshank were already settling on the creeks. We walked past the hide to look at the creek a little further on but the tide was already well in. However, we did find a Stonechat family, plus Skylarks "chirruping" overhead.
We settled in the hide for a well earned lunch. Sorry it was a little later than usual! The tide pushed the birds closer. Hundreds of Curlew settled on the grass, but we could not find a late Whimbrel amongst them. On the water's edge were Teal, Pintail, Widgeon and Mallard. Shelduck lingered a little further out. On the sand bank were more Oystercatchers, plus a couple of Dunlin and Turnstone on the very far point.
A shout went up and we were surprised to see a juvenile Razorbill swim up a channel right in front of the hide! It seemed quite unperturbed and settled down further up the creek.
We eventually called an end to the day and meandered back to the car park. Some members drove home, and others retired to the café for coffee and cakes! All in all, it was a good day, with some 45 species seen by the group.
Eggheads! A researcher from the BBC 2 quiz show 'Eggheads' has contacted the Club to enquire if we want to enter a team on the show. If there are any bird brains out there want to take up the challenge we can give you the contact details. Don't all rush at once!
It is good to know though that our Club is getting recognition in many quarters through our social media efforts.
Hugh Stewart
Heswall Fields and Cleaver Heath – Sunday 31st July 2016
There was an excellent turn-out of members for this local walk around Lower Heswall. I got the excuses in early that July can be a quiet month for birds, but I didn't think it would be quite as poor for sightings as it turned out! For most species, breeding has finished and young birds are becoming independent. The parents have stopped singing, and many have begun to moult and stay out well hidden from predators. So birds can be difficult to locate – and so it proved!
Pipers Lane was virtually bird-less apart from the odd Wood Pigeon, Robin and a few Goldfinch! As we got to the path down to the Wirral Way a Great-spotted Woodpecker was seen briefly, while Swallows swooped over the horse paddocks and Pied Wagtail families fed in the grass. We later saw one or two House Martins, but no Swifts. Have they started to depart already? Walking down towards Heswall Fields there were brief glimpses of Whitethroat, Greenfinch and Wren. From the cliffs, we found the tide well in and most of the waders and gulls were distant, unfortunately. We did pick out Oystercatcher, Redshank, Dunlin and Curlew though, and several gull species. One or two Shelduck were also on the marsh.
We walked round the main field, and our attention turned to butterflies and dragonflies. Gatekeepers were the most common together with the occasional Small White, Meadow Brown and Speckled Wood. We picked out Brown Hawker and Emperor dragonflies. The small pool was covered in small yellow lily flowers, being visited by numerous bees.
Before we left this area, the tide was going out and a few Redshank and Dunlin came closer, the latter still in black-bellied breeding plumage.
We made our way to Sheldrakes where we had arranged to have lunch. This proved very popular and successful – the chips were particularly naughty but nice!
Some members called it a day (maybe to sleep off the lunch?!), but a few of us went up to Heswall Dales and Cleaver Heath. It was a bit of a climb but worth the effort. The colours were lovely with heather and gorse in flower and numerous rowan adorned with red fruit. The views across the Dee marshes to the Welsh hills were spectacular. We added Jay, Long-tailed Tit and Blackcap to the list amongst others. A well-marked dragonfly on a gorse bush was probably a Southern Hawker.
We returned to the cars, happy with a good day out. On reflection, we did think we might have to rename the club the "Hand-cut Chip Club" though!
Hugh Stewart
South Stack and Holyhead Breakwater Country Park – Saturday 25th June 2016
Our latest coach trip was to Anglesey, visiting South Stack RSPB and Holyhead Breakwater Country Park.
South Stack is always a popular destination, and the coach was almost full – thanks to everyone for their continuing support. We arrived to be greeted by sunshine and low winds, always a bonus here. By the cliffs, we enjoyed wonderful close fly-by views of a pair of Choughs, and we were to be entertained by them all morning. We started to differentiate between the black Razorbills and slightly paler Guillemots, with hundreds of birds on the water and on the ledges.
At least 2 Puffins were picked out on the water and later on we saw 8 birds on the path to the lighthouse. Fulmars flew to and from their nests, and eventually a couple of more distant Kittiwake nests were found. Walking along the cliff path, we saw both Cormorant and Shag flying low over the water. A male Stonechat was feeding a young bird that had fledged.
As the morning passed, the clouds gathered, which is probably why we saw few butterflies unfortunately. Walking inland, a Skylark was taking a dust-bath on the path. Male Linnets looked splendid in their breeding plumage. A Whitethroat fed in a sheltered garden. Returning to the coach, a pair of Greenfinch were on the feeder by the RSPB Visitors Centre.
After lunch we drove into Holyhead for the Club's first visit to Breakwater Country Park. There was a little drizzle now, but we began our walk anyway. Above the old quarry cliff, there was an all too brief glimpse of a Peregrine and a Kestrel The small pond only had a few Mallard and a pair of Moorhen on it, while Chiffchaff and Willow Warblers were both heard nearby.
Reaching the coast, we noticed a good passage of Manx Shearwaters passing through. With patience, everyone managed to separate them from the auks! Oystercatchers were closer and easier to see here than a single bird at South Stack. A female Red-breasted Merganser surprised us as it flew by and over the rocks out of site. Another pair of Choughs fed on the short grass, and a Rock Pipit sat obligingly on a rock, allowing a nice comparison with a Meadow Pipit we saw earlier. It started to get a bit cool, so were retraced our steps to the coach. Some members enjoyed a drink in the cafe, others looked around the interesting industrial remains within the Park.
On the way home, we made a quick detour into Holyhead Harbour and enjoyed a quick view of Black Guillemots, meaning we had seen all 4 regular British auks on the day.
In all we saw or heard 45 species, including great views of some iconic Anglesey birds; but I think it was the wonderful scenery at both sites that really helped make the day a success.
Hugh Stewart
Waun-Y-Llyn Country Park – Sunday 22nd May 2016
This was another new site for the Club as far as I am aware, and not surprising given the difficulty in finding the place and the lack of sign-posts to a Country Park! However, 11 members assembled in the car park above Caergwrle, and after spotting Linnet, Whitethroat and Robin, we set off in good spirits.
Walking down the hill into the village of Horeb, we saw Swifts, Swallows and House Martins in the skies above us. There were several House Sparrows too. A distant object turned out to be a rare "Orange Twine Bird" which kept us amused!
Taking a bridleway, we came across Dunnock, more Whitethroats and a male Bullfinch. You cannot see too many of these stunning birds in my opinion! The views across towards the Wirral and the distant Mersey were equally superb. Singing Willow Warblers easily outnumbered Chiffchaffs up here, together with Blackcap.
Then we heard the distinctive call of a Cuckoo in the woods above. We cut through in search of a view, but while we heard several more calls quite close, alas we never did see the bird. We stopped for a break, and noticed the gathering black clouds! The heavens opened and with little shelter around we go soaked!
Eventually the rain subsided and we moved on. The rain had scared the birds away so we did not see too much on the walk down to our lunch stop in Coed Talon. Goldfinch, Chaffinch, plus Carrion Crow and Jackdaw were ticked. After lunch we walked along the disused railway, a route that looked promising but unfortunately delivered few birds, although the Blackbirds were still singing heartily. At the end of the line, we had to climb out of the valley, but luckily the sun came out and the birds began to show again. Two Ravens passed overhead and a Buzzard. We heard a Redstart singing but could not locate it. A Mistle Thrush showed well feeding in a back-garden.
Returning to the car park, we started to disperse. Some of us went to look at the Toposcope close-by, and were rewarded by a single Tree Pipit sitting on a line of bushes. Then the Cuckoo flew right in front of us – no, only kidding! Our final flying treat was the Airbus Beluga coming in to land on the runway below us! Not quite what we had come for but impressive all the same.
Given the conditions, we managed a fair list of birds, and with the option to return when there is a better weather forecast!
Hugh Stewart
Bolton Abbey and the River Wharfe – Saturday 14th May 2016
The drive to Bolton Abbey was worth the coach fee on its own, with wonderful views of the beautiful Yorkshire Dales bathed in glorious sunshine! As we disembarked at our destination, we were greeted by an unexpected male Mandarin, but we were to find out that this species seems to have found a niche here on the River Wharfe as we saw several birds plus chicks during the day.
We first walked down beside the impressive Abbey itself and started to scan the river. Pied and Grey Wagtails were on the rocks. A Common Sandpiper fed on the far bank. Above our heads we soon found ourselves separating Swallows and Sand Martins, while Swifts were also numerous.
We crossed the river (by the bridge rather than the stepping stones!) and followed the river upstream. We saw a pair of Spotted Flycatchers, the first of many we were to see here. Further still, we found first one then a second Dipper feeding amongst the rocks. One looked to be a young bird, but it seemed fairly independent already. Occasionally one would dive under-water in search of its prey. They were unperturbed by two fly-fishermen close by!
We stopped for our lunch by Cavendish Bridge, and watched a couple of feral pigeons building a nest underneath the bridge. And we fed the tame Mallards!
Back on the path upstream, a call gave away the presence of a Pied Flycatcher moving in the trees close to a nest box. There was no sign of a female so it is likely that she was sitting on eggs in the box. We left them in peace.
Other warblers seen or heard included Blackcap, Garden Warbler, Chiffchaff and Willow Warbler. A Redstart was heard but not seen. A Curlew flew over across the valley, a reminder that we were not far from their breeding areas on the moors.
We heard a Wood Warbler but could not locate it in the fresh leaves. However, a little further on we turned round and started to make our return journey. At the same spot, the Wood Warbler sounded a little closer and we managed to locate it. The tiny bird was shaking as it blasted out its trill. Brilliant! The woods here were carpeted in vibrant Bluebells and pungent Wild Garlic.
One or two members made their own way and saw birds that the main party missed – which shows that Hugh does not find everything! These included a drake Goosander and a Green Woodpecker.
We made our way leisurely back to the coach, but in plenty of time for tea and cake or an ice-cream! The total species count came to 44. Thank you everyone who came on the trip for making this such a successful day. We saw some really wonderful birds in a stunning setting, aided by lovely weather and good company.
Hugh Stewart
Chester Millennium Greenway – Thursday 14th April 2016
One of our members suggested trying a mid-week field meeting so, having joined the ranks of the retired, I found a new site for this trial. We joined the Chester Millennium Greenway at Lime Wood Fields, and started to walk along the well maintained tarmac path following the old railway line route.
We soon found House Sparrow, Blue and Great Tits, and Greenfinch. We initially heard and then saw the first of many Chiffchaffs that were dotted along the route, birds that have recently returned from southern Europe. They were singing well, and very showy in the bare branches. First a male and then a little further on a pair of Blackcaps moved around in the trees but did not sing.
A large grassy field held several Blackbirds, two drake Mallard, and surprisingly a late Fieldfare. We also saw several of both Song Thrush and Mistle Thrush. A couple of large brown objects in a field turned out to be enormous rabbits – they must have ben on steroids!
Nearing the end of the outward walk, we stopped to scan a field carpeted with dead grass. A smart male Wheatear was a nice find, fuelling up before continuing its migration to its breeding ground. Then Mike spotted the bird of the day, a dapper male Redstart on the far fence line. It immediately disappeared! But thankfully it returned quickly and allowed everyone great views as it flitted between the field and various vantage posts. It was feeding continuously, so probably had only arrived here very recently. Would it stay here to breed, or more likely would it move on?
As we reached the end of the Greenway, four Swallows quartered over a field. A pair of Blue Tits were entering a small next box on a large barn, and a Pied Wagtail sat on a farm roof.
We enjoyed excellent service and had our lunch at the Meadow Lea Farm Cafe. Recommended! Then we re-traced our steps along the Greenway. A Stock Dove in a tree tried to hide, but eventually betrayed its black wing-bar, and as it flew off it was joined by three more birds. The day was warming up now and the sun just breaking through. Buzzards started to kettle high in the thermals in twos and three, and another one flew low over the path in front of us. A very distant Kestrel was more elusive.
We stopped to watch a Nuthatch lining its nest-hole with mud – fascinating behaviour. As we reached the path back to the cars, a small flock of Siskins flew into a silver birch and posed nicely for us. How many times do we seem to end our walks on a high?!
Everyone seemed to have enjoyed the walk, and probably we were helped by the route being quieter during the week with not so many cyclists. So with big apologies to the workers, I think we may well have another mid-week trip next year!
Hugh Stewart
Leasowe Common and River Birket – Sunday 20th March 2016
It was great to see a good turn-out for our walk around Leasowe Common. There was a slightly cool wind initially, but later the sun came out and it turned into a pleasant spring day.
Blackbird, Song Thrush and Mistle Thrush were all soon spotted in and around the area near the car park. Walking along the footpath beside the horse paddocks, we saw large numbers of Meadow Pipits, presumably birds on migration. Linnets and Pied Wagtails were also present here, but we could not find a continental race White Wagtail.
In the distance, 4 Little Egrets sat hunched, with a Heron in attendance. Then bird of the day – a Short-eared Owl came right over our heads and flew slowly off into the distance towards Meols. This was a really good, close view of a beautiful bird! Several small flocks of Curlew wheeled and called, and some settled into a field.
The path through to the promenade yielded a pair of Stonechat and singing Skylark high in the air. The tide was starting to ebb, and "Gary" the regular Greenshank was found feeding close to the groyne! Turnstones were on the edge of the promenade, but other waders such as Dunlin and Knot were much further out on the sands.
Mallard, Coot and Moorhen were on the pond – until a dog decided to wade in – but it was still too early for any reed-bed warblers.
A short walk brought us to the bridge over the River Birket. We waited in vain for the Kingfisher that had been reported earlier! But we enjoyed the spring sunshine and added House Sparrow, Kestrel and Buzzard to the list.
We missed out on finding a Wheatear or Sand Martin – they seem to be late this year. But we still topped 50 species for the day. We will just have to come back in a few days time to try again!
Hugh Stewart
Mere Sands Wood – Saturday 27th February 2016
This reserve has a good mix of habitats and so usually yields a nice bird list. The staff in the visitors centre told us that bird numbers were down due to the mild winter, but we still managed to enjoy a pleasant day out on this nice reserve. They also informed us that an Otter had been seen recently, but unfortunately we did not catch a glimpse of it.
Some of the highlights included Tree Sparrows, always smart looking and nice to see. On the pools, Great-crested Grebes were just starting to perform their famous courtship dance but not the full monty! Two Mute Swans were paired off and feeding in front of one of the hides. Will they stay to breed here? Shovelers were present and we eventually got good views of some of the males swimming around. Several Cormorants were in various plumages from white-fronted juveniles to white-headed senior citizens! A few showed off their white breeding thigh patches.
The woods held Blue, Great, Coal and Long-tailed Tits together with Robin, singing Dunnock and Song Thrush. Several Nutchatches were seen but alas no Treecreepers this time. One or two Jays gave brief views before flying off into the trees and were soon lost from sight. A small party of Red-legged Partridge walked across a field, looking rather comical. At the visitors centre feeding station, a Water Rail hoovered up the fallen seed while Bullfinch and Reed Bunting flitted in and out. A nice way to spend lunch.
In the afternoon a few Mallards came close to a viewing platform. We often take such common species for granted but even the female is beautifully marked when you look closely. In the fields, a distant group of corvids took a little identifying but we finally worked out they were Carrion Crows, Rooks and Jackdaws all present. Plus a man on a roof – nice plumage!
Our final stop was in the Cyril Gibbons hide where several Teal, Tufted Duck, Goldeneye and Gadwall swam around. A Little Grebe played hide and seek in the reeds. A peaceful scene to end the day.
Although the temperature remained low all day, it did not feel too cold as there was some winter sunshine and very little wind. We had a successful day with some 48 species seen between us.
Hugh Stewart
The Spinnies (Aber Ogwen) – Sunday 31st January 2016
We started to assemble in the car park over-looking the Menai Straits. We could make out Anglesey across the water although occasional squalls were to limit the view during the day. There was no need to rush to get ready for the short walk back to the reserve itself however, as we had to wait for Barry to find his car keys, and for Bet and Graeme to find the reserve!
This was still productive time though. A male Goosander hauled itself out of the river on to the bank, its black and white plumage easily visible in the grey light. There was also a sprinkling of male and female Red-breasted Mergansers dotted around the inlet with many Great-crested Grebes. A mix of Oystercatchers, Curlew and Redshank plus a few Dunlin were on the sands, being slowly pushed towards us as the tide came in.
Five Ringed Plover flew in and settled on a pebbly stretch of beach just in front of us and immediately became hard to find – their camouflage was perfect. Wigeon and Mallard swam lazily along the tide edge. A little further out were good numbers of Goldeneye, especially males. Some of the drakes were performing their courtship display, throwing their heads backwards over their backs.
A thrush high in a tree led us a merry dance for a while – it sounded like Mistle, but initially it did not look quite right. But eventually we settled on Mistle Thrush. We walked the short distance to the first hide. The feeders attracted Blue, Great and Coal Tits, as well as Robin, House Sparrow and Chaffinch. The highlights here though were 3 Little Grebes, and a Water Rail that swam across the water to the island.
Eventually we moved on to the main hide. The advance party had already seen a Kingfisher catching a fish, and luckily it returned to give everyone good views. Two Greenshanks played hide and seek but were seen well eventually. On the feeders here, we saw Nuthatch and Long-tailed Tit. Eventually we returned to the cars for lunch.
The weather was not as bad as forecast, but most members decided to give Bangor Pier a miss and went to Conwy RSPB instead. Here, we added some more species, including Pochard, Bullfinch, Goldcrest and Lapwing. We dipped on the Firecrest, Brambling and Water Pipit that had all been reported though!
However, Mike and Joyce braved Bangor Pier and were rewarded with 2 Black Guillemots, interestingly one in winter and one in breeding plumage.
Despite the drizzle and increasing winds, we saw at least 55 species between us. Well worth the effort.
Hugh Stewart
RSPB Burton Mere Wetlands – Saturday 12th December 2015
At last month's field meeting we had to endure high winds. This month's visit to Burton Mere Wetlands brought rain. A big thank you to the 5 other members that turned out – I was half expecting to be there on my own!
Undeterred, we set off to explore the reserve. The first feeding station was busy with hungry Greenfinch, Goldfinch and Chaffinch. A single Stock Dove flew behind the barn, and a Green Sandpiper on Reception Pool was a nice find. Around Burton Mere a mixed flock of finches included several Siskin. Some came down to the path to feed, allowing good views. At the back of the mere, a Kingfisher flew in and perched on a branch over the water, so we all had good views in the scope. This always brightens up a dreary day.
Marsh Covert Hide was quiet so we moved on. Half a dozen Curlew flew off, along with a few of the many Teal on the reserve. A flock of Linnets fed on the seed field, occasionally flying up in close formation and circling around in the air before settling back down again. On the path to IMF Hide, we located the Long-eared Owl that has taken up residence for the second winter. It can be difficult initially to pick out in the middle of a hawthorn bush, but once you get your eye in, it showed really well. As we stooped and strained to get the best view, we imagined it thinking "Twit"!
IMF Hide was very quiet, with a Stoat skipping in and out of the reeds being the highlight! Luckily we were sheltering in the hide during the heaviest of the rain. We agreed to walk up to Burton Point, although we knew the views would be limited today. On the way we saw a Marsh Harrier quartering over the marsh, then flying over the railway line onto the reserve. It did not seem perturbed by the conditions. A Buzzard was the only other raptor we saw during the day. From the Point, the marshes below were slightly shrouded in mist unfortunately. A large group of Swans could not be identified, other than 2 Black Swans trying to gate-crash the party! A few Little Egrets stood out in the gloom, but no Great White Egrets.
We retraced our route back to Reception, where we refreshed ourselves with hot drinks. We then started to scan the Scrape. A Water Rail showed well directly in front of us, and a Mediterranean Gull was pointed out (by Colin Wells, not me!) amongst the many Black-headed Gulls. Luckily it tended to stay on the outside of the flock, making it easier to find. There was the usual nice mix of waders and duck, not in huge numbers but still adding plenty of variety. These included Black-tailed Godwits, Lapwings, Shoveler, Wigeon and Shelduck.
Eventually we decided to call it a day. Despite the inclement weather, our perseverance had paid off, as we saw some really good birds and managed a reasonable 50 species for the day. I just hope that we do not get 6 inches of snow for the next field meeting to The Spinnies!
Have a great Christmas everyone, and happy birding in 2016.
Hugh Stewart
Riverbank Road and Wirral Way – Sunday 29th November 2015
We had not reckoned on Storm Clodagh coinciding with our meeting at Riverbank Road. It was a struggle to even open the car doors against the strength of the wind coming from across the Dee! Looking towards Wales, clouds of spray were seen being whipped off the tops of the huge white horses in the river. We decided it was not the day to hang around waiting for the tide to come in, so we set off inland to the Wirral Way.
One of the first bits of wildlife we saw was a grey mammal with a long tail, loitering near some dustbins. It was a young lady in a "onesie"! I am not sure who was more surprised – us or her finding a group of strangers with binoculars staring at her! We are still scouring the field guides to decide what species she was!
A little further on a pair of Mistle Thrushes fed in a grass field. Magpies and Carrion Crows hugged the roof tops. Walking down the Wirral Way, there was at least some shelter from the wind but birds were still hard to find as they largely remained hidden in the hedges. A small flock of Long-tailed Tits was nice, plus single Robin and Moorhen.
At the bottom of Cottage Lane we again caught the full force of the wind. We persevered however, taking the path between the golf course and the marshes. We glimpsed a view of a ring-tail Hen Harrier, and even this large bird was finding it hard flying in the wind. A glimpse of an Egret suggested Great White, but it stubbornly refused to give us a good view to be certain. Taking the foot path across the golf course, a Raven was seen flying off with a golf ball! We did not think it prudent to ask the golfer if he liked birds and wanted to join our Club!
A few Chaffinches and Goldfinches found some shelter in the trees here. A large flock of Black-headed Gulls loafed on one of the fairways, while a Coot swam across one of the ponds. We were entertained by a small bird in the top of a distant tree – that turned out to be a single leaf on an otherwise totally bare stand of trees. A sprinkling of yellow objects on the another fairway got us wondering if they were early or late flowers of some sort, but they turned out to be practice golf balls. You can tell we were getting desperate to add to our species list!
Returning to the cars, the wind was if anything getting stronger. The tide was still an hour or so off its maximum height, so we agreed to call it a day. Some members went off to Birkenhead Docks to look for the Great Northern Diver. Others went straight home to check that their tiles were still on. Four brave souls stayed, admittedly sheltering in our cars.
The tide eventually came in to the wall, aided by the strong wind. Hundreds of Redshank, Curlew, Oystercatcher, Pintail, Teal and Cormorants were seen – through the wind-screen wipers! A Merlin rushed past at incredible speed with the following wind giving it turbocharge! Almost the last bird to appear was a lovely Short-eared Owl that must have been sitting close in to the wall, but which was eventually pushed off by the rising water. It gave us 3 close views in flight as it sought a safe haven.
This was a tough day for bird watching unfortunately, but with perseverance we managed to have a nice walk and see some good birds. And at least the rain held off until we were back in the cars, so it could have been worse.
As for the Great Northern Diver – it was there! – and reported as showing very well.
Hugh Stewart
King's Gap, Hoylake – Saturday 31st October 2015
We had a great turn out of 18 members for the October field meeting at Hoylake. The tide was still a fair way out with most birds still distant and difficult to pick out in the slightly misty conditions.
So we started walking eastwards towards Leasowe to pick up the incoming tide. A few Common Scoter could just be made out on the sea, but it was impossible to spot any of their rarer cousins. A few Redshank and Oystercatchers were close in allowing good views. Further on towards Dove Point the bird numbers increased and we added Shelduck, Knot and a single Little Egret. A late female Wheatear perched on an upturned boat before disappearing over the sea-wall. Dunlin were the most common wader, feeding furiously on the sands. Several Turnstones fed amongst the seaweed on the edge of the promenade, as with virtually all the waders now in their non-breeding winter plumage.
We eventually made it to the groyne off Leasowe Common which is a good spot for roosting birds over the high tide. A selection of Lapwings, Redshank Turnstones and Dunlin allowed close views. As we were about to leave, "Gary" the regular wintering Greenshank appeared. The white breast and overall pale appearance stood out well on the dark rocks. Result!
It was not all about waders though. As we started our return walk, a male Stonechat was found near a gorse patch on the Common. Initially difficult to pick out with his back to us, eventually he moved and showed well. We also added birds like Goldfinch, Starling, House Sparrow, Robin and Blue Tit to the list.
We got back to the Lifeboat Station with the tide now well in here, and started to enjoy the masses of waders on the shore in front of us. Good numbers of Grey Plover were present, with a few Bar-tailed Godwits and a bit further away lots of busy Sanderling. The smaller waders frequently took to the air in their characteristic twisting and turning smoke-cloud formations. This wonderful sight is one of the true pleasures of birding on Wirral, and a great way to end the day.
Hugh Stewart
Hilbre Island – Tuesday 1st September 2015
Despite the forecast of heavy rain showers, we were so lucky to enjoy a sunny calm day on Hilbre over the high tide. As we walked out towards Little Eye, clouds over Liverpool and the Welsh hills looked really threatening, but the Dee seemed to be the icing in the middle! On Middle Eye we saw a Wheatear, the first of probably 5 different birds seen in total across the three islands.
Middle Eye held a flock of a dozen or so Linnets. Descending off Middle Eye we had our first good views of waders on the edge of the rapidly filling gully. Oystercatchers were by far the most common species, but there were also good numbers of Ringed Plover, Dunlin and Turnstone, plus a few Redshank and Knot.
"Niffy" Bay held a single Pied Wagtail, with Robin, Meadow Pipit and Dunnock on the fence post above.
A first sea-watch from the lifeboat station brought 3 or 4 Great-crested Grebes, starting to congregate for the winter but still in breeding plumage. A Guillemot was quite close in but could be difficult to pick up in the gentle swell. As always, Grey Seals approached inquisitively to check us out. There were few terns surprisingly, with just a few distant Sandwich Terns seen.
There were still at least 6 Swallows feeding around the island, and one youngster perched on a gate allowing us good views.
We enjoyed lunch looking towards the high tide roost on Middle Eye. Oystercatchers again dominated but a single Whimbrel was picked out on the top and a couple of Bar-tailed Godwits flew in to join the throng.
A second sea watch added Common Scoter, a single adult Gannet and four Little Terns. But we failed to see any Skuas or Shearwaters unfortunately – while the weather was very pleasant, a stronger wind may have brought birds closer!
As we left Hilbre for our return to West Kirby, we found one of the Rock Pipits that have bred on the island this year.
We totalled 34 species for the day, and the peace and isolation of a high tide stay on Hilbre was enjoyed by everyone.
Hugh Stewart
Leasowe Common & the River Birket – Sunday 26th July 2015
As I drove up to our rendezvous, Leasowe Lighthouse was still bathed in light sunshine, but dark clouds were already starting to appear behind! A plucky twelve members braved the weather forecast and turned out for the meeting, much appreciated.
Once we had assembled we made our way to the promenade to scan the beach. The tide was ebbing and a variety of birds were scattered around. On the edge of the promenade a few Turnstones fed, including some lovely birds still retaining chestnut feathers from their breeding plumage. On the sand were quite a lot of Dunlin, not in huge numbers yet but mostly still sporting characteristic black bellies. Amongst the Dunlin were half a dozen Ringed Plover.
Further out were several Curlew, but we searched in vain for a Whimbrel amongst them. There was a nice mix of Sandwich and Common Terns. Some were feeding in the shallows calling constantly; others sat on the beach, including a good number of young birds. As always, Oystercatchers were present.
Walking towards the groyne, we found the regular Greenshank, conveniently close to a Little Egret which made things easy to direct members on to it. A Cormorant fed close in before flying up to a post to digest its breakfast. Swallows flew low over the prom, sometimes right by our heads, while House Martins seemed to favour the Common.
An hour or so into the walk, the rain drops started! We walked back on the path below the promenade to shelter a little from the wind. There were brief views of Skylark, Linnet and a Whitethroat, but the rain made the birds difficult to pin down. A probable Reed or Sedge Warbler disappeared into the vegetation before it could be identified.
An interesting observation was a number of Swallows sitting on the Nature Trail path. It looked like they were sheltering under the over-hanging tree branches from the rain! As the rain became harder, a few hardy members made a quick trip up Lingham Lane, and saw Wood Pigeon, Collared Dove, House Sparrow and Goldfinch. But then we finally threw the towel in and made our separate ways.
It was unfortunate that weather put a bit of a dampener on the day (literally!), but we still managed to see a nice mix of waders and terns, and totalled 31 species which was not bad in 2 hours under the circumstances.
The committee hope you enjoy the rest of the Summer (what Summer, you may ask?!). We hope to see you on the first field trip of the new Club programme – a walk out to Hilbre over the high tide, on Tuesday 1st September.
Hugh Stewart
Carsington Water – Saturday 27th June 2015
Summer finally arrived for our coach trip to Carsington Water.
We enjoyed the magnificent Peak District scenery en route, and Ashbourne even had the bunting out for us as we drove through the picturesque market town!
Having disembarked from the coach, we headed for the impressive visitor centre first, before moving on to the nearby Wildlife Centre hide. We spent some time here, with so much to see. On the water, the most common bird was Coot, followed by Canada Goose (and a single Greylag, although we did see a few more later on), and Tufted Duck. A pair of Mute Swans seemed to ignore its pair of cygnets – but I am sure any interloper would have been seen off quickly! There were good numbers of Great-crested Grebes, always looking elegant in their breeding plumage. On the island we found Redshank, Oystercatcher and Lapwing, as well as several Black-headed Gulls with white and brown chicks. A single Pied Wagtail dropped in.
On the feeders two or three Tree Sparrows contrasted nicely with the more common House Sparrows around here and the visitors centre.
There were many Swifts and House Martins feeding over the water, together with the occasional Swallow and Sand Martin. Perhaps surprisingly given the warm weather, raptors were quite scarce, with only distant views of two or three Buzzards and a single Kestrel.
We returned to the coach for an early lunch. Some members found an obliging, singing Garden Warbler while having their picnic, allowing good views through the telescope.
After lunch we walked further north around the reservoir. In a small bay, a single Dabchick was spotted. One adult Tuftie had a string of black, fluffy chicks following it. We began to note the main theme of the day – lots of fledged birds! A large party of Long-tailed Tits crossing the path in front of us must have numbered nearly 30 birds!
From the Sheepwash hide, there were more Great-crested Grebes, Mute Swans and Canada Geese. We also had a brief view of a male Reed Bunting.
From the Paul Stanley hide we saw an adult Great-crested Grebe carrying a 'humbug' chick on its back – surely the cutest scene of the day! We failed to see any Kingfishers though, so had to make do with a powder blue male Broad-bodied Chaser dragonfly sitting on the Kingfishers' perch!
On the return walk we finally saw a Chiffchaff, only hearing them up until then; but Willow Warblers were seen and heard everywhere. A brief Whitethroat was also a late addition to the list.
There was just time to enjoy a welcome ice cream or scone back at the centre before the journey home! The total count for the day was 48 species seen or heard. This site has something for everyone and is good all year round. Thank you to all those who supported the coach trip – see you next time!
Hugh Stewart
Thornton Hough – Thursday 22nd May 2015
There was an excellent turn out for the evening meeting at Thornton Hough. Maybe it was the option of a drink at the end of the walk that boosted the numbers, but it was great to see everyone there! The evening kept dry for us, even if a little cool from the westerly wind.
Starting off from the centre of the village, we soon saw a Pied Wagtail, and a pair of Red-legged Partridge scuttling away comically in front of us. A Greenfinch wheezed from a tall garden tree. Several Rooks nest around the village and were frequently seen and heard.
We moved on towards the footpaths criss-crossing the fields behind Thornton Hough. A lovely male Yellowhammer was found on the top of a hedge, rather distant but its bright yellow head showing well in the telescope. We walked along one of the magnificent avenues on the estate. Being well into May, the leaves on the trees were fairly well developed which made seeing some of the birds more of a challenge. So we had to rely on calls and songs to identify the presence of some species.
Amongst the more elusive birds were Wren, Chiffchaff, Song and Mistle Thrush and Blackcap. A pale looking Buzzard flew low over the fields towards Brimstage. Returning onto the more open fields, a second Yellowhammer gave us much closer views on an overhead wire. A Whitethroat soared in its fluttering song flight before dropping back to a hedge. Several Swifts were seen, mostly keeping quite low in the cool conditions. Two Great-spotted Woodpeckers flew from a large garden.
Eventually we returned to the village. After a pleasant walk, some members retired to the Seven Stars to rehydrate! A good end to a successful meeting. The species tally was a little over 30 either seen or heard, and everyone seemed to enjoy the walk. It was certainly a bonus to see the Yellowhammers, a species that is alas increasingly rare on Wirral.
Hugh Stewart
Moore Nature Reserve – Saturday 9th May 2015
We have had previous visits to Moore, near Warrington, and we were pleased to make another trip there at the weekend. The weather was dry with some sunshine which, given the weather the last few days, was a blessing.
From the car park, we saw the first of several Whitethroat, together with Tits, Jackdaw and Carrion Crow. Dunnocks were conspicuous, often in song. Walking up the slight hill we heard Willow Warbler, and later saw Chiffchaff. On Lapwing Lake were Tufted Duck, Gadwall and both Little and Great Crested Grebe. A Grey Wagtail flew several times to and from the small island, presumably to a nest.
Walking further on we had a brief glimpse of a male Bullfinch. Blackcaps were numerous, but we could not definitely pin down a Garden Warbler. Overhead were a few Swift, the first for the year for some members. At the feeding station we had good views of Willow Tit, Nuthatch and Reed Bunting. We could not find an increasingly rare Lesser Spotted Woodpecker, so had to make do with a female Great Spotted.
After lunch we walked eastwards. On Birchwood Pool, numerous Swallows, House Martins and Sand Martins fed low over the water. A number of Lesser Black backed Gulls loafed on the water together with one or two Herring Gulls. There were more Little Grebes, plus Tufted Duck, but most of the wildfowl and waders had departed for the summer. However, from Colin's Hide (no, not our Colin!) on Pumphouse Pool, Barry picked out a Little Ring Plover, with a lone Oystercatcher also present. Several Jays were seen in flight, birds usually more evident in the autumn. Ken found a Collared Dove to add to the Wood Pigeon and Stock Dove seen earlier.
A Peregrine gave us great views as it circled over a railway bridge before slowly drifting away. Surprisingly the only other raptor species of the day was Buzzard, with singles seen on two or three occasions. At the far end of the reserve in Phoenix Hide, we watched the well-grown young Herons on their nests, with one adventurous bird feeding in a pool. A Fox crept stealthily onto the bank in front of us looking for a meal, before sensing us and running off. A Mute Swan was the final addition to the list.
As a group we managed 51 species, 52 if we count the garden Warbler! This reserve can mean walking a fair distance, but the variety of birds seen always makes it worth while visiting.
Hugh Stewart
Slaidburn and the River Hodder – Sunday 26th April 2015
We could not have asked for a better day, with sunny skies and little wind. This made the stunning scenery even better for our visit to the pretty village of Slaidburn in the Trough of Bowland. Even the journey there provided breathtaking views of the high moorland.
Once we had decamped from the coach, we gathered on the village green beside the River Hodder. The first bird we saw was a Grey Wagtail flitting along the boulders. Then a Common Sandpiper gave us great views, soon to be joined by its mate. We walked slowly down-river, adding Treecreeper and Nuthatch. Willow Warbler was heard and finally seen. At the far end of our walk, a pair of beautiful Common Redstarts flew repeatedly to the ground to catch prey before returning to fence posts to pose for us. All three hirundines were seen – Swallow, House Martin and Sand Martin – but no Swifts. They do not seem to be back in numbers yet. A pair of Oystercatchers seemed to be prospecting for a nest site in a grassy field.
After a pleasant lunch back in the village, we followed the river upstream. As we were leaving the village itself, a pair of Great-spotted Woodpeckers fed on feeders, allowing good views. Two Linnets flew off from a hawthorn bush. By a stone bridge, a pair of Dippers sat obligingly for us, remarkably tolerant of our presence. One bird flew up under the arch, presumably to a nest hole. Cameras were clicking furiously! From this spot we also found a couple of distant Curlew, and later had two birds circling above us making their bubbling calls, so beautiful to hear.
A Wheatear posed on a stone wall, and we even found a totally unexpected pair of Mandarin Ducks sitting in a field! A Buzzard worked its way lazily across the hill ridge. After we eventually had our fill of the Dippers, we made our way back to the village, where there was still time for drinks and cakes at the Riverside Cafe! From here, another Dipper made an appearance, a nice way to end the day.
This was the Club's first visit to Slaidburn, but it is well worth a return visit. We listed 47 species, including some memorable sights of classic upland birds. We certainly did not dip today!
Hugh Stewart
Ellesmere, Shropshire Meres – Saturday 28th March 2015
Nine members finally assembled by the Visitors' Centre on the Mere after waiting for the rain to ease off; the weather from then on was much better than forecast, which is often the case.
The Promenade was busy with Greylag and Canada Geese and an amazing variety of Mallard crosses, including two smart-looking albinos (Mallards are notoriously promiscuous). Stan had already spotted Goldeneye, Great Crested Grebes and a possible distant Pochard on the Mere, with many Tufted Duck, their feathery tufts particularly evident, presumably because this is the breeding season.
We decided to walk clockwise around the Mere and soon witnessed many signs of Spring: Elder flowers were starting to show, crowds of daffodils and crocuses in full bloom and, over the water, Sand Martins were seen fluttering – but no Swallows as yet. Chiffchaff could be heard but not seen.
This track is enlivened by its many wood sculptures along the way, the most distinctive one, I think, being a 'Tree-House' in a decapitated trunk with a flight of steps up to a doorway cut through the trunk and down the other side.
The drawn-out whistles of a Nuthatch were heard and the subject was eventually spotted almost above us, where it remained for some time, showing well. From then on we were all searching for a Treecreeper (a Ranger at the Centre had alerted us to their presence) but…..no luck.
After lunch, and a brief burst of sunshine, just four of us chose to wander along the Canal path as far as Blake Mere, hoping to see Kingfisher but, again, we were out of luck. However, we did manage to make out an elusive Heron, possibly sitting on eggs, on the far bank.
By about 3 o'clock we decided we had probably seen all we were going to see – nearly 40 species – most of them the usual suspects, of course. What we had not seen were the 'frequent blustery showers' the Met Office had promised, so, in this respect at least, we were indeed lucky!
Colin Garside
Heronbridge, near Chester – Saturday 28 February 2015
After a few jibes about the exact distance the car park was along Eaton Road, we assembled and set off for the River Dee!
By the new water extraction plant, a Cormorant fed in the fast moving river. The water level appeared high. As we strolled along the banks of the Dee, it soon became apparent that Spring was just around the corner.
We noted that many birds were showing the early signs of pairing off to breed. A Song Thrush sang its repeated phrases heartily from a tall tree. Several Dunnocks were also singing along our route. Three or four Reed Buntings commuted between a hedgerow and a small stand of reeds, the white outer tail feathers flashing in stark contrast to the males' black head. Always popular, a pair of Bullfinches fed in the same hedge.
As well as Wood Pigeon, the area held several Stock Doves, some of which were taking a keen interest in an old owl box. I only saw male Blackbirds – the females are early layers and many could already be on eggs.
Despite a steady passage of rowing boats and dingies, the river had a few Mallards and Moorhens, plus a mix of mostly Black-headed Gulls but with Common and a single Lesser Black-backed Gull too. We didn't see any Mandarin Ducks, but they are present in this stretch of the Dee.
We had an alfresco lunch with yellow gorse as a backdrop on Chester Meadows, a green oasis right on the edge of Chester.
The return walk added a few more species. Goldfinch and Greenfinch showed well. Just as we were discussing the lack of raptors in what seemed to be suitable habitat, a couple of Buzzards put in an appearance. Sid heard a woodpecker drumming, and moments later a male Great-spotted Woodpecker flew over the river and settled in a bare tree. Shortly after it was joined by a female for a while, before they both flew off again.
We felt the odd spot of rain as we returned to the cars, so we decided to call it a day. We did not have a large list with just 25 species (not including the feral pigeons on the top of the old Shot Tower!), but it was nice to think that the Spring migrants will soon be streaming back.
Note to field meeting leader – check meeting directions carefully on next programme!
Hugh Stewart
Pennington Flash – Sunday 25th January 2015
Pennington Flash always delivers a good variety of birds from the varied habitat present, and this visit was no exception. As we congregated in the car park, we started scanning the main flash. There was a very distant male Goosander, but this bird was just a taster of what was to come. Scattered around the lake were numerous Tufted Duck and Goldeneye, plus several Great-crested Grebe. Then a single male Ruddy Duck was found together with one or two females. Following the controversial cull, this species is now very rare in the UK. Of course there were numerous Mallard, Coot and Canada Geese close by looking for bread hand-outs!
Moving on to Horrock's Hide, a number of Lapwings roosted on the spit. Three Snipe were wonderfully camouflaged but could just be made out. Walking on further we added Shoveler, Gadwall, Pochard, Teal, and Little Grebe, and for a few of the group a brief view of a Willow Tit.
We returned to the cars for lunch and Sid made good use of the famous burger van!
In the afternoon, we headed for some of the other hides, of which there are 8 in total on the reserve. Bunting Hide has one of the best feeding stations around the North West. There are so many tables and feeders that it is sometimes difficult to know where to look next. A Willow Tit especially led us a merry dance as you never knew where it would turn up next and it never settled long enough for Bill to photograph. But everyone at least saw it eventually. We had excellent views of Bullfinches, Long-tailed Tits, and appropriately, numerous Reed Buntings, as well as Great, Blue and Coal Tits, Robins and Chaffinches. A Water Rail crept cautiously from the undergrowth and gave good views as it fed out in the open for quite a while. Moving on, Graham managed to see a Kingfisher during a crafty smoke break, but it had gone by the time the rest of us returned to the spot! We did see a nice flock of Redwings shortly afterwards though. From other hides, we saw more and more Goosanders, many close enough to see the pink tinge to the males' white plumage. We must have seen at least 40 male and female birds in total.
Just as we were about to head back to the cars, Barry shouted out "Kingfisher", and there was the bird at the back of the pool. It had a huge fish in its bill which it was bashing mercilessly against the branch. After some moments, when the fish must have been well and truly dead, the bird flew off and out of sight. It made a memorable end to another great day out – and Graham was let off the hook!
The group saw some 47 species on the day.
Hugh Stewart