Hugh's News – November 2017
On a recent short holiday in North Norfolk, it occurred to me how the distributions of several familiar birds have changed over just the last couple of decades. Species that one had to travel away from Wirral to see, to more southerly or easterly counties, are now regularly seen on the Dee Marshes.
When I moved to Wirral 27 years ago, a Little Egret was still a national rarity, certainly away from the south coast, and I remember visiting Parkgate to "twitch" one. Now they are so familiar we almost take them for granted!  They have been joined in the last few years by both Cattle and Great White Egrets, the former breeding for the first time this summer.  Avocets and Cetti's Warblers are now regular breeders.
There has been a regular Hen Harrier roost at Parkgate for some time, but we are now also graced by Marsh Harriers year-round.
Sadly there are some negative trends too. I saw several Grey Partridge around Holkham Gap, a species that is increasingly rare on Wirral.
But there are still more potential settlers. Red Kites have colonised Norfolk, and Bearded Tit and Bittern are regular species there.  All three of these species have been seen periodically on Wirral, so how long before these birds are resident?
Hugh Stewart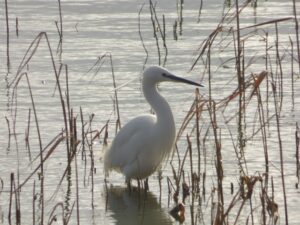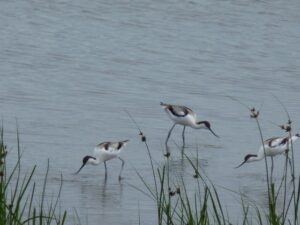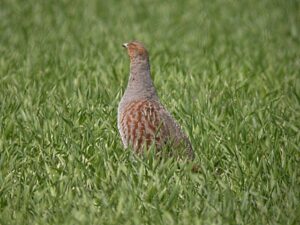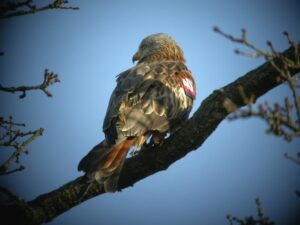 Hugh's News – September 2017
"It's an ill wind" as the saying goes. Well the strong winds and heavy rain last week brought some good birds to our shores – if you were prepared to brave the blowy conditions!  There were many sightings of Leach's Petrel and Grey Phalarope from various points along the North Wirral coast from New Brighton to Hoylake and Hilbre.
There was a supporting cast of the occasional Sabines Gull, Manx Shearwater, Black Tern and Little Gull. There was also a Red-necked Phalarope at Frodsham!  I did not manage any photos of these rarer species, but numbers of our more familiar waders are building up now for the winter and I did see a group of Turnstones bathing on the rocks at West Kirby Marine Lake.  The first ring-tail Hen Harrier and Short-eared Owls have been seen on the salt marsh.  Hopefully there will be enough voles to keep these magnificent birds here over the winter.
As we pass into autumn, most birds have finished breeding now although you may find the odd juveniles from the late brood like this Moorhen preening itself in the sunshine at Burton Mere Wetlands. On calmer days, family groups of Buzzards can often be seen circling in the thermals, "meewing" to each other.  Of note, I saw a young Wood Pigeon in my garden with what appears to be a mite or growth on its face.  Can anyone identify it? No prizes, but I would be interested in any suggestions.
Wirral Community Narrowboat Trust is very proud and honoured to have been awarded the Queen's Award For Voluntary Service in June 2017. This Award is considered to be the MBE of volunteering.  The Award was announced on 2nd June 2017, and two representatives of the Trust were invited to a Garden Party at Buckingham Palace in recognition of the achievement.  Our Club has been a regular supporter of the Trust through our Canal Trips, and I have passed on our congratulations to the Trust.  I am already thinking about planning another trip next May!
Hugh Stewart
Hugh's News – July 2017
I hope you are enjoying the summer! The weather has been typically variable but I think not too bad overall. I always say to myself "It could have been worse"!
On the birding scene, July is often thought of as a quiet month. The breeding season has largely finished so bird song and displays diminish, and many birds undergo a moult that can make then more indistinct and elusive. So now is a good time to look at other areas of the natural world such as butterflies and dragonflies.
I am including a few photos from a recent guided walk I attended at Whixall Moss. The weather was not ideal, being a bit cool and windy, but we still saw some nice subjects: Comma butterfly, a Heart and Dart moth and lots of 5 Spot Burnets.
At BMW, the single Cattle Egret chick is still around the nest testing its wings and should fledge any day now. A pair of Mediterranean Gulls has 2 fledged young. For both species, it is the first breeding record for the reserve.
OK, I have talked about the summer. So I don't want to be too pessimistic but the first signs of autumn migration are already present – and the longest day was only a couple of weeks ago! But there have been sightings of waders such as Common Sandpiper, Spotted Redshank and Ruff at Burton Mere Wetlands this last week, the first birds returning south from their breeding grounds.
These initial migrants are usually failed or non-breeders, with the peak period still to come. They are often still in (partial) breeding plumage though, so can look bright and quite different to their winter garb that we are more familiar with. This may cause some confusion initially, but it demonstrates for example why the full name for the familiar winter species here on Wirral is Red Knot.
Hugh Stewart
Hugh's News – April 2017
After the mild winter, spring migration seemed to start early. However, the lack of a settled spell of weather has meant that birds have only been coming through in dribs and drabs.
Wheatears have been fairly numerous, but birds such as Ring Ouzel, Yellow Wagtail, Redstart and Whinchat have been harder to find. I did find single Willow Warbler and Whitethroat, and heard a lone Reed Warbler at Leasowe on Friday.
Several White Wagtails were in a ploughed field beside Banks Road. There is still time for more passage birds however, given some favourable conditions. I also saw my first Swift of the year by Shotton Fields, one of my favourite birds of every summer.
At Burton Mere Wetlands meanwhile, the first Lapwing brood has already fledged (which is early), and the Avocets have started laying. The reed beds and woods are starting to fill with warblers, even though the wind can make hearing or seeing them difficult. The Little Egrets are active in Marsh Covert, and the Bluebells are also at their best now.
Finally, a reminder to start collecting your photos to show at the AGM on 25th May. If you do not want to present them yourself, I would be happy to do it on your behalf. Just load them on a memory stick and bring it along.
This has become a successful and integral part of the evening so please help contribute. See you there!
Hugh Stewart
Hugh's News – March 2017
I have just returned from a holiday in Costa Rica, and I know one or two members have also been there recently.
I am pretty sure they would agree with me that it is a beautiful country with magnificent scenery and wonderful wildlife.
What was particularly encouraging was how much the local people value their rich environment and the steps they take to maintain and preserve the national parks in particular.
I hope to give a talk on the country in the next programme but here are a few 'tasters'.
Meantime, here on Wirral there are clear signs that spring has arrived. The first Avocets were at BMW in mid February.
This last week there have been reports of Wheatear, Sand Martin, House Martin and Ring Ouzel locally.
We will be looking out for more migrants during our next field meeting at Leasowe.
Hugh Stewart
Hugh's News – February 2017
It promised to be a nice Winter's day so I travelled to Red Rocks in search of the Snow Bunting that had been reported over the previous day or two. I didn't have to look for long as the bird was close to the slipway and feeding on the beach and amongst the rocks.
Photographers had scattered some seed for it, and it was very obliging for the few people gathered to watch it. It was probably so full it could not fly far even if it wanted to!
After admiring the beauty of the plumage and taking a few photos I moved on West Kirby Marine Lake. The air was still and the water was so calm, that there were beautiful reflections in the mirror-like surface. Although the air temperature was only around 5 degrees, with a bright sun and no wind-chill it felt more like a Spring day. A little flock of assorted waders was sitting on the rocks, basking in the warm sunlight.
Further out on the lake were several Red-breasted Mergansers, both male and female, and a couple of drake Goldeneye. They were all diving frequently to feed and they kept reappearing in a different place, making taking photographs difficult! Black-headed Gulls loafed on the pontoon as they often do here. I could not locate the female Goosander that had been reported here though.
Having completed a full circuit of the lake, I then moved on to Thurstaston Country Park and sat down in the visitors centre to scan the feeding station. It was not as busy as it might have been on a colder day, but several male House Sparrows looked smart in their breeding plumage.
Two Collared Doves were showing signs of displaying and paring off. A pair of stunning Bullfinches turned up, but were always very wary and quickly flew back into the trees. Even a drake Mallard on the pond look magnificent. If you saw this bird in an exotic Asian country you would drool over it, but I think we often take them too much for granted!
The following day the weather changed back to the normal grey, windy conditions, so it was nice to have been out on such a pleasant day. Spring is not quite here yet and there is still time for a sting in the tail, but it was a taste of things to come.
Last night I went to the evening with Iolo Williams at Neston Cricket Club in Parkgate. It was nice to see several Club members there too. Iolo regaled us with a brilliant talk on Raptors that was entertaining, informative, and hilarious in equal measures. I don't think anyone went away disappointed. No pressure for my talk to the Club in June then!
Hugh Stewart